Find a school near you....
Animation. Graphic Design. Game Art.
2015 Top 100 International Animation Schools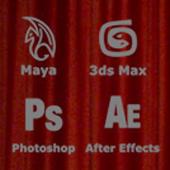 Schools in Other Regions:
Ballyfermot College of Further Education. Dublin, Ireland.

Balleyfermot's Irish School of Animation offers three programs for animation: Animation Drawing Studies (one year), Higher National Diploma in Classical and Computer Animation (two years), and BA (Hons) Visual Media in Animation / Game Design (two years).
Bezalel Academy of Arts and Design. Jerusalem, Israel.
This school's Screen-Based Arts Department offers several animation courses, as well as proficiency training in other essential art software. So far in 2015 they've already seen their students' work win nine different awards!
Cadritech Computacao Grafica. São Paulo, Brazil.
This school was founded in 1995 and was the first authorized Autodesk training center in Latin America for 3D computer graphics and animation. They have courses dedicated to single pieces of software, such as 3DS Max, Maya, After Effects, Premiere Pro + Encore, AutoCAD, Rhino 3D, Illustrator, Revit Architecture, Inventor, Revit Map, Sketchup, Photoshop, V-Ray, and ZBrush.
Duncan of Jordanstone College of Art & Design. Dundee, Scotland.
The animation students at DJCAD are studying to get jobs in the game, TV, film, or Web design industries. Their Animation program covers all the drawing basics and final year students will have specialized skills in 2D and 3D art skills and post production video editing.
École Supérieure d'infographie Albert Jacquard. Namur, Belgium.
This school often shortens its name to just ESIAJ, and it is very interested in 3D graphics. They offer a three year Bachelor's training for Graphics Techniques, as well as a one year Video Game specialization course. Students can learn 2D Animation, 3D Animation, Game Design, and Web Design.
Hongik University. Seoul, South Korea.
Known as most students by its "Hongdae" nickname, Hongik has a variety of options for students seeking graduate degrees: MFA in Film, Video & Animation, MFA in Digital Animation Design, MFA in Animation, ME in Software and Game, MFA in Game Content Design, and a MFA in Game Producing.
Image Campus. Buenos Aires, Argentina.
Do you just want classes on a piece of software like ZBrush, 3DS Max, Maya, Photoshop, or After Effects? No problem, this school can make you an expert. Want a full degree in Animation, Video Games, 3D, Illustration, VFX, or Web Design? No problem, this school can start your career in any of those categories. Want to take online classes? No problem, this school has several options!
Nanyang Polytechnic. Singapore.
Nanyang Polytechnic has several art degrees: Digital Visual Effects, Interaction Design, Digital Game Art & Design, Motion Graphics & Broadcast Design, Animation, Game Development & Technology. Students in their final year at the School of Interactive & Digital Media can take advantage of their Internship Programme!
Nayzak Animation School. Cairo, Egypt.
This school offers diplomas for 2D Animation, 3D Animation, Concept Art, 3D Design, and Animation Filmmaking. Nayzak also offers workshops for 3D Cartoons for Beginners, Clay Animation, Character Design, Animation for Dentists, and Rendering for Architecture.
Odd School. Lisboa, Portugal.
We've interviewed Odd School students before, and since then the Odd Digital Entertainment School has continued to bring new talented artists into their industries. Their 80-120 hour foundation courses cover 3DS Max, After Effects, Cinema 4D, Maya, Photoshop, Toon Boom Studio, and ZBrush. Students can also take 120-160 hours of traditional drawing classes, or dive into a 1,500-3,000 program for 3D art, 2D animation, or concept art.
Schools in Other Regions (continued):
SAE Institute Athens. Athens, Greece.
This SAE Institute has two different eighteen month degrees: 3D & Interactive Animation Diploma and Game Production Diploma. Both programs take place in Greek, and the Game Production program delves into the math and coding behind video games.
SAE Institute Belgrade. Belgrade, Serbia.
SAE Belgrade has the following relevant programs: BA / BSc (Hons) Digital Film Making, After Effects, BA / BSc (Hons) Interactive Animation, and Digital Video Production. Their Interactive Animation program is a two year degree that teaches Photoshop, Illustrator, After Effects, Maya, Mudbox, 3D Max, Motion Builder, and the Unreal Engine 4.
SAE Institute Dubai. Dubai, United Arab Emirates. Similar campuses in the Middle East: SAE Qatar, SAE Jeddah in Saudi Arabia, and SAE Amman in Jordan.
SAE Dubai has several options for aspiring animators and game designers! Not only do they offer a Bachelor of Animation and a Bachelor of Games Development, but they also offer the following short courses: 3D Animation with Maya, Digital Painting, Animation & Interior Design with 3DS Max, Game Design, Mobile App Development, and Robotics. Each short course costs somewhere between AED 5,000 and AED 7,000.
SAE Institute Jakarta. Jakarta, Indonesia.
This SAE Institute was opened in 2011 and it shows; the building is very spacious and nice looking. They have a Bachelors of Arts/Science in Visual Effects Animation that is twelve months long, as well as a Diploma of 3D Animation & Visual Effects that is three years.
SAE Institute Milano. Milano, Italy.
This SAE Institute in Italy offers two animation programs. Their 3D Animation program is four months part-time and has departing months in March and September. Their Motion Graphics program is also four months part-time and has departing months in February and October.
SAE Institute Vienna. Vienna, Austria.
SAE Vienna, or SAE Institute Wien as it's often called, offers the following relevant animation programs: BA/BSc (Hons) Game Art Animation (36 months) and a Game Art & 3D Animation Diploma (24 months). They also offer degrees for Audio, Web and Mobile design, and Film.
SAE Institute Zürich. Zürich, Switzerland.
This SAE Institute has four programs that should be appealing to animators: Game Art & 3D Animation Bachelor Program, Game Art & 3D Animation Diploma, and Motion Graphics Designer, and 3D Production.
TRUEMAX Academy School of CGI & Animation. Copenhagen, Denmark.
This school offers courses for 3D Fundamentals, 3D Fundamentals Online, Drawing, and even a 3D evening course. Their workshops include a 3D Print weekend course, a 3D weekend workshop, a 3D Game workshop, and also a Drawing class. Their main 3D Digital/Game Artist program spans six semesters in three years for a full education.
University of Portsmouth. Portsmouth, England.
This school also offers many game design programs, but the five main animation programs are BA (Hons) Animation (full-time), MSc Computer Animation (full-time, part-time), BA (Hons) Animation with Business Communication (Full-time), BSc (Hons) Computer Animation (Full-time), and BSc (Hons) Computer Animation with Business Communication (Full-time).
Universidad Veritas. San José, Costa Rica.
Their Digital Animation program consists of 46 courses taught in eleven quarters that are each fifteen weeks long. In your final quarter you'll be tasked with a short film graduation project, which helped many students win animation festival awards in 2013 and 2014!
Top 20 International Animation Schools:
20. Anomalia. Litomyšl, Czech Republic.
Few schools on this list look as fun as this one! It currently has five summer courses: Advanced Boot Camp 2015 (6 weeks), Direction in Animation (2 weeks), Clarity in Animation (2 weeks), High-End Facial and Emotional Acting (2 weeks), and CG Animation Basics (8 days). Three of those modules are taught by Pixar and DreamWorks artists!
19. SAE Institute Paris. Paris, France. Other campuses in France: SAE Institute Geneva.
Established in 1976, SAE Institute has 53 campuses in 27 countries around the globe! Of all of the SAE Institute locations, this is the best. SAE Paris offers programs for Motion and VFX, 3D Animation, Motion & Graphic Design, Digital Motion, and Film & VFX. Those programs vary in length from six months to three years, but all of them require applicants to provide ten examples of their art and pass an entrance exam.
18. Teesside University. Middlesbrough and Darlington, England, United Kingdom.
Teesside has Bachelor's programs for Computer Games Animation, Digital Storytelling, Computer Character Animation, Visual Effects, Computer Games Art, and Concept Art. Their Master's programs include Producing for Animation and Games, Computer Animation and Visual Effects, and Concept Art for Games and Animation. Their variety of specialized paths make them a fantastic school for 3D animators.
17. Trazos School of Arts. Madrid, Spain.
The the best animation school in Spain! They currently offer courses in Cinema 4D, Illustration, iOS Programming, Graphic Design, Nuke, Wordpress, 3D Rigging, Web Programming, ZBrush, Video Editing and Grading, Interior Design, Autodesk Revit, Autodesk 3DS Max, Adobe After Effects, and Photoshop.
16. Emile Cohl School. Lyon, France.
Famed for its rigorous educational process, this school has students spend the first three years learning and mastering traditional art skills before spending the fourth and fifth year in a specialization of their choice from the following: Comics, Illustration, Animation in 2D / 3D, Video Game (concept art, character design, etc.), 3D Drawing, or Computer Graphics.
15. Media Design School. Auckland, New Zealand.
This school offers courses in six main areas: Games, Interactive, Creative Advertising, Graphic Design, Motion Graphics, and 3D Animation & Visual Effects. Their 3D Animation & Visual Effects program is a Bachelor of Art & Design, and is a three year full-time degree. The domestic tuition cost is $8,308, with the international tuition cost at $24,630.
14. Melies - Escola de Cinema 3D e Animação. São Paulo, Brazil.
2D, 3D, VFX, motion graphics, film editing, modeling, animating, lighting, texturing; you name it, this school has it, and delivers with a gallery full of amazing student artwork. Some schools have nice facilities, some schools have strong classes, and some schools have amazing student award art galleries; this school has all three! It isn't just the best art school in Brazil, it's one of the best 3D schools on the planet!
13. Filmakademie Baden-Wuerttemberg. Ludwigsburg, Germany.
Every year this non-profit liability company helps bring the world 250 new films of all genres. In 2002, the Filmakademie Baden-Wuerttemberg established its own Institute of Animation, Visual Effects and Digital Postproduction. The Institute of Animation´s courses span a wide range of contents. Each of the following main areas provides plenty of opportunity for specialization: the production of animated short films, the creation of visual effects, the development of real-time animation, the conception of character-based animation formats, and the qualification as a technical director.
12. The Animation Workshop. Jutland, Denmark.
The Bachelor Department at The Animation Workshop offers two animation programs: Character Animation and Computer Graphic Arts. Both programs last three and a half years, equivalent to 210 ECTS points. They also offer a Graphic Storytelling program that's four years and the equivalent of 240 ECTS points. All three are part of the VIA University College, and are taught in English.
11. Royal College of Art. London, United Kingdom.
This school boasts a long list of facilities that students can use in its school to create their animations or films, which lets them experiment to their mind's limit. That's why it's no surprise that in the past decade their alumni have gone on to work on eight different projects that have been nominated for an Oscar Award or BAFTA Award!
Short Animation Contest
Find a school near you....