Find a school near you!
Animation? Design? Game Art?
Cartoonist - Career Profile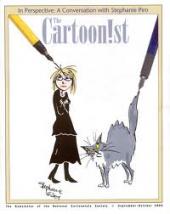 What does a Cartoonist do? Where does a Cartoonist work? ACR takes a look:
About Cartoonists
A cartoonist's job is not limited to newspapers, magazines, and other print publications. Cartoonists also work in the television and film industries. They draw animated cartoons, prepare model drawings, and sketches of characters, and draw special effects for animation projects. Cartoonists are more specialized than illustrators because they only deal with animated characters, subject material, and special effects. Illustrators may have dozens of specialties.
Cartoonist Jobs
Cartoonists work for animation studios, film and video studios, cartoon networks, gaming companies, print publications, and publishing companies. In the animation industry, they render drawings of characters, environments, and objects for small and large-scale productions. Additional duties may include developing moods and color patterns, dramatizing action, and create and paint background scenes. Cartoonists may draw characters and scenes manually, on the computer, or a combination of both.
Schools to Consider:
Cartoonist Salaries
According to industry sources, entry-level cartoonists working in the publishing industry start out at around $30,000 per year. Salaries for cartoonists working in television and the film and video industries may vary based on geographic location, type and size of the company, experience, and education. Cartoonists with advanced computer software skills may earn higher salaries based on the high demand for images and backgrounds that are more detailed.
The Bureau of Labor Statistics reports salaries for fine artists such as illustrators and painters. The Bureau also reports salaries for animators. Salaries for these occupations should give you an idea of what cartoonists working in the entertainment industry might average. Median annual wages of salaried fine artists were $44,850 as of May 2010. The lowest 10 percent earned $19,190 and the highest 10 percent earned $89,720.
In May 2009, the mean annual wage for animators overall was $62,810 per year. The lowest paid animators earned $32,360 per year and the highest paid animators earned $99,130 per year.
Becoming a Cartoonist
Most employers prefer a bachelor's degree in fine art, illustration, painting, or animation.
The degree program should include courses such as drawing, painting, illustration, anatomy, computer graphics, and photography to name a few. In addition to a degree, most employers prefer candidates with a minimum of 2 years' experience in the industry for intermediate positions. An advanced degree may be required for upper level positions or at least 5-7 years' professional experience in the industry.
For entry-level positions, a degree and experience through an internship or other support position is acceptable.
Job Trends for Cartoonists
Employment growth for fine artists, including painters and illustrators, is expected to average nine percent for the 2008-2018 decade. For artists and related workers combined, expected employment growth is 12 percent.
Employment growth in the animation industry is higher than any other field in the artists and related workers category. According to the Bureau of Labor Statistics, for the 2008-2018 decade, employment growth in this industry is 14 percent. Wage and salary employment in the motion picture and video industries is also projected to grow 14 percent between 2008 and 2018, compared with 11 percent growth projected for wage and salary employment in all industries combined.