Find a school near you....
Animation. Graphic Design. Game Art.
List of South Dakota Schools with Animation Degree Programs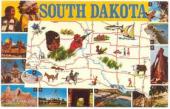 Below is a South Dakota school that offers animation degree programs:
Dakota State University, Madison
Programs available: B. S. Computer Game Design, Digital Arts and Design with Specialization in Audio Production, Computer Graphics, Digital Storytelling, Production Animation, Web Design and Production
More Animation related programs to consider:
Short Animation Contest
Find a school near you....