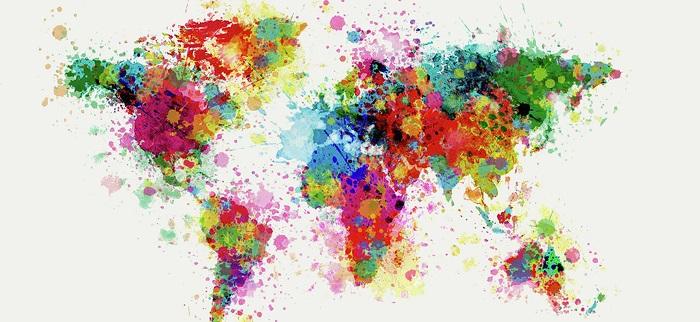 The size of the global animation industry was $244 billion in 2015. Major contributors are the U.S., UK, Canada, China, France, Germany, Japan, and Korea. Besides being home so some of the world's largest animation studios, these countries are known for their exceptional art and design schools.
As you may have guessed, most offer animation programs that often rank among the best in the world. Take a look at 10 of our favorites, beginning with Gobelins School of the Image, which ranked #1 in our 2017 Top 100 International Animation Schools rankings. 

Gobelins School of the Image, Paris, Noisy-le-Grand, France 
Located in the heart of Paris, just next to the Latin Quarter, Gobelins is famous for its variety of animation programs and a one-year Video Game Specialized Master's degree. Established in 1975, the Cinéma Department of Animation offers a four-year, full-time degree for Animated Filmmaking; a one-year, full-time 3D Character Animation degree, and a two-year, full-time Master of Arts in Character Animation and Animated Filmmaking. The school, which also offers a one-year, full-time Motion Design degree, has an international summer school animation program that is taught 100% in English. Learn more about Gobelins animation programs here. 

Sheridan College, Oakville, Ontario, Canada 
Sheridan College knows a thing or two about living in the spotlight. Just two days ago, Sheridan alum Alan Barillaro won the Oscar for Best Animated Short Film Oscar for Piper. The school has also produced talents such as Dean DeBlois, best known for How to Train Your Dragon (2010) and Lilo & Stitch (2002); Glenn McQueen who was best known for his work on Monsters, Inc. (2001), Toy Story 2 (1999) and Toy Story (1995), and Nik Ranieri, best known for Wreck-It Ralph (2012), Aladdin (1992), and Beauty and the Beast (1991). 
Program offerings include a Bachelor of Animation and Graduate Certificates in 3D Computer Animation, Digital Creature Animation – Technical Direction, and Visual Effects. Sheridan College has been offering animation programs since 1971. Learn more about Sheridan College's animation programs here. 

Institute of Animation, Visual Effects and Digital Postproduction at the Filmakademie Baden-Wuerttemberg, Ludwigsburg, Baden-Wuerttemberg, Germany 
The Institute of Animation, Visual Effects and Digital Postproduction is considered one of the most successful animation training centers in Germany. The school, which organizes the FMX Conference on Animation, Effects, Games and Transmedia annually, offers programs that focus on Concept Art, Animation & Effects, Character Animator, Effects Art, Animation/Effects Production (AEP), and Technical Directing. Graduates of the program have gone on to start their own studios or to work with major studios such as DreamWorks, Digital Domain, Disney and Industrial Light & Magic. Learn more about the animation programs at the Institute of Animation, Visual Effects and Digital Postproduction here.

Savannah College of Art and Design (SCAD) - Hong Kong (SCAD Hong Kong), Hong Kong, China 
Located in the historic and trendy Sham Shui Po district, SCAD Hong Kong offers the largest concentration of art and design degree programs in area. The school accepts students from around the world and it has been approved by the Ministry of Education in China to recruit Mainland Chinese students to 15 programs. Animation programs include BFA degrees in Animation, Motion Medial Design, and Visual Effects. For animators interested in the game design industry, BFA, MA, and MFA degrees in Interactive Design and Game Development are also available. Learn more about SCAD Hong Kong here. 

Bournemouth University (BU), Bournemouth, United Kingdom 
The Media School at Bournemouth University (BU) is home to the National Centre for Computer Animation (NCAA). The Centre offers so many animation programs you'll lose count! Offerings include BA degrees in Computer Visualization & Animation and Computer Animation Arts, a BSc in Software Development for Animation, Games & Effects, MA degrees in 3D Computer Animation and Digital Effects, and an MSc in Computer Animation & Visual Effects. The animation programs at BU have been in existence since 1989. Learn more about Bournemouth University's animation programs here. 

SAE Institute Paris, Paris, France 
SAE Institute Paris (SAE Paris) is a Partner Institution of Middlesex University and it has locations around the world. Opened in 1993, SAE Paris welcomes up to 600 students each year, making it one of the largest SAE campuses in Europe. Animation program offerings include BA/BSC degrees in Visual Effects Animation, Game Art Animation, and Digital Film Production. Certificates in Motion & Graphic Design and Digital Video are also available. Learn more about the animation programs at SAE Paris here. 

Vancouver Institute of Media Arts (VanArts), Vancouver, Canada 
Around for more than 20 years, Vancouver Institute of Media Arts (VanArts) helps students launch a career in the arts in just 12 months. Programs include Diplomas in Character Animation, Game Art & Design, and Visual Effects for Film & TV. The school has articulation agreements with schools in Canada, the USA, Australia, New Zealand and the UK. These degree pathways allow students to complete their Bachelor's degree in as little as one year after graduating from VanArts. Just a few U.S. participants include Full Sail University (Winter Park, FL), Farleigh Dickinson University (Teaneck, NJ), and Woodbury University (Burbank, CA).  Learn more about the animation programs at VanArts here. 

Sejong University, Seoul, Korea 
The College of Arts & Physical Education at Sejong University is known for its rhythmic gymnastics, dancing, and animation programs. The Department of Cartoon Animation here offers a Cartoon Animation Major with Tracks in Cartoon, Animation, and Visual Effects (VFX). The school also offers a Master's in Animation and a Doctoral degree in Film & Animation (Performance Arts, Film Arts, and Animation Arts). Program highlights include Cartoon and Animation Workshops, an Industry Internship, and industry-connected projects.  Learn more about Sejong University's animation programs here. 

Royal College of Art (RCA), London, United Kingdom 
The Royal College of art (RCA) has an impressive 26 postgraduate programs in the areas of art and design. The School of Communication houses the animation program, which has produced numerous award-winning films and projects. Three pathways are available within the MA program—Documentary Animation, Experimental Animation, and Narrative Animation. The school has relationships with UK animation studios such as Blink, Nexus, Studio AKA, Passion Pictures and Hornet, which often place students' work. Learn more about RCA here. 

MOPA, the School of CG Animation, Arles, Valenciennes, France 
The students at MOPA (formerly Supinfocom) produce around 80 films annually. When the school opened in 2000, it was producing just 30 minutes of animated film per year. MOPA offers a five-year degree program in 3D Animation that enrolls just 10 to 20 students per option to allow for more effective student follow-up. Students can expect juries once a month throughout the final year of study in front of a group of five teachers, three days per week of technical follow-up, public speaking prep, and projection of the diploma film before a jury of professionals. Learn more about MOPA here. 
Note: With the exception Gobelins, the schools listed in this article are arranged in random order.  
Sources 
"Global Animation Industry 2017: Strategies Trends & Opportunities Report - The Most Authoritative Global Animation Industry Analysis - Research and Markets." PR Newswire. Research and Markets, 16 Jan. 2017. Web. 25 Feb. 2017.