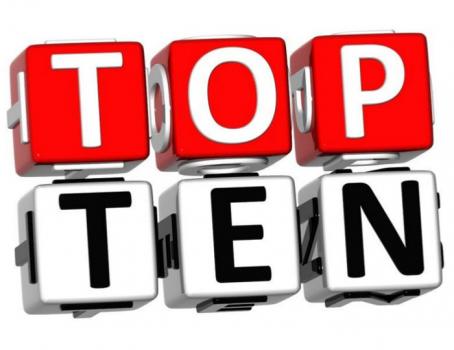 If you're passionate about getting exposure for your animated film, chances are you've already submitted to major film festivals such as Sundance, Cannes, Berlin, and Toronto. While there's nothing wrong with aiming high right out of the gate, narrowing your focus to film festivals dedicated exclusively to animation will increase your chances of acceptance. Fortunately, opportunities for today's animated filmmakers to get their masterworks in front of a captive audience are endless. You see, there are hundreds, if not thousands of animation film festivals and competitions around the world that welcome first-timers and veterans with equal enthusiasm! 
There are so many festivals out there, that we don't have the space to list them all here. What we can do is provide details for at least 10 animation film festivals that routinely rate among the best in the world. Here you go. 
1. Annecy International Animated Film Festival, Annecy, France 
Described as "the world's top reference for animation films," the Annecy International Animated Film Festival dates back to the 1960s, making it the world's oldest film festival dedicated entirely to animation. This "friendly" event that's open to all" highlights open-air screenings, exhibitions, and signing sessions. Categories include Feature Films, Short Films, TV and Commissioned Films, and Graduation Films. The festival, which receives more than 2,600 films from all over the world each year, typically takes place annually in June. Click here for detailed submission guidelines and deadlines. 
2. Animafest Zagreb, Zagreb, Croatia 
Since 1972, Animafest Zagreb has been "the festival by the filmmakers for the filmmakers." It is the second oldest film festival in the world completely dedicated to animation. Competitions include Short Films, Feature Films, Films for Children, Student Films, and Croatian Films. Animafest's Grand Prix winners (Short and Feature films) directly qualify for the Academy Award and the main European animation award, Cartoon d'Or. Click here for detailed submission guidelines and deadlines. 
3. Ottawa International Animation Film Festival, Ottawa, Ontario, Canada 
Established in 1976, the Ottawa International Animation Festival (OIAF) "presents the world's most cutting-edge, quirky and important animation — and transforms Ottawa into the centre of the animation universe." Held each year in September, the festival also highlights special screenings and retrospectives of classic and rare animation. Official competition categories include Feature Animated, Independent Short Animated, Student Animation, Commissioned Films, and Films/Videos Made for Children. OIAF is sponsored by major studios such as Nickelodeon, Cartoon Network, Disney Television Animation, and many others. Each year the festival receives more than 2,000 entries. Click here for detailed submission guidelines and deadlines. 
4. Stuttgart Festival of Animated Film (International TrickFilm Festival - ITFS), Stuttgart, Baden-Württemberg, Germany 
Founded in 1982, Stuttgart International Festival of Animated Film (ITFS) is one of the biggest animated film festivals in the world. In 2016, the festival featured more than 600 films and more than 80,000 visitors. Per the Stuttgart website, "the festival takes into its scope the whole spectrum of current productions in the animated film sector, including the intersections between games, architecture, art, design and comedy. With GameZone, the ITFS takes an especially close look at transmedia and the convergence of animation and computer games." Competitions run the gamut from International Animation to Young Animation to Animated Games. Click here for detailed submission guidelines and deadlines. 
5. Holland Animation Film Festival, Utrecht, Netherlands 
Founded in 1985, Holland Animation Film Festival (HAFF) held its 20th festival March 22-25, 2017. Categories included Shorts, Features, Dutch Animation, and Short Student Films. Shorts must not be more than minutes and features must be more than 60 minutes. The international competition for short student films is open for student films all over the world with a maximum length of 60 minutes. The festival recently created "Expanding Animation" as well, which features the work of upcoming talent and established filmmakers. This segment of the festival is non-competitive. Click here for detailed submission guidelines and deadlines for HAFF. 
6. Hiroshima, Hiroshima City, Honshu Island, Japan 
Hiroshima is a biennial international animation festival held in August in Hiroshima City, Japan. Endorsed by Association Internationale du Film d'Animation (ASIFA), Hiroshima has been around since 1985 and it is qualified as an Academy Award Short Film Festival. In 2016, the competition attracted 2,248 entries from 78 countries and regions. More than 33,000 people participated during the five days of the festival. Click here for detailed submission guidelines and deadlines. 
7. Anima Mundi, Rio de Janiero & Sao Paulo, Brazil 
Established in 1993, Anima Mundi is the largest animation festival of the Americas and one of the biggest in the world in terms of audience. The festival, which takes place each year in the cities of Rio de Janeiro and Sao Paulo, has screened more than 9,000 films from 80 different countries for an audience of more than 1.5 million people. Categories include Animated Short, Best Animation, Children's Feature Film, Children's Short, Commercials, Experimental, Feature Film, Music Video, and Student. The annual festival typically takes place in October and November. Click here for detailed submission guidelines and deadlines. 
8. Fantoche, Baden, Switzerland 
Launched in 1995, Fantoche is Switzerland's most celebrated animated film festival. The first festival consisted of 300 short and long animated films from 21 countries, along with more than 8,000 viewers. Today, the festival attracts more than 34,000 viewers and it shows its films at six cinemas with a total seating capacity of 1,300. The festival, which also includes computer games, received 1,394 short film submissions in 2016. The entries came from 79 countries. Fantoche is held annually in September. Click here for detailed submission guidelines and deadlines. 
9. Animac, Lleida, Catalonia, Spain 
Created in 1996, Animac is a non-competitive film exhibition organized and produced by the Lleida City Council and Generalitat of Catalonia. The exhibition has developed projects in other countries such as South Korea, China, Taiwan, India, Germany, Hungary, Kosovo, Scotland, Italy, Brazil, and Colombia. Filmmakers may submit animated short or feature films to Animac. Past short film entries have been as few as two minutes and as long as 19 minutes. Feature entries are typically more than an hour long. The 21st edition of Animac was held March 2-5, 2017 in Lleida (Catalonia – Spain). Click here for detailed submission guidelines and deadlines. 
10. Anifilm, Trebon, Czech Republic 
Founded in 2010, Anifilm is one of the largest animation film festivals in Europe. This international event receives 1,200 submissions from around the world each year. For 2017, the festival selected 132 films. Typically held annually in May, the main competition of the festival is divided into two categories: Films for Grown-ups and Films for Children. Categories include Feature Films (longer than 60 minutes), Short Films (not longer than 50 minutes), Abstract and Non-narrative Animation, Student Films, Music Videos, Unconfined audio-visual works using the principles of animation in the widest extent possible, Commissioned Works, and Fan-made Videos for Concrete Songs. Works must be more than 50% animation. Click here for detailed submission guidelines and deadlines. 
Note: Information about the animation film festivals in this article was obtained from each festival's official website. All information was current at the time this article was published.