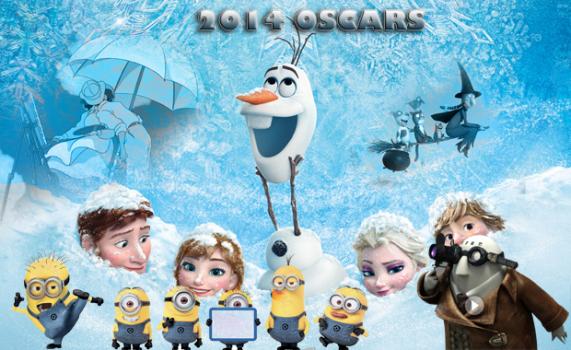 Animation is one of most magnetic and highly competitive career fields on the planet. It takes a tremendous amount of talent, a dogged desire to succeed, and an ample amount of education and experience to get your foot in the door. It also takes more than just a modicum of luck. On the education front, yes—it really does matter, so we thought it would be interesting to see where this year's Oscar Nominees for Best Animated Feature and Best Animated Short Film decided to hone their craft before entering the wild world of animation.
So just where did these uber-talented animators go to school? Here you go. . .
2014 Oscar Nominees for Animated Feature Film

The Croods
Chris Sanders, Kirk DeMicco, Kristine Belson
Chris Sanders graduated from California Institute of the Arts (CalArts). Sanders has worked with Marvel Productions, Disney Studios and now, DreamWorks Animation.
Kirk DeMicco graduated from the University of Southern California in 1991 where he majored in economics and political science. He has worked with Disney, Warner Bros., DreamWorks and Spyglass.
Kristine Belson is a producer at DreamWorks animation. She studied Liberal Arts at Trinity College in Hartford, Connecticut and interned at Sterling Lord Literistic Publishing in New York City. Belson graduated in 1986.

Despicable Me 2
Chris Renaud, Pierre Coffin, Chris Meledandri
Chris Renaud attended Baum School of Art in Allentown, Pennsylvania and he graduated from Syracuse University. In addition to co-directing Despicable Me and Despicable Me 2, Renaud lent his voice to The Minions.
Pierre Coffin attended Gobelins L'École de L'Image (Gobelins School of Image) in Paris. Coffin is also one of the voices behind The Minions.
Chris Meledandri attended Dartmouth College. He is the founder and CEO of Illumination Entertainment and a member of The Academy of Motion Picture Arts and Sciences.
Ernest & Celestine 
Benjamin Renner, Didier Brunner
Benjamin Renner studied at the Fine Arts School of Angoulême. He also completed a two-year course at the animation film directing school La Poudrière in France.
Didier Brunner is the founder of Trans-Europe Film (1987) and Les Armateurs (1994). In addition to Ernest & Celestine, just a few of Brunner's credits include Tales of the Night (Trans-Europe Film), The Old Lady and the Pigeons, (Les Armateurs), and The Triplets of Belleville (Les Armateurs).  Didier Brunner studied at the Institute for Theatre Studies in Berlin.

Frozen - WINNER!
Chris Buck, Jennifer Lee, Peter Del Vecho
Chris Buck studied character animation for two years at California Institute of the Arts (CalArts). Buck also taught at CalArts from 1988–1993 and is best known for his work on the Disney film's Pocahontas, The Little Mermaid, and Who Framed Roger Rabbit.
Jennifer Lee graduated from Columbia University School of the Arts. She is the first woman in Walt Disney Animation Studio's history to act as a director on one of its animated features.
Peter Del Vecho graduated from Boston University with a Bachelor of Fine Arts (BFA) in Theater Production. He is a producer at Walt Disney Animation Studios.
(Also Won Music Original Song for "Let It Go." Music and Lyrics by Kristen Anderson-Lopez and Robert Lopez)

The Wind Rises
Hayao Miyazaki, Toshio Suzuki
Hayao Miyazaki graduated from Tokyo's Gakushuin University in 1963, but not with a degree in animation. With degrees in political science and economics, Miyazaki went on to win an Oscar in 2003 for Best Animated Feature (Spirited Away with Toshio Suzuki) and he received a Lifetime Achievement Award at the Venice Film Festival in 2005. Hayao Miyazaki is 73.
Toshio Suzuki graduated from Keio University, Tokyo in 1972 with a degree in literature. He went on to win an Oscar in 2003 for Best Animated Feature (Spirited Away with Hayao Miyazaki). Toshio Suzuki is 66.
2014 Oscar Nominees for Animated Short Film

Feral
Daniel Sousa, Dan Golden
Daniel Sousa graduated from the prestigious Rhode Island School of Design (RISD), where he studied animation and painting. He is a founding member of Handcrankedfilm, a filmmakers' collective. In addition to teaching at his alma mater since 2001, Sousa has taught at Harvard University, The Museum School, and The Art Institute of Boston.
Dan Golden is also a graduate of Rhode Island School of Design (RISD). Feral is the fifth and latest collaboration with longtime friend Daniel Sousa.

Get a Horse!
Lauren MacMullan, Dorothy McKim
Lauren MacMullan attended Harvard University and currently works at Walt Disney Animation Studios.
Dorothy McKim is a producer at Walt Disney Animation Studios. Education information for Dorothy McKim is unavailable.

Mr. Hublot  - WINNER!
Laurent Witz, Alexandre Espigares
Laurent Witz graduated from Metz Fine Arts Institute, France with honors. He founded ZEILT productions Luxembourg and the Animation Café—the cultural haunt for animation in Luxembourg.
Alexandre Espigares graduated from The Luxembourg Technical College for Arts and Crafts (Lycée Technique des Arts et Métiers-LTAM). In addition to Mr. Hublot, Espigares is best known for his work on Iron Man 3, Happy Feet 2 and the Lucasfilm TV show Star Wars – The Clone Wars,

Possessions
Shuhei Morita
Shuhei Morita graduated in 2001 from Kyoto University of Art Design. Morita founded the studio Kamikaze Douga and he helped co-found YAMATO WORKS.

Room on the Broom
Max Lang, Jan Lachauer
Max Lang is a graduate of Filmakademie Baden-Württemberg and the Animation School Hamburg. In addition to his Oscar nomination, Lang is a BAFTA-nominated animation director.
Jan Lachauer studied at Filmakademie Baden-­Württemberg in Ludwigsburg and he studied 2D animation at the Paris's Gobelins, l'école de l'image. Room on the Broom is Lachauer's professional directorial debut.