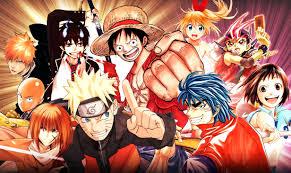 What is Japanese Manga All About? ACR Takes a Look.
Top Live Action Movies Based On Manga

| Title | Director | Year |
| --- | --- | --- |
| Lone Wolf and Cub | Kenji Misumi | 1972 |
| Our Little Sister | Hirokazu Koreeda | 2015 |
| Rurouni Kenshin Trilogy | Keishi Ohtomo | 2012 |
| 20th Century Boys Trilogy | Yukihiko Tsutsumi | 2008-2009 |
| Hot Road | Takahiro Miki | 2014 |
| Parasyte | Takeshi Yamazaki | 2014 |
| Bunny Drop | Sabu | 2011 |
| Helter Skelter | Mika Ninagawa | 2012 |
| Assassination Classroom | Eiichiro Hasumi | 2015 |
| I am a Hero | Shinsuke Sato | 2015 |
What is Japanese Manga?
Manga is a Japanese art form that encompasses drawn cartoons, comic books, and graphic novels. Manga is different from non-Japanese cartoon, comic books, and novels in a number of ways. For starters, manga reads right to left, back to front. This means that the last page of a book or comic in the West would be the first page of a manga. Next, according to Simon Richmond's The Rough Guide to Anime, "in their original Japanese form, manga magazines are mainly printed in black ink on white or color-tinted pages on flimsy recycled paper. They will typically have four hundred or more pages and contain a score of serialized and one-off stories." 
What are Some Manga Drawing Styles?
Manga drawing styles range from characters with "enormous, expressive eyes and wacky hairstyles," to figures made up of a handful of squiggles to highly detailed, realistic images. "The cinematic style of presentation" explains Richmond, "is common along with graphic 'sound effects' and speed lines to emphasize action." Boys are characterized by jagged straight lines and girls are presented in a more flowing and flowery style. 
Manga stories are also slower in pace than Western-style comics are, with artists often "lingering over particular incidents or details to create mood, stress a plot point or highlight a particular action or emotion." Finally, manga often feature multi-layered storytelling, long-running plots, and complex, emotionally realistic characters. 
What are Some Examples of Manga?
Examples of manga include Dragon Ball, Fullmetal Alchemist, Princess Knight, Lone Wolf and Cub, and Hello Kitty. These titles may sound familiar because you've probably seen the anime versions. According to Simon Richmond's The Rough Guide to Anime, around sixty percent of anime (Japanese animation) are adaptations of already successful manga. This might be the reason many people confuse the two mediums. 
Is Manga More Popular Than Anime?
Though anime is increasing in popularity in the U.S. (and it's huge in Japan), manga is even bigger—and it has always been. In fact, manga has been used to describe comical drawings for at least two centuries in Japan. The "man" in manga can be read as meaning "in spite of oneself" or "lax," while "ga" means "picture," explains Richmond. "The word's invention has typically been ascribed to the great Katshusika Hokusai (1760-1849), whose fifteen-volume collection of four thousand humorous sketches entitled Hokusai Manga was published in 1814." However, explains Richmond, "Adam Kern, an associate professor of Japanese literature at Harvard University, links manga's coinage to Santo Kyoden, a kibyoshi artist who used the word in print in 1798." 
Fast forward to the 1920s and 1930s. During this time, manga became a mainstay of those "chunky" monthly magazines such as Shonen Club. Popular strips, such as Norakuro by Suiho Tagawa, about a puppy who signs up for the army, were compiled into hardback books selling over a million copies. Says Richmond, "the process is identical today with the most successful strips and serials from manga magazines and newspapers being collected into multi-volume paperback and hardback books known as tankobon." And, as mentioned, most manga are adapted into anime series or films, and many even become live action movies. 
What are Some of the Top Live Action Movies Based on Manga?
Some of the top live action movies based on manga include: 
Lone Wolf and Cub (Kenji Misumi, 1972)
Our Little Sister (Hirokazu Koreeda, 2015)
Rurouni Kenshin Trilogy (Keishi Ohtomo 2012, 2014)
20th Century Boys Trilogy (Yukihiko Tsutsumi, 2008-2009)
Hot Road (Takahiro Miki, 2014)
Parasyte (Takeshi Yamazaki, 2014)
Bunny Drop (Sabu, 2011)
Helter Skelter (Mika Ninagawa, 2012)
Assassination Classroom (Eiichiro Hasumi, 2015)
 I am a hero (Shinsuke Sato, 2015) 
The list of anime series and films based on manga is endless. The following are just a few of the best:
Akira (Katsuhiro Otomo, Ryōhei Suzuki, Shunzō Katō, Film 1988)
Ghost in the Shell (Mamoru Oshii, Yoshimasa Mizuo, Film 1995)
Princess Mononoke (Hayao Miyazaki, Toshio Suzuki, Film 1997)
Haikyuu! (Haruichi Furudate, 2014-2016)
Fullmetal Alchemist (Series 2003, 2009; Film 2005, 2011; Live Action 2017)
ERASED (Yuichiro Hirakawa, Film 2016; Tomohiko Ito, Series 2016)
Attack on Titan (Tetsurō Araki, Film 2014-2015; Series 2013-present)
Usagi (Bunny) Drop (Kanta Kamei, Series 2011)
Yona of the Dawn (Kazuhiro Yoneda, Series 2014-2015)
Gintama (Shinji Takamatsu, Yoichi Fujita, Chizuru Miyawaki, Series 2006-present) 
What are the Top 10 Manga of All Time?
In Richmond's Guide, the author listed the Top 10 Manga of All Time. At the time the guide was published, the top 10 included: 
Slam Dunk
JoJo's Bizarre Adventure
Dragon Ball
Full Metal Alchemist
Doraemon
Phoenix
Black Jack
Nausicaa of the Valley of the Wind
Mushi-shi
Death Note 
What Does the Future Hold for Manga?
Though manga has a longer history than anime and it's larger in Japan, both mediums have been adopted as Japan's pop-culture ambassadors. Japan's Agency of Cultural Affairs has also held the Japan Media Arts Festival every year since 1997. The festival focuses on the Japanese contemporary art scene and awards prizes in four categories. Among them are anime (both long and short form) and manga. 
Sources 
"Best Based on a Manga Anime." Anime-Planet. Anime-Planet, 2001-2017. Web. 13 May 2017.
Kotzathanasis, Panos. "The 30 Best Japanese Live Action Movies Based on Manga." Taste of Cinema. Taste of Cinema, 08 May 2016. Web. 13 May 2017. 
"Manga Top 100 Most Popular." Anime News Network. Anime News Network, 1998-2017. Web. 13 May 2017. 
Richmond, Simon. The Rough Guide to Anime. London: Rough Guides, 2009. Print. 
Sheedlo, Ty. "The 14 Best Japanese Animated Movies." Screen Rant. Screen Rant, 22 May 2016. Web. 13 May 2017.