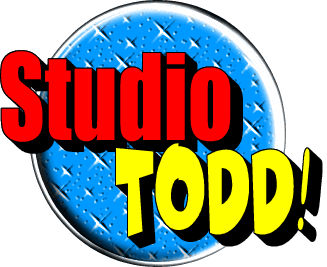 The animation industry is filled with wacky off-the-wall types, which is probably what attracted off-the-wall Todd Schowalter to the business. Todd, in his decades in the business, has established himself as a comical animator, entrepreneur and oh so much more.
In addition to running his own production studio, Studio Todd, he is also a cartoonist, comedian, motivation speaker, actor, talk show host, marketer and published author. And his humor is what 'ties it all together'.
We managed to pry out some free time from Todd to offer some advice (and good humor) to our inspiring animator readers:
What is your firm's focus within animation and what led your firm to have such a focus?
The primary focus right now is to convert my newspaper comic strips to animation format for the internet.
Fill in the blank: The future of animation is _________.
Features and gaming. If you look at how far computer animation has come in realistic storytelling, it's just a matter of time before filmmakers begin realizing they have far more control over their projects with animation than they do with live actors. Sorry, Brad Pitt.
What are the best and worst aspects about working in the animation field?
Best would be complete artistic control.
Worst, it still takes a lot of time.
Among your firm's achievements, which one(s) are you the most proud of?
Being able to produce a series of shorts on a budget that would have been impossible ten years ago.
What skills/qualities does your firm seek out when hiring new employees?
Passion, dedication and being able to take direction.
What particular schools, if any, does your firm recruit new hires from? If none, where do you recruit new hires?
Most of my animators are those who have either approached me, or I have found through their websites.
What advice would you give to aspiring animators?
Build a professional website to showcase your work. If you can't do this, I'm pretty sure that you're not professional enough to work with.
What were your most challenging projects, and why?
Not really a challenge, but it all comes down to writing and storytelling. The animation can be be brilliant, but if it's a bad story nobody is going to watch it.
What kind of education did it take to get you where you are today?
I'm a college graduate, but most of my animation experience stems from drawing comic strips in college, then professionally and then selling a concept to an animation studio. It's a different world that it was back in the late 80's. The tools available to young animators today were unheard of back in my day, and I'm only 47.
What animation software packages does your firm prefer to use? Which one would you recommend to beginners?
Primarily Flash.
Could you share with us your best story about working in the animation industry.
I received a personal letter from Bill Hanna and Joe Barbera congratulating me on my work.
Do you think that there is an increasing or decreasing demand for animators overall? Why?
HUGE demand. It's the FUTURE!
Check out more interviews at The Animation Career Review Interview Series.