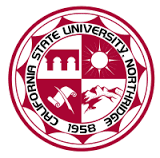 Not every university with an animation program can tout its connections to the industry. Geography plays an integral role in terms of developing studio relationships, faculty connections and alumni networks. Location can also determine students' access to internships, lectures, film festivals and even post-graduate employment. For those eager to find all of the above, California State University- Northridge (CSUN) has an expanding animation program that might just tug at your heartstrings.
Just miles from L.A.'s animation and entertainment hub, CSUN's students are surrounded by ample animation opportunities ripe for exploring. The four-year B.A. of Visual Arts with a concentration in Animation concentration takes a diverse group of students and guides them through all areas of the animation process. Their few but dedicated faculty members are, not coincidentally, working professionals in the field with decades of experience between them at large and small studios alike.
We caught up with Assistant Professor of Animation Robert St. Pierre for our latest spotlight Q&A. An industry veteran with experience in production design, conceptual and visual design, layout and more, St. Pierre's name can be found on numerous TV and feature film credits for Disney and Warner Bros. At Cal State Northridge, he offers his insight and guidance to the next generation of artists. We hope you enjoy! This interview was done via phone and has been edited minimally for length & clarity.
ACR:  CSUN's animation program ranks right up there with some of the best private school offerings. What is the secret sauce that makes your program tick so well?
Robert St. Pierre:  In part, I think it's because we have industry professionals teaching students. We have 3 fulltime faculty members including Mark Farquhar who has spearheaded the program for years. He has a robust background in the industry having worked for Pixar, Disney and DreamWorks. I'm an industry man myself with 23 years' experience including time at Disney and Warner Bros. doing pre-production and production. Add to that, we recently hired Caleb Owens who comes from the gaming side of animation and VFX so we're trying to cover all the bases for our students. We're committed to having a diverse education that addresses the needs and wants of our students.
ACR:  Your greater-Los Angeles surroundings have to help attract both faculty and students, as well.
RSP:  We certainly capitalize on our area. I'm the advisor for our animation club and we have a minimum of four guest lecturers and industry people visit us each semester and speak to our students. Add to that, about twenty industry pros look at student portfolios every year. We arrange studio tours for our students locally and we can talent scout for teachers nearby. There are many advantages that come with our location and students have opportunities to meet working professionals all the time.
ACR:  Do students get nervous taking critique from those industry professionals?
RSP:  I don't think they're nervous necessarily but they do learn how to take critiques in stride. They are an important part of the (animation) process. We don't handle students with kid gloves- they're entering a professional, dog-eat-dog world and we want to prepare them for that.
ACR:  What attributes do you think try to instill in them that prepare them for the competitive reality of the animation business?
RSP:  That's a good question. I think a couple things. First, having a sense of humility and the ability to receive critiques is important. Their interest in personal growth is also a factor as well as their willingness to adapt to different programs.
ACR:  Having moved around from different roles, studios and even continents, your own career in the industry exemplifies how important adaptation is. This is a career choice that keeps people on their toes, isn't it?
RSP:  It is, but it's dependent to some degree on one's ambition. I've always embraced change and looked for opportunities to grow. The industry is migratory- especially in VFX where you often have to move to find work. It's similar in locations like LA with the migration from studio to studio.  The more diverse skills you have, the more advantageous it is. We expose our students to both the 2D and 3D processes so that they acquire those different skillsets and have more opportunities. As they gain experience working, they get even more choices.
ACR:  As a freelancer, what weighs heaviest on you when deciding which project to tackle?
RSP:  The first thing I look at is the property itself. You get to talk to the crew but you only get limited information up front. For instance, I've been in a situation where I had an opportunity to supervise a feature film and it was a lean time in the industry. I accepted the job and shortly thereafter I saw the animatics and was appalled; there was a lot of profanity and drugs and alcohol and it wasn't what I had expected so I resigned. We all have some sense of a moral compass that guides us to the work we tackle and the work we don't and that's important I think.
ACR:  It never fails to amaze me how many animators 'pay it forward'. As a working freelance animator and a faculty member at CSUN, why do you choose to juggle it all?
RSP:  I like it for a number of reasons. I love the idea of giving back to a community that has served me well for 23 years. By teaching, I can insert fresh talent into that community which will keep it going for many more years to come. The other thing that keeps me doing what I do are those epiphany moments when a student gets it or a graduate achieves what they wanted to achieve in the industry and there's nothing quite like that. I have students who come back and personally thank me. I always tell them that it's not me, it's them… they ran with the instruction and insight I gave them. It's the satisfaction of seeing future careers and healthy careers that excites me and keeps me doing what I'm doing.