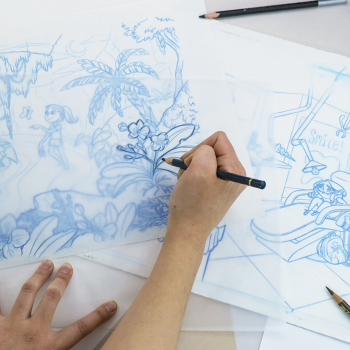 APW International Portfolio day is an opportunity for prospective animation students to meet one-on-one with animation professionals and educators and get feedback and expert advice on their animation and illustration school entrance portfolios.
This educational event offers young people constructive, unbiased input from experts on how to improve their drawings and strengthen their portfolios.
The goal is learning. The event is free and being held on Dec 5, 2020. 
In addition to reviews by professionals, prospective anima+on students will also learn from their peers—young people currently in animation programs and recent graduates from programs who are beginning their own careers. These presenters will share their successful portfolios and field questions about their working process during Q&A sessions.
Going online broadens the scope of this interactive event to reach students around the world right in their homes. This also means that APW has access to a greater variety of international guest artists to review portfolios. For example, Patrick O'Keefe from Sony Pictures Animation in Los Angeles will be joining us from his home studio in California. Patrick is an APW grad and academy award-winning art director for Spider-Man Into the Spider-Verse.
APW portfolio reviewers include Directors Vince Peets and Gerard Sternik and instructors Josh Miller and Niko Powell. Guest reviewers include Jim Zub, former Seneca Anima+on Coordinator; Werner Zimmerman, celebrated Life Drawing Professor at Seneca College Anima+on; Geordie Millar, visual artist and teacher; Sonia Furier, storyboard artist; and Myke Bakich, story artist.
This is a special opportunity for young people at the start of their journey.
Registrations are now open. https://www.animationportfolioworkshop.com/portfolio-day/