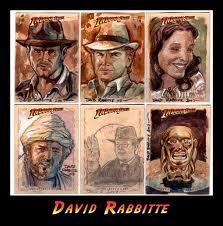 Throughout our Interview Series we have profiled production house executives around the country to find out what they are looking for in candidates and for anecdotal advice for aspiring animators looking to land a job in the industry. But, many of you may have gotten an animation education in order to start your own studio or to go into the animation freelancing business. For you guys we scored an interview with one of the country's many successful freelance animators, David, Rabbitte, to glean advice from his experience about how to become a successful freelancer.
David Rabbitte is a Cambridge, Massachusetts-born concept artist, illustrator, background artist and animator who has worked for several big-name studios, including Fox Animation Studios and Fat Cat Animation—giving him credits on major productions including Anastasia, Titan A.E., Curious George and more. In more recent years, while residing in Arizona, David has freelanced for clients including Lucasfilm, Marvel, Inkworks, and Sabertooth Games, to name a few. For more info on David you can check out his LinkedIn profile here, or visit his website: www.DavidRabbitte.com, blog: www.skyhookart.blogspot.com or you email him at:  [email protected].
David happily volunteered to be part of our series, and offered some great anecdotal advice for our readers looking to break into the freelance animation industry:
For any of our readers not familiar with your work could you explain your role
in the animation industry and what separates you from the (vast) 
competition?
I have worked mainly as a background artist, for studios like Don Bluth Ireland Ltd, Fox Animation, and Fat Cat Animation on animated features including Anastasia, Titan A.E., Curious George, Bartok the Magnificent and The Pebble and the Penguin. I worked with traditional paint originally, now I paint in Photoshop.

 As a creative professional how have you handled the business-side to
having a successful animation freelancing career?
I network as much as I can with industry professionals. It helps a lot if you become acquainted with those already in the business.
How did you initially get your foot into the door of the animation industry?
I was out of college about a year, and my animation teacher told me Don Bluth's Studio were currently looking for background artists. I had some training in illustration and painting, so the position sounded pretty interesting. Had no idea what would happen, but I thought I'd give it a go. They liked the test I did for them and decided to try me out. I remember the first two weeks I really struggled to get their style down, as I never worked in gouache paint. It didn't help that I was really nervous! Somehow though it suddenly clicked and then I started to get the hang of the style. I'm really grateful I applied for that job, it took me places I didn't expect.
What kind of education did it take to get you where you are today and 
what, if any, type of ongoing education are you involved in?
I was living in Ireland and did my first year of art training in a college in Galway. It was a foundation course learning all the basics in drawing and painting...life drawing, still life and so on, which is important to know before you go on to specialize in something you like - say if you decide you want to be a cartoonist, knowing human and animal anatomy will provide a solid foundation, and it will show in your cartoon work. 

After I completed the one year I moved to Dublin and took a three year course, which was primarily graphic design, but I had the opportunity to specialize in illustration and take classes in animation. 

I think my best training was when I was offered the job at Don Bluth's animation studio. The supervisors taught me how to understand color, form and light. Staging was an important factor to draw the viewer's eye into the area where the character would be in the scene. I still use a lot of the techniques they showed me back then in my traditional art today, and apply those rules when painting digitally.
Has the trend of overseas animation outsourcing affected you at all, if yes, how have you dealt with it or compensated for it?
I think it has limited the opportunities for me as a background artist, yes. I have explored other areas, like illustrating for card sets, book covers, and doing character and concept design. If I didn't I'm not sure I'd survive! There have been a number of times where I have had to wait between projects, so it has helped me to wear different hats in the creative industry.


How do you find the bulk of your gigs/contracts?
The animation projects I have had are mainly through people I have worked with before, I just try to stay in touch with them and see what's going on. Other than that, having a website helps, and posting your work in forums gains some exposure. Also going to conventions and showing your work to potential clients means they have a face to go by, and not just another email which may or may not get read. Meeting clients doesn't guarantee you a job, but it will put you in the forefront of their minds.
 

What is the most important skill and/or hard lesson you have learned
while working in the industry?
Seeing how many talented artists there are in the business. I realized I would have to push myself to become better and faster at what I do to keep up. I'm really thankful for that though, I don't know how far I'd be today if I didn't have those people around me to show me how to improve on my work.
What advice would you give to aspiring animators looking to break into
the industry?
First thing would be to go to school to get a strong foundation in art and animation. After that find people you can connect with who are in the industry who may be able to get you a foot in the door. You may have to start at the bottom - some people I know started off as production assistants, then worked their way up into other departments. And above all, if you feel you have the talent and you're passionate about the industry don't ever give up!
Check out more interviews at The Animation Career Review Interview Series.