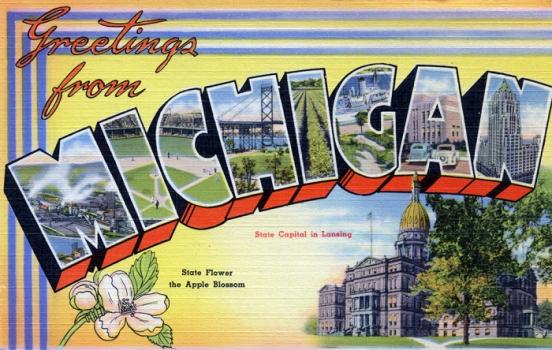 Examples of Michigan Art Schools

| School | City |
| --- | --- |
| Siena Heights University | Adrian |
| Grand Valley State University | Allendale |
| University of Michigan | Ann Arbor |
| Cranbrook Academy of Art | Bloomfield Hills |
| College for Creative Studies | Detroit |
| Ferris State University | Grand Rapids |
| Western Michigan University | Kalamazoo |
| Central Michigan University | Mount Pleasant |
| Lawrence Technological University | Southfield |
Michigan is one nation's most scenic states. Four of the five Great Lakes surround the state, highlighting more than 3,200 miles of pristine coastline, Mackinac Island is one of the most visited attractions in the region, and Tahquamenon Falls, the Keweenaw Peninsula and Brockway Mountain Drive, the Porcupine Mountains and Lake of the Clouds, Isle Royal National Park, and Kitch-iti-Kipi round out the state's seven "natural wonders." Aside from beautiful scenery, Michigan is also home to one of the nation's most infamous cities—Detroit. 
Despite any negative attention the city may have received over the years, Detroit has an exciting art and culture scene that boasts several major art museums, and dozens of alternative museums and galleries. The Detroit Institute of Arts Museum and the Museum of Contemporary Art are two of the city's top art museums, and The Scarab Club and the Elaine L. Jacob Gallery are a few of the city's most popular artists clubs and galleries. Art museums, galleries, performance venues, and art & design centers can be found in other cities as well including Ann Arbor, Bloomfield Hills, Grand Rapids, Warren, Sterling Heights, Lansing, and more.
The Great Lakes State also has an outstanding collection of colleges and universities that offer top-rated art programs for aspiring artists of all kinds. Just a few include The College for Creative Studies in Detroit and the University of Michigan at Ann Arbor. These schools are just a  small sampling of the state's more than 100 Title IV degree-granting colleges and universities. 
Michigan Art Schools
Nearly 700,000 students are enrolled in colleges and universities across Michigan and thousands are enrolled in their art and design programs. More than 4,500 art and design majors are enrolled in the state's top art schools alone. Scroll through the list below to take a look at Michigan's best options for aspiring artists and some of the programs they have to offer.    
Adrian
Siena Heights University, Division of Visual and Performing Arts and Education – Degrees Offered: BA, BFA Studio Art, Art with Concentration in Graphic Design
Allendale
Grand Valley State University, Department of Art and Design - Degrees Offered: BFA, BA Art and Design with Emphasis in Graphic Design, Illustration; BA, BS Communications: Film and Video Production with Animation/New Media Emphasis
Ann Arbor
University of Michigan, Stamps School of Art and Design - Degrees Offered: BA, BFA, Minor Art & Design, MFA Art, MDes Integrative Design
Bloomfield Hills
Cranbrook Academy of Art – Degrees Offered: MFA 2D Design (Graphic Design), 3D Design, Architecture, Ceramics, Fiber, Metalsmithing, Painting, Photography, Print Media, Sculpture
Detroit
College for Creative Studies – Degrees Offered: BBFA Entertainment Arts/Animation, Graphic Design, Illustration, BFA Fine Arts with a Concentration in painting, Printmaking, Sculpture, Installation, Time-based Media; MFA Color and Materials Design, Interaction Design, Integrated Design
Grand Rapids
Ferris State University - Degrees Offered: BFA Collaborative Design, Digital Media, Drawing, Graphic Design, Illustration, Medical Illustration, Painting, Photography, Sculpture and Functional Art; MFA Drawing, Painting, Photography, Printmaking, MA Visual and Critical Studies
Kalamazoo
Western Michigan University, Gwen Frostic School of Art – Degrees Offered: BA Art, BFA Graphic Design, BFA with an Emphasis in Painting, Photography and Intermedia, Print Media
Mount Pleasant
Central Michigan University, College of Communication and Fine Arts - Degrees Offered: BA, BFA 2D Art (drawing, printmaking, painting, photography), BFA 3D Art (fibers, ceramics, sculpture), BA, BFA Art with Graphic Design Concentration; MA Broadcast and Cinematic Arts: Electronic Media Management or Electronic Media Production
Southfield
Lawrence Technological University, College of Arts + Sciences - Degrees Offered: BFA Game Art, Graphic Design, Imaging – Digital Arts
More Art related programs to consider:  
Employment and Salary Trends for Michigan Artists
Michigan is home to more than 48,000 Arts, Design, Entertainment, Sports, and Media (ADESM) professionals. They earn an average annual salary of $47,650 per up slightly from $46,960 in 2009, when the state was home to 53,500 professionals in this occupation. Of the more than 48,000 salaried ADESM professionals living in Michigan today, more than 5,500 are graphic designers averaging $47,940 per year, nearly 1,000 are art directors earning an average annual salary of $74,250, nearly 300 are multimedia artists and animators averaging $50,740 per year, 230 are fine artists averaging $60,260 (2012, latest figures) per year, and 140 are craft artists earning $34,260 per year.
It is important to note that many artists and designers are self-employed, so it is safe to assume that the population of ADESM professionals in the state is much higher. These individuals typically earn more as well—especially in larger states and major cities. In fact, according to the Bureau of Labor Statistics (BLS), the "Independent Artists, Writers, and Performers" 'industry' has the highest concentration of employment (not the highest level of employment) in ADESM occupations, and it is one of the highest paying industries for ADESM professionals.
Overall, independent artists average $70,620 per year. Independent artists working in animation average $75,150 per year and those working as art directors average $91,100 per year. Independent fine artists average $43,390 per year, and independent craft artists average $36,590 per year. Nationwide, the median annual wage for ADESM occupations was $43,100 in May 2014, which was higher than the median annual wage of $35,540 for all occupations. 
Employment of art and design occupations is projected to grow two percent from 2014 to 2024, which is slower than the average for all occupations, adding about 16,700 new jobs. Projected growth, says the BLS, will be due to increased demand for animation and visual effects in video games, movies, television, and on smartphones. As companies continue to increase their digital presence, more art and design workers will be needed to help create visually appealing and effective layouts of websites and other media platforms.
The top five highest paying states for ADESM professionals are:
District of Columbia ($89,950)
New York ($74,100)
California ($70,440)
Massachusetts ($58,200)
Maryland ($57,330)
The industries with the highest levels of employment for ADESM professionals are:
Motion Picture and Video Industries
Radio and Television Broadcasting
Newspaper, Periodical, Book, and Directory Publishers
Advertising, Public Relations, and Related Services
Elementary and Secondary Schools
The states with the highest employment levels for ADESM professionals are California, New York, Texas, Florida, and Illinois. While Michigan did not make the list of top five states with the highest employment levels for ADESM professionals, with 2,250 ADESM professionals, the "Balance of Lower Peninsula of Michigan" nonmetropolitan areas holds the number three spot on the list of top five nonmetropolitan area with the highest employment level in this occupation.
Awesome Animation Fact: At a mere 17 years old, the Family Guy franchise is worth a whopping $2 billion. -FastCompany