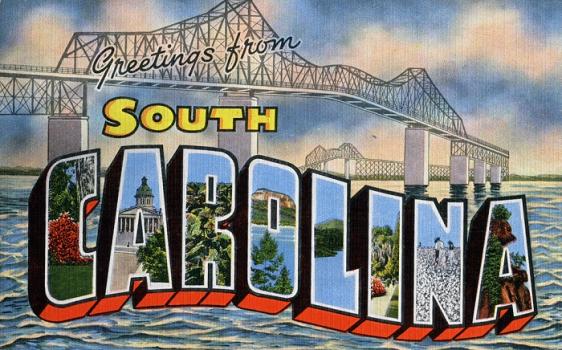 Art Schools in South Carolina

| School | City |
| --- | --- |
| University of South Carolina | Aiken, Spartanburg |
| The South Carolina School of the Arts at Anderson University | Anderson |
| College of Charleston | Charleston |
| The Art Institute of Charleston | Charleston |
| Francis Marion University | Florence |
| Claflin University | Greenville |
| Coker College | Hartsville |
| South Carolina State University | Orangeburg |
| Winthrop University | Rock Hill |
| North Greenville University | Tigerville |
When you think of the word "art," oil paintings and ornate sculptures may come to mind. Sure, painting and sculpting are staples of the world of art, but thanks to technology and advances in traditional areas of art, there are now dozens, if not hundreds of innovative forms of artistic expression. They can be seen in web design, mobile applications, advertising, films, animated productions, window displays, buildings, retail shops, public spaces, structures, and more. Because art is an ever-expanding diverse field, a typical degree program will feature multiple disciplines. Students in any given program may study a combination of painting, printmaking, sculpture, digital art, ceramics, printmaking, and others. Fortunately, the state of South Carolina is home to a variety of schools that offer comprehensive art and design programs that pair well in today's progressive world of art.
Before we discuss South Carolina's best schools for aspiring artists, the state's art and culture scene deserves a bit of attention. Cities such as Columbia and Charleston are chock full of art venues from the renowned Columbia Museum of Art to Gibbs Museum of Art. North Charleston is home to the magnetic North Charleston City Gallery, while Mount Pleasant is home to more than a dozen museums and galleries such as Treasure Nest Art Gallery, which houses more than 700 paintings.
Head to Greenville, where you'll find the Greenville County Museum of Art or ride over to Rock Hill, where visitors love to explore the Center for the Arts and The Gettys Art Center. The state is also home to Culture & Heritage Museums. This family of museums is located in South Carolina's York County. The family includes the McCelvey Center, Historic Brattonsville, the Museum of York County, and the Main Street Children's Museum.
South Carolina's impressive collection of art and design schools is as diverse as the state's arts and culture scene. Just a few popular options include the The School of Visual Art and Design at the University of South Carolina at Aiken and Spartanburg, Claflin University-Department of Art at Greenville, Charleston and Columbia, and the Department of Fine Arts at Francis Marion University in Florence.
Continue reading to find out which South Carolina schools offer the best programs for aspiring artists and where to find them.
South Carolina Art Schools
South Carolina is now home to 75 Title IV degree-granting colleges and universities. nearly 250,000 students are enrolled at these schools, with more than 500 enrolled in the state's top art programs alone. Of these schools, well over a dozen offer top-tier programs for aspiring artists and designers. Take a look at our list of the most popular options and what they have offer. 
Aiken
The School of Visual Art and Design at the University of South Carolina, Aiken and Spartanburg - Degrees Offered: BA, BFA, MA, MFA Studio Art; BA, MA Media Arts; BA, MA Art History; BFA, IMA, MA, MAT Art Education
Anderson
The South Carolina School of the Arts at Anderson University, Department of Art & Design - Degrees Offered: BA Art with Concentrations in Ceramics, Graphic Design, Painting and Drawing, Art Education
Charleston
College of Charleston, School of the Arts, School of Science and Mathematics – Degrees Offered: BA Studio Art, BA Art History, BA Computing in the Arts, BA Art and Architectural History, BA Arts Management, MAT Performing Art
The Art Institute of Charleston – Degrees Offered: BFA Digital Filmmaking & Video Production; AA, BFA Graphic & Web Design, Certificate Web Design & Interactive Communications, Certificate Digital Image Management
Florence
Francis Marion University, Department of Fine Arts - Degrees Offered: BA Visual Arts, BA Art Education
Greenville
Claflin University -Greenville, Charleston, Columbia, Department of Art – Degrees Offered: BA Art with a Major in Digital Design, Studio Art, Art Education
Hartsville
Coker College, Art Department - Degrees Offered: BA Art with Concentrations in Studio or Fine Arts, Graphic Design, Photography, Art Education
Orangeburg
South Carolina State University, Department of Visual & Performing Arts - Degrees Offered: BA Studio Art with Concentrations in Digital Media, Painting/Drawing, Photography/Printmaking, Ceramics/Sculpture; BS Art Education
Rock Hill
Winthrop University, College of Visual and Performing Arts – Degrees Offered: BA Art with Concentrations in Art, Art history, Art with Teacher Certification, K-12; BFA Fine Arts in Art with Concentrations in Jewelry/Metals, Photography, Commercial Photography, Printmaking, Ceramics, General Studio, Painting, Fine Arts Photography, Sculpture; BFA Visual Communication Design with Concentrations in Graphic Design, Illustration; MA Art Education, Art Administration; MFA with Concentrations in Fine Arts, Art and Design; MAT
Spartanburg
University of South Carolina Upstate, Spartanburg – Degrees Offered: BA Art Studio with an Emphasis in Graphic Design, Art Education; Minor Art History
Tigerville
North Greenville University, College of Fine Arts, Department of Art - Degrees Offered: BA Studio Art with Concentrations in Ceramics, Drawing, Graphic Art, Painting, Printmaking, Sculpture; Minor Studio Art
More South Carolina Art related programs to consider:  
Employment and Salary Trends for South Carolina Artists
South Carolina is home to 17,390 Arts, Design, Entertainment, Sports, and Media (ADESM) professionals. They earn an average annual salary of $42,760 per up slightly from $41,110 in 2009, when the state was home to 16,230 professionals in this occupation. Of the 17,000+ salaried ADESM professionals living in South Carolina today, more than 2,000 are graphic designers averaging $39,940 per year, 200 are art directors earning an average annual salary of $50,300, 110 are multimedia artists and animators averaging $50,660 per year, also at 110 are fine artists (illustrators, painters, sculptors) averaging $24,840 per year, and 30 are craft artists earning $25,370 per year.
It is important to note that many artists and designers are self-employed, so it is safe to assume that the population of ADESM professionals in the state is much higher. These individuals typically to earn more as well—especially in larger states and major cities. In fact, according to the Bureau of Labor Statistics (BLS), the "Independent Artists, Writers, and Performers" 'industry' has the highest concentration of employment (not the highest level of employment) in ADESM occupations, and it is one of the highest paying industries for ADESM professionals.
Overall, independent artists average $70,620 per year. Independent artists working in animation average $75,150 per year and those working as art directors average $91,100 per year. Independent fine artists average $43,390 per year, and independent craft artists average $36,590 per year. Nationwide, the median annual wage for ADESM occupations was $45,180 in May 2014, which was higher than the median annual wage of $35,540 for all occupations.
Employment of art and design occupations is projected to grow two percent from 2014 to 2024, which is slower than the average for all occupations, adding about 16,700 new jobs. Projected growth, says the BLS, will be due to increased demand for animation and visual effects in video games, movies, television, and on smartphones. As companies continue to increase their digital presence, more art and design workers will be needed to help create visually appealing and effective layouts of websites and other media platforms.
The top five highest paying states for ADESM professionals are:
District of Columbia ($89,950)
New York ($74,100)
California ($70,440)
Massachusetts ($58,200)
Maryland ($57,330)
The industries with the highest levels of employment for ADESM professionals are:
Motion Picture and Video Industries
Radio and Television Broadcasting
Newspaper, Periodical, Book, and Directory Publishers
Advertising, Public Relations, and Related Services
Elementary and Secondary Schools
The states with the highest employment levels for ADESM professionals are California, New York, Texas, Florida, and Illinois. South Carolina-based artists can increase their chances of finding employment by exploring the state's major cities first including Columbia, Charleston, North Charleston, Mount Pleasant, Rock Hill, and Greenville. Other cities worth looking into include Summerville, Sumter, Hilton Head Island, Florence, Spartanburg, and Goose Creek.
Awesome Animation Fact: How is computer animation is made? By using 3-D computer software, models can be built, colored, and animated in a virtual environment. Computer animation, unlike stop-frame animation, does not need the model to be placed in every position of a movement. Instead, key poses are set and the computer creates the positions in between. -Fact Monster