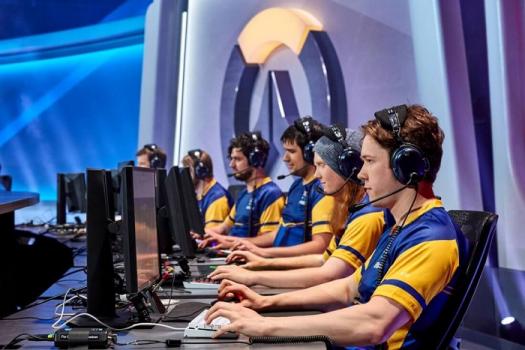 In April 2018, Ashland University, a private school located in Ashland, Ohio, became the first university in the U.S. to offer scholarships for Fortnite. The annual scholarships are worth up to $4,000.
Ashland signed its first Fortnite player and scholarship recipient, 22-year-old Devin Sharp, in May 2016, with plans to launch its eSports program in Fall 2018. Epic Games, the developer for Fortnite, announced in early May that it planned to invest $100 million for Fortnite competitions throughout the 2018-2019 gaming calendar. According to CNBC, the figure soars past the nearly $38 million in prize money paid out last year for Dota 2 tournaments.
Scholarships for gaming are at an all-time high, with the rise in the popularity of titles such as Overwatch and League of Legends. Stephen's College recently became the first all-women's college to sponsor a varsity eSports program, awarding partial scholarships to eligible candidates. The game of choice? Overwatch.
Ashland University (AU) is one of a growing number of colleges and universities that are part of the National Association of Collegiate Esports (NACE). As of January 2018, more than 90% of all varsity eSports programs in the U.S. were members of NACE. NACE is the only association of college and university sponsored eSports programs that promotes the education and development of students through intercollegiate eSports.
Ashland University Esports Facts by AU Esports
AU Esports players compete in the National Association of Collegiate Esports, University League of Legends, Collegiate Starleague, TESPA, AVGL, as well as Professional & Semi-Professional leagues.

AU Esports Players compete in Counter-Strike: Global Offensive (CS:GO), Fortnite, Hearthstone, League of Legends, Overwatch, Rocket League, and Starcraft 2.
Players practice in a state-of-the-art gaming center featuring 25 high-end gaming PCs and gaming chairs. The center also features two 65" high-definition televisions for coaching and entertainment purposes.
Players are mentored by AU coaches to be successful in the game and in their academic studies.
Players receive a backpack, jersey, jacket, gaming keyboard, gaming mouse, gaming mousepad, and gaming headset.
AU Esports players attend seminars featuring guest speakers including professional players and industry leaders.
In addition to annual scholarships up to $4,000, AU Esports players may qualify for Ashland University academic aid and federal and state aid by filing the FAFSA at fafsa.gov.
About Ashland University
Founded in 1878, Ashland University serves nearly 6,700 students enrolled in more than 70 different programs at the Bachelor's, Master's, and Doctorate levels. The University consists of four academic colleges (College of Arts & Sciences, Dauch College of Business & Economics, Schar College of Education and Schar College of Nursing and Health Sciences) as well as a Graduate, Online and Adult Education Center; Founders School for Continuing Education; and Ashland Theological Seminary.
Ashland University is accredited by The Higher Learning Commission (HLC) and is a member of the North Central Association (NCA).
Sources
"About Us." Ashland.edu. Ashland University, 2018. Web. 15 Sep. 2018.
"AU ESports." Ashland.edu. Ashland University, 2018. Web. 15 Sep. 2018.
Erzberger, Tyler. "Ashland University signs first Fortnite player." ESPN.com, ESPN, Inc., 26 May 2016. Web. 15 Sep. 2018.
"Join Stephens College's Newest Team – ESports." Stephens.edu. Stephens College, 2018. Web. 14 Sep. 2018.
Kim, Tae. "Epic makes 'Fortnite' biggest esport in the world with $100 million in prize money." CNBC.com, CNBC LLC., 21 May 2016. Web. 15 Sep. 2018.
Nacesports.org. National Association of Collegiate eSports (NACE), 2018. Web. 29 Aug. 2018.