Maya is arguably the most famous animation software in the history of 3D animation industry, so let's take a look at what's new in Autodesk Maya 2016! Please note that Extension 1 and 2 features are available only to current Maya subscribers as part of the extension releases for Maya 2016 software.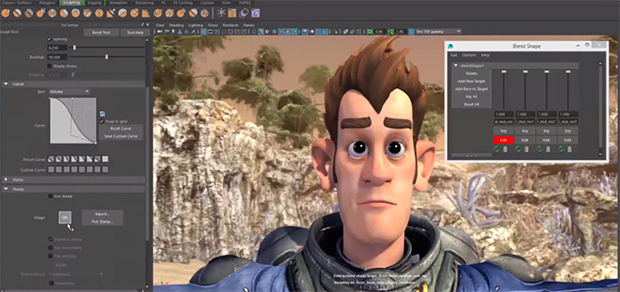 There's a new motion graphics updates that includes a toolset that's based on the MASH procedural animation toolset. The 3D Type offers full control over the appearance of text, including precise control over bevel and extrusion profiles, as well as the ability to animate by character, word, or line. Some users will appreciate that Maya now offers enhanced SVG file support, which will make it easier to work with vector-based 2D design applications.
Artists who work with dynamic effects will be thrilled to discover that simulations now use a new adaptive solver for Bifrost liquids that contains high surface detail and low detail below, which allows for even larger simulations than before. The solver uses less particles, voxels, and RAM while yielding the same results as a non-adaptive, dense solve. Want to add froth, foam, or whitewater bubbles to your liquid simulations? No problem! The Adaptive Aero solver in Bifrost even lets users create atmospheric effects such as smoke and mist at a higher detail and greater physical accuracy than Maya Fluid Effects.
The XGen library now includes presets that were previously included with Maya Fur. You can also build a library of descriptions with custom thumbnails so you don't have to build them from scratch every time. Width control on splines lets you create custom shapes for primitives, such as leaves, scales, and feathers. Multithreading preview speeds have also improved!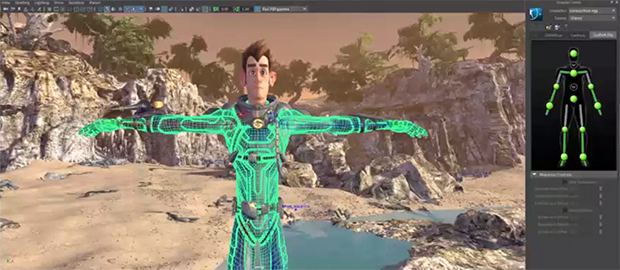 Animators should notice speed enhancements in their scenes; MultiDraw consolidation improves render times of multiple meshes in a viewport, and parallel evaluation now supports Nucleus dynamics. Even better, the improved GPU-accelerated deformation system is now on by default and accelerates even more complex scenes. Animators can use Delta Mush in many different workflows, such as paint-free skinning, smoothing of coarse simulation results, and shot post corrections.
Symmetry modelling has been enhanced. So has Shape Authoring workflow; there's a new Pose Space Deformation toolset, Blendshape UI, and enhanced Blend Shape Deformer. The new sculpting tools offer more detail and resolution. The brushes feature Volume and Surface falloff, stamp images, sculpting UVs, and support for vector displacement stamps.
The new render setup layout has templates for easier reuse and new workflows let you visualize and diagnose complex shading graphs. You can customize your UI to your liking, but the new layout tabs let you work with shading graphs in a far more organized way. The new procedural texture and image processing nodes in the Hypershade let fully procedural textures make shading complex scenes easier. Advanced artists will be able to manage colors by using Autodesk Color Management (SynColor), the OpenColorIO open source project, and the Academy Color Encoding System (ACES).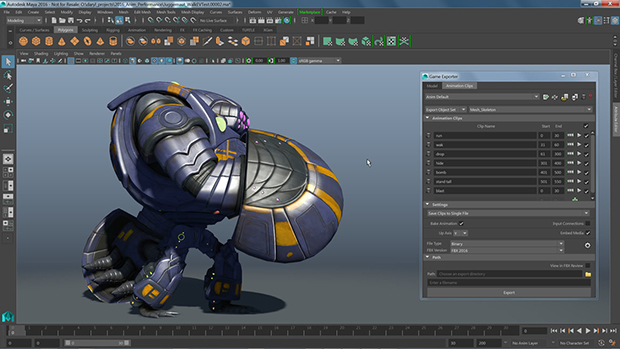 Game designers will also enjoy Autodesk Maya 2016! You can easily move from Maya to game engines such as Unity, Unreal, or Autodesk Stingray with simplified and streamlined game exporter workflows.
Here are the operating system requirements for Autodesk Maya 2016:
Microsoft Windows 10 Professional, Windows 8.1 Professional, and Windows 7 (SP1).
Apple Mac OS X 10.9.5, 10.10.x, and 10.11.3.
Red Hat Enterprise Linux 6.5 WS.
CentOS 6.5.
These are the hardware system requirements for Autodesk Maya 2016:
CPU: 64-bit Intel or AMD multi-core processor.
Graphics Hardware: Refer to the Maya Certified Hardware page for a detailed list.
RAM: 4 GB of RAM (8GB recommended).
Disk Space: 4 GB of free disk space for install.
As I always say, as with all animation software, it's worth noting that the program itself isn't the most important thing to know; the principles are. All 3D software should be viewed as nothing more than a different tool to help you get the same job done, with many programs being perfectly acceptable. It's great to find out which one you like best but different employers use different software, so it's likely that over the course of your career you'll be asked to learn a few different animation programs. Try them all and have fun!