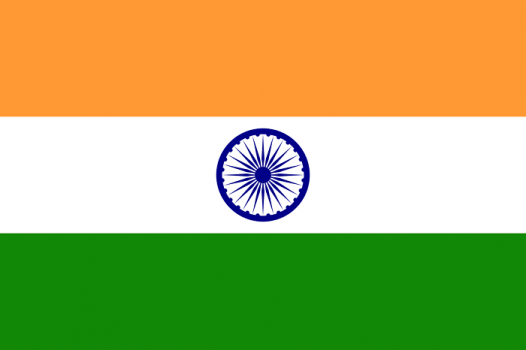 From notable animation studios such as Disney India, Prana Studios, and Toonz to the distinctive food, fine arts and spirited festivals of Mumbai (Bombay), India just might be one of the most exciting places to do an animation internship. The country is home to the largest cities in the world—Mumbai, Delhi, Kolkata (Calcutta), and Chennai are among them, and it is a modern art mecca. The National Gallery of Modern Art –NGMA (New Delhi, Mumbai), Kiran Nadar Museum of Art (New Delhi), and Mural Art Museum (Kerala) are just a few major art museums that attract millions of visitors each year. Other modern art museums have been proposed or are in the works. Kolkata Museum of Modern Art (KMOMA) is just one. 
Back in Mumbai, India's cultural and financial center, you will find literally hundreds of 2D/3D Animation studios, Post Production studios, and VFX, film and graphics studios that are always looking for fresh talent. Kolkata, Delhi, and Chennai have their fair share as well. And that's just the beginning. Besides access to hundreds of animation and VFX studios, interns will have the opportunity to expand their networks and gain valuable insight into how the industry works in India. They will also increase their chances of landing a position at an India-based studio or a studio back home. 
An added bonus is some India animation internships actually pay. Some pay minimum wage, while others pay more. No matter what the amount may be, a paid internship can help offset the cost of living overseas. Fortunately, according to Independent.co.uk, India has been ranked "the cheapest country to live in the world." This means that all of that extra cash will go a long way. 
Before we tell you how to get started on securing an animation internship in India, take a look at our list of 35 cool animation studios located in the largest cities in the country. 
Accel Animation Studio, Chennai
Agaram, Chennai
Animantz Animation and Multimedia Studio, Chennai
Animatzione Animation Studio, Kolkata
Assemblage Entertainment, Mumbai
Cartoon Newtork India, Mumbai
Chennai Animation Studio, Chennai
Crazy Animation, Kolkata
DigiFx Animation Studio, New Delhi
Disney India, Mumbai
Double X Animation Studios, New Delhi
Famous Studios, Mumbai
Flixit Animations, Mumbai
Fluid Mask Studios, Mumbai
Futureworks, Mumbai
Green Gold Animation, Mumbai
HopMotion Animation, Mumbai
Land Marvel Animation Studios, Chennai
Lumicel Animation Studios, Kerala
Makuta VFX, Hyderabad, Santa Clara & Universal City, CA
Maya Digital Studios, Mumbai
Moonworks Animation, Mumbai
Motion Makers Animation Studio, Mumbai
Paperboat Animation Studios, Mumbai
Pixel D Studios, Mumbai
Pixion, Mumbai
Popcorn Animation Studios, Mumbai
Prana Studios, Mumbai
Real Image Zone VFX and Animation, Mumbai
RIVA Digital, Mumbai
Studioz MB, Mumbai
The Magic Box, Mumbai
Toonz Animation India, Kerala
Trace Visual Effects (Trace VFX), Mumbai, New York, NY
Turner International India, New Delhi 
Other cities that might be worth looking into include Bangalore, Hyderabad, Ahmedabad, Surat, Pune, Jaipur, Lucknow, Kanpur, Nagpur, and Visakhapatnam. 
If you've seen enough and you're ready to pack up and head to India, you can get the ball rolling by checking with your animation program coordinator and the study abroad office at your school. While doing research on your own is never a bad thing (more on this in a sec), your program coordinator and the study abroad office are experienced with helping match students with the right overseas studio. They will also have access to a variety of resources and can provide plenty of advice about accommodations, financing your trip, local customs, and requirements. 
If you want to do some research on your own, below are a just few places to look. Please note that at the time this article was published, some sources listed both paid and unpaid internships. Also below is some information about visa requirements to help get you started on any legal requirements to intern in India. 
AnyIntern
Website: http://www.anyintern.com/in/animation-internships-in-mumbai/<
Contact: [email protected]
Go Overseas
2040 Bancroft Way
Suite 200
Berkeley, CA 94704<
Phone: 415-796-6456
Website: https://www.gooverseas.com/internships-abroad/india
Contact: https://www.gooverseas.com/contact-go-overseas 
World Internships (WI)
17 New South Street
Suite 302
Northampton, MA 01060
Phone: 970-797-5616
Website: https://www.worldinternships.org/india/
Contact: [email protected] 
GoAbroad
2850 McClelland Dr.
Suite 2700
Fort Collins CO 80525 U.S.A.
Phone: 720-570-1702
Fax: 720-570-1703
Website: http://www.goabroad.com/
Contact: http://www.goabroad.com/about 
Visa Requirements by Knowledge Must 
According to Knowledge Must, international interns go to India on several different types of visa's including: Tourist Visa, Entry Visa, Employment Visa, Business Visa or Student Visa. None are applicable to all internship scenarios. The Entry Visa (X Visa) is generally for people whose purpose of visit to India does not fit into any of the standard visa categories, such as people coming for short term courses, volunteer work, or unpaid internships to India. You should apply for an Entry Visa along with a copy of the offer letter stating the terms of your internship position. If you are a student and the internship is part of your studies you should also obtain a letter from your university explaining why you are going to India.
Internships with a "stipend," allowance, or salary are generally considered to be paid internships and these technically demand an Employment Visa (which requires additional documentation such as the employment contract and a proof from the employer that no suitable Indian national could be found to fill the position). However, many organizations might directly ask you to come on a Tourist Visa because it is easier for them and for the applicant – although it is technically not legal. 
Before applying for any kind of visa, make sure that your passport is valid for at least 6-18 months, depending on your specific visa. Applicants who are not citizens in their country but residents must send a copy of their residence permit with the application. It is always advisable to consult the respective Indian embassy in your country for more details. 
Sources 
Mozar, Amit. "The Virtual Assist Complete List of 2D/3D Animation, Post Production and VFX Studios in Mumbai." The Virtual Assist. The Virtual Assist, 29 Nov. 2015. Web. 24 Sept. 2016. 
Ratheiser, Daniel. "Internships in India - A Guide by Knowledge Must." Academia.edu. Knowledge Must, Career Must, n.d. Web. 24 Sept. 2016. 
Staufenberg, Jess. "India the 'Cheapest Place to Live in the World' as Domestic Economy Booms." Independent.co.uk. The Independent, 22 June 2016. Web. 24 Sept. 2016. 
"The 50 Largest Cities in the World by Land Area, Population and Density." City Mayors Statistics. City Mayors Foundation, n.d. Web. 24 Sept. 2016.