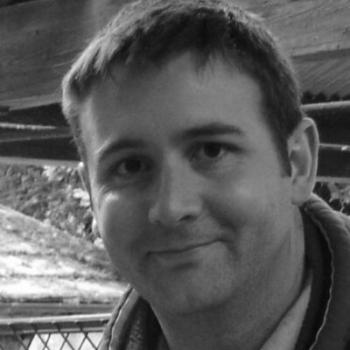 Just an hour's drive north of Edinburgh, Scotland, sits the seaside city of Dundee- a major player in the UK's digital entertainment industry and birthplace of Grand Theft Auto. It's also home to Abertay University which offered the world's very first computer games degree and is recognized as a global leader in the field.
Fostering strong industry links and cutting-edge research, Abertay's enviable assortment of games-related programs draws international students to the Scottish shores. For our latest Q&A, we pick the brain of Dayna Galloway, Lecturer and leader of the Game Design and Production Management program. We hope you enjoy!   (This interview has been edited minimally for length & clarity).
ACR:  Dayna, before you became Lecturer of Game Design at Abertay you were a student in the university's Computer Arts division. What was the genesis of the Game Design and Production Management program, and when and why did you come on board?
Dayna Galloway (DG):  The programme was originally established as a production management degree in response to requests from across the sector that graduates with a specialism in this field would be much in demand. This was driven by the increasing scope of projects, the constant emergence of new technology, and the ever-changing roles and specialisms across the games industry. The programme was also designed to fit in with our existing offerings in computer arts and games technology, so it was a logical step really.
I began teaching on the programme around the same time I started my PhD and took over leadership just around the time it evolved into encompassing design. Since 2009, I have enjoyed developing the programme in response to the rapid cultural and technological shifts that have emerged such as the prevalence of mobile/handheld, the rise of indie, the ease of self publishing, freely available game engines such as Unity, experimental game design, and the ever-growing need to address and support diversity in games.
ACR:  Speaking of technological shifts, how have game narrative and aesthetics evolved to accommodate the more 'bite-sized' gaming platforms that most people participate in?
DG:  I feel there is much work still to be done here and vast potential! So many people play games nowadays but some players feel safe sticking to familiar genres and easy to pick up mobile games that demand your daily attention. In terms of narrative and aesthetics, we have seen much deserved success through games such as Monument Valley, Her Story, along with much of Simogo's ground-breaking work – but these are just a tiny proportion of the games that are available on these platforms. For me, there's a genuine excitement and privilege in having access to a powerful mobile device wherever I go. I think we are only scratching the surface in terms of the experiences players could have.
ACR:  Does your curriculum evolve with industry feedback and gaming trends?
DG:  We have always benefitted from our close links to game development studios and the wider creative industries – we are proud of the quality and relevance of our game design and development degree programmes and we achieve this through regular contact with these partners. It was very easy to see the shift here in Dundee as we saw some high-profile studios such as Realtime Worlds close while a whole new range of companies soon formed in the city to explore smaller games on emergent technologies and platforms.
So it was very easy to get feedback on our course content as the expertise was just around the corner or a short walk towards the studios based down by the river. Through having a curriculum and an infrastructure that can accommodate the pace of change that exists in game development, we are able to ensure our graduates are skilled, confident and ready to transition from education  into industry.
ACR:  In what other ways do your students leverage these close industry ties?
DG:  Our students are indeed fortunate to have so many games studios, creative collectives and technology companies willing to share their expertise or be approached with regard to placements and careers. Most of our graduates will have had the opportunity to meet designers, artists and developers from the local area and further afield which breaks down some of the barriers and any potential interview anxiety. Students often gain additional experience working with these companies during their studies, in evening or weekend Quality Assurance roles.
ACR:  Is there a focus on any particular genre of game design- be it entertainment, serious or simulations- or does Abertay cover all the bases?
DG:  We view games as a very broad spectrum and each project has specific goals and creative intentions in response to the intended user/audience experience. Our students have a lot of freedom in terms of the types of games they want to make, and they are supported by a team of teaching and research staff that have diverse backgrounds encompassing history, mathematical modelling and simulation, film and documentary, and more. We regularly have briefs or creative challenges proposed by external partners, and in the past we have had teams of students design and create games that assist in training offshore oil workers, promote reflection of the sacrifices made during WWI, or more recently support scientific research into the spread and treatment of tuberculosis as part of Project Sanitarium
ACR:  What are the underlying fundamentals that are applicable across the spectrum of games?
DG:  In design particularly, a thorough understanding of play (preferably supported with an open-minded outlook and an attitude of playfulness) is a fundamental quality. This knowledge is central to games and is easily overlooked when judgement is clouded by shiny hardware or new software to learn. Building upon this, a theoretical knowledge of systems, mechanics and aesthetics and the skills to implement these into actual game concepts and prototypes. Finally, a reflective and analytical process that aspires towards inclusive design and demonstrates awareness of the needs of the audience.
ACR:  On that subject, global gaming statistics continue to expand into new segments of the population. Do these trends affect what you teach your students?
DG:  We are indeed seeing an ever-increasing diversification in the variety of games, audiences and in how they are made and distributed. This presents an ongoing challenge for all games courses; the curriculum and culture of the institution is always under pressure to adapt and evolve in response to trends, expectations or specific research. We are fortunate to have talented and engaged students that are immersed in the culture of games and we support this with regular guest talks, mentoring and real world insights from diverse experts across the spectrum of games.
ACR: What are some of the more unique courses that you and your students look forward to?
DG:  I particularly enjoy delivering my Developing Game Concepts course that exposes students to experimental game design processes and challenges them to work together to design and build custom controllers and input devices for existing games. This method of approaching design allows students to focus on the physical connection between the game and the player, and often leads to pleasingly tactile interfaces or bizarre devices that offer sensory replication and are fun to spectate as well as use.
Our students also speak very highly of our year-three professional project course. This course runs across all of our game programmes and involves multi-disciplinary student teams working on a creative brief set by an external client. In the past, students have enjoyed creating games and prototypes for large companies such Disney, Sony and Microsoft, to smaller studios such as Team 17, Futurlab or The Chinese Room. We (also have) student-run groups such as Abertay Game Development Society that organises weekly activities and guest speakers hosted in the student's union, and we host and run regular game jams, exhibitions and public talks through Abertay Game Lab.
ACR:  Speaking of, we are just days away from 2016's Global Game Jam. How important are game jams to your students' education?
DG:  We are very excited for the Global Game Jam this year and we should have 200+ staff, students, graduates/professionals joining us for 48 hours of fun! Beyond the GGJ, we run regular jams and we see huge educational value in the creativity and collaboration that an intense event like this promotes. We have ran jams that focus on singular game mechanics such as The Jump, a minimalist focussed jam in conjunction with a Dundee Contemporary Arts gallery, and even a 5-hour jam that focused on experimental input devices with bespoke games. We also use game jams as a tool to promote positive and healthy working practices – so people are encouraged to go home and sleep, take regular breaks and eat healthily. We have seen instances of jams that promote a crunch-like mentality and that is something we cannot support. Happy, healthy people make great games!
ACR:  Research has always been part and parcel to Abertay's contribution to games education, and I understand that a new research conference is on the horizon at Abertay. Tell us a bit about it...
DG:  We are proud to be hosting the first joint international conference of the Digital Games Research Association (DiGRA) and the Foundations of Digital Games (FDG) in August this year. This fantastic event will bring together researchers and practitioners from across multiple disciplines to discuss and showcase the latest contributions towards game design research. This conference coincides with Dare to Be Digital - the premier video games development competition for University students and recent graduates and the only route to a BAFTA Ones To Watch Award; and Dare Protoplay – our yearly festival of games which takes over the centre of the city, and showcases games from local, national and international developers as well as offering a varied educational programme for the public. So it's going to be an even more exciting and busy summer in Dundee this year and we welcome you to join us!
ACR: What were the games that shaped your childhood, and which games draw you in most today?
DG:  As a child of the 80's, arcade culture had a special draw for me. I will always have a positive association with games due partly to summer family holidays where I'd often end up spending all my pocket money in a dark, noisy arcade on the latest game. Like many British kids in the 80's, I was also fortunate to be able to play versions of these arcade games at my home and at my friends on Spectrum, Amstrad or C64 – depending on who had managed to save enough to pick up the game all the magazines had been talking about.
It was then a natural progression for me to start creating my own game concepts and to draw out characters and level designs which I continued to Art School, and then towards Abertay. In terms of specific games, Tetris, Doom and Sensible Soccer were perhaps the games I spent the most time on. More recently, and in light of my PhD research, I am inspired by the full spectrum of games and the new and diverse directions that games are taking; in particular games that allow for self-expression from creators, play with our understanding of the form or explore real-world events and issues. Story-telling masterpieces such as Everybody's Gone to The Rapture, and That Dragon, Cancer have changed both my outlook on life and my understanding of what games are and can be.
ACR:  Lastly Dayna, your program has an international reputation which attracts students from around the world. How does this flavor the department's culture?
DG:  The experiences, values and perspectives that international students bring to the university is greatly valued and there are particular benefits for our students as games are a global industry and cultural phenomena. We have great relationships with games programmes worldwide and regularly send and host students as part of study abroad agreements. Dundee is a recognised centre for innovations in game design and development, and its rich history as the city where Lemmings and Grand Theft Auto were created, continues to attract talented students and companies to settle in Dundee and make memorable games.