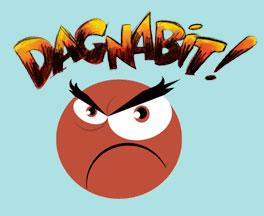 Interestingly named animation company DAGNABIT was founded by two self-proclaimed wiseasses, John Ryan and Robert Pope. When asked why they chose that name for their company they explain simply, "in the world of three-fingered cartoon critters it is a choice expletive with just the right grit and gravitas. It is also great fun to answer the phone, "DAGNABIT!"."
Since 1996 the two have been producing top-notch traditional animation and CGI characters and, while it ain't no Nobel prize, the charismatic pair won Animation Magazine's Anicomm award four times—thus far.  The dynamic duo is now producing superhero-like designs for their own company in Atlanta, Georgia.
AnimationCareerReview recently had the opportunity to pick John Ryan's brain about his experience and successes in the business.
What is your firm's focus within animation?
DAGNABIT! creates traditional hand-drawn animation often featuring highly illustrative sensibilities.
Fill in the blank: The future of animation is ________.
The future of animation is at hand.
What are the best and worst aspects about working in the animation field?
Best aspects: the creative challenges of bringing a successful vision to the screen. Worst aspects: the feast or famine nature of the beast.
Among your firm's achievements, which one(s) are you the most proud of?
Our versatility and the fact that we are able to tailor our process to the best execution of our client's needs.
What advice would you give to aspiring animators?
Be passionate. Maintain focus. Develop a back-up plan. Marry for money.
What were your most challenging projects, and why?
Our most recent project asked us to work in the style of illustrator Guy Billout. We had to retool our process and reinvent ourselves in order to do justice to the nuance of M. Billout's craft. It has been a painstaking effort, but quite rewarding in the end.
What kind of education did it take to get you where you are today?
My formal education consisted of a BFA program in Graphic Design with an Illustration minor at R.I.S.D., an MFA in Graphics Communications at Washington U. St. Louis, but I am self-taught as an animator continuing my learning process every day.
What animation software packages does your firm prefer to use? Which one would you recommend to beginners?
We use TOONZ Harlequin for ink&paint, with Painter, Photoshop, Illustrator and After Effects in support roles.
Could you share with us your best story about working in the animation industry?
Invention is a huge part of everything we do. Very early on I started my first commercial project convinced that I could custom mix the paint I needed for painting cels. I 3-hole punched a stack of acetate, making the corresponding 3 peg registration board from scratch. Then I custom mixed my paint from tempera color with "No-Crawl Medium" added to allow it to adhere to the acetate. Just a few more drops couldn't hurt. Sometime later, with the deadline drawing near, I wondered why the paint wasn't drying. The additional petroleum based "No-Crawl" suspended the pigment and kept it moist and resistant to all efforts to dry it. Fans were problematical. Horizontal space was at a premium in our tiny apartment. In the end, I used corn starch to absorb the medium, allowing the pigment to dry. The animation scene was a car driving up from the distance and screeching to a halt in the foreground with a very effective special effect cloud of dust happily made to order. The client was suitably impressed.
Do you think that there is an increasing or decreasing demand for animators overall? Why?
I'm not sure demand would be the word I'd use. But I would have to say that I have most thoroughly enjoyed working in this industry for the past 38 years.