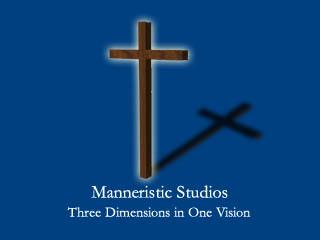 When DaShawn Hall opened Manneristic Studios he combined two passions—animation and faith. His Christian-entertainment-focused studio has been churning out quality family and educational entertainment since it became his pet project in '99. In 2006 he turned his 3D animation and modeling hobby into reality and opened the studio full-time. It is now one of the country's best Christian-faith-based studios.
Manneristic's work environment is a little different though, its virtual. With many employees in Philadelphia, but the physical studio in Rochester, DaShawn's workers get to enjoy being professional animators while working in the setting of their choosing;showing that animators really can have the best working conditions (putting aside the regular 12-hour days of course).
http://www.youtube.com/watch?v=zq_cHYLR3g4
In addition to running his own studio, for the last 5 years he has been an online professor at the Art Institute of Pittsburgh, where he has built an internship program for aspiring animators.
In typical DaShawn fashion he jumped at the opportunity to offer up solid industry advice for aspiring animators: 
What is your firm's focus within animation and what led your firm to have such a focus?
We primarily focus on 3D Modeling and Animation, but have now moved into the book/comic book illustration and game design content. In the past, we had a number of clients that came to us to design their ideas but more so push 3D technology to the next level.
Fill in the blank: The future of animation is _________.
The future of animation is very strong and exciting, especially with the new tools and techniques becoming available
What are the best and worst aspects about working in the animation field?
The best part about working in the animation field is creativity. You have an infinite range of characters, environment and narratives that can be created. It is like breathing life in everything you create. You create it, nurture it and watch the concept develop into what audiences will love to watch, read and play.
The worse thing and I think everyone in the field will agree – rendering! People find it hard that we, as the artists don't really know what the final images look like until we see the final renders. It is very hard, for us impatient artists.
Among your firm's achievements, which one(s) are you the most proud of?
Manneristic Studios' greatest achievement was starting from ground zero and gradually building up to where we are today. We have adamantly kept our mission of working with Christian, children and Educational based clients. The hard part is that this area is very small in the industry, so a lot of our clients have been from private or educational sectors. So I am proud to say that we are one of a great few of Christian based animation studios in the country.
Project wise, I think our best project to date is our current one – The Redemption Project. The project is a comic book series that will use photo-realistic 3D modelling and rendering. The goal is to make the reader think they are looking at an actual realistic experience. The story is Christian based but will and has been attracting many comic book fans, even as the first book is being completed. The goal is to create a storyline that the audience member of any background can in some way see themselves within a character at some point in the entire series. I wanted to create a storyline that will inspire and entertain the audience. I kept in mind that I did not want the Christian aspect to take away anything from the comic book genre. I did want a story that was edgy, exciting and innovating all in one. Some of the images can be seen on the Redemption Project Facebook page
http://www.facebook.com/pages/Manneristic-Studios-The-Redemption-Project/112994465400466
The first series issue is slated to be on the market by September 2011. 
What skills/qualities does your firm seek out when hiring new employees?
Talent and creativity! These two things are major keys in animation field. I love artists that are not afraid to present ideas or be pushed beyond their limits.
What particular schools, if any, does your firm recruit
new hires from? If none, where do you recruit new hires?
In the past, we have recruited from a number of schools in the Southeastern Pennsylvania area (Philadelphia and Delaware). We have also had students and artist countrywide contact us because they want to work on Christian and educational projects. All of our artists were
once interns, so we know what talent we have from the start. Starting this summer, I will be working with the Welch Center for Graduate & Professional Studies at Goucher College, in Baltimore, MD, developing and teaching new courses for their Master of Arts in Digital Arts.
(MADArts) program. The MADArts degree is near a year old and has great potential. I really believe it will be an industry source for digital artists.
What advice would you give to aspiring animators?
Three things. First, never give up on your dream of becoming an animator. If you stay positive and focus on getting into the industry, it will happen. Second, practice is the key to success. The more you practice at modeling and animating, the better you will become. You will also build up more techniques to bring to production. Finally, believe in your work and your talent. Some companies will not like your style or work, but there is always another company that will think you are a diamond in the rough.
What were your most challenging projects, and why?
By far, it would be our current project – The Redemption Project. This project is the one that is moving us into a new area of comic book illustration but using full 3D technology. The story is complex but totally different. The rendering times are insane due to the use of GI and realistic texture detailing. The project is starting as a comic book series but moving into a DVD series also. So the audience will be looking at more of a photo style book and we will be able to translate this directly into the animation for the DVD series.
What kind of education did it take to get you where you are today?
I started out in Pre Med but with a minor in Fine Arts. Somehow I was happier spending more time either working in a paint studio or the Visual Communications computer labs. So I transferred into the University of the Arts Media Arts program and got a BFA in Animation and a minor in Art Education. I went back to the University of the Arts to get a MA in Art Education with a concentration in Educational Media/Animation. I try to tell students, it is your talent that will get you into the industry, not so much the school. There are a lot of great animation departments out there, but any department is only what you make of it. Just take advantage to any and all opportunities you get along the way.
What animation software packages does your firm prefer to use? Which one would you recommend to beginners?
Software is just a tool and the choice all depends on the production needs. We primarily use Cinema 4D, which has been our flagship software from the start. In the past, I have worked with them as a demo artists as well as develop educational content for the Cineversity site. We also use After Effects, Carrara Pro, Silo, Photoshop and Sketchbook Pro. With the current projects, we are working more in Manga Studio Pro, Poser, Daz Studio Advanced, Vue Infinite and Blender. Most of our artists have been trained in MAX, Maya, Softimage and Flash. For beginners, it's the process, not software that you need to master. Software is just a tool. So any package you can afford is a great place to start.
Could you share with us your best story about working in the animation industry.
When I first graduated, I was not sure what direction I wanted to go in the industry, but then I got a chance to present my graduate thesis at SIGGRAPH. This totally opened my eyes and changed my life, career wise. From that point on, I saw how vast and exciting the animation field really is. Then companies like Pixar, ILM and Fisher Price come to hear a presentation of an unknown grad student, the experience is the greatest humility.
Do you think that there is an increasing or decreasing demand for animators overall? Why?
Yes I think there is a great increase demand for animators. I think the game field and the increased use of 3D Visual technology is fuelling this need. I constantly tell students to keep learning the craft and update your portfolio and the work will in time find you.