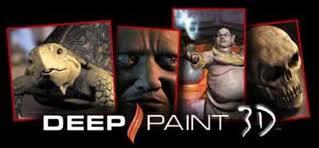 Right Hemisphere's award winning Deep Paint 3D is an intuitive and easy tool for painting and texturing 3D models in a way that makes the UV map process incredibly more efficient for 3D artists. This real time material based 3D paint rendering system was once the first of its kind to be able to run on a PC, although it certainly has more competition these days. Keep reading to get an idea of how the interactive 3D texture painting program works.
Deep Paint System Requirements
Deep Paint 3D requires Microsoft Windows 95, Windows 98, Windows NT 4.0, or a newer version of Windows, though it may have some bugs with Windows Vista or Windows 7. A minimum screen resolution of 800 x 600 pixels is required, as is a graphics card capable of displaying in 16-bit color. Users should also have 64 MB of RAM or more, a Pentium 200MMX processor or better, and a CD-ROM drive for installation.
However, Right Hemisphere strongly recommends having some type of a drawing pressure sensitive tablet (like a Wacom Intuos), a graphics card capable of displaying in 24-bit color, a Pentium II 266 processor or better, 128 MB of RAM or better, and at least Windows 98 for your operating system. That last requirement should be easy unless you haven't bought a new computer in over a decade!
Working with large images in Deep Paint 3D requires an appropriate amount of processing power and RAM. The following are the recommended RAM requirements to work effectively with larger images within Deep Paint 3D:
                  Image Size (pixels)                                      Recommended RAM
                       1500x1500                                                          64 MB
                       2000x2000                                                         128 MB
                       3000x3000                                                         256 MB
                       4200x4200                                                         512 MB
                       6000x6000                                                          1 GB
Please note that the figures above are just for solo use of Deep Paint 3D. When Photoshop is also running on your computer you should expect to need 25% more RAM for each pixel value.
Deep Paint 3D Modes:
Deep Paint 3D has three distinct modes:
2D - this mode is used to show you a 3D bitmap 'unwrapped' from the object.
2½D - this mode is an enhanced 2D mode, where you work as if on a traditional canvas, with the ability to use bump and shininess, and to have the paint interact. The difference will be clear when you use this mode because it has a distinct advantage over using traditional 2D modes.
3D - this mode is active whenever you have a 3D model loaded.
Importing and Exporting with Deep Paint 3D:
Deep Paint 3D can be used in conjunction with Photoshop, 3D Studio Max, Maya, Softimage, and LightWave. Menus will differ from one program to the next, but the process for importing and exporting for each program should be similar. As an example of how to use Deep Paint 3D, here's how you import and export in Autodesk 3ds Max.
First, create an object in 3D Studio Max and apply a texture material and mapping coordinates to it. Then select the "Utilities" control panel in 3ds Max and select the 'More' button. From the list of utilities you then need to choose "Deep Paint 3D" and select the object or objects you wish to paint. Press "Paint" and you're all set! When you're finished editing an object that was imported from 3D Studio Max you can export it back into 3ds Max by going to the "File" dropdown menu, highlighting "Export" with your mouse cursor icon, and then choosing "3ds Studio MAX". To make it even easier, you could instead just hit the "MAX Out" button to export with a single click! This process is just as easy and seamless in all programs that Deep Paint 3D interacts with.