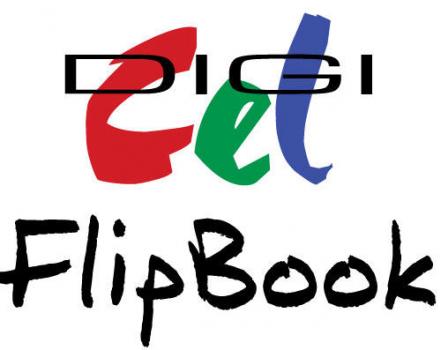 DigiCel has recently updated their website and they're still updating their software. They firmly believe that if something isn't broke, then there's nothing to fix but you can make improvements. While every other art program you've used over the years sees consistent annual updates that change every inch of the user interface, FlipBook still looks mostly the same as it did over a decade ago, which is pretty much like a media player with drawing, painting tools and camera tools. If you're a 2D animator then you're limiting your career and your creations if you don't try FlipBook.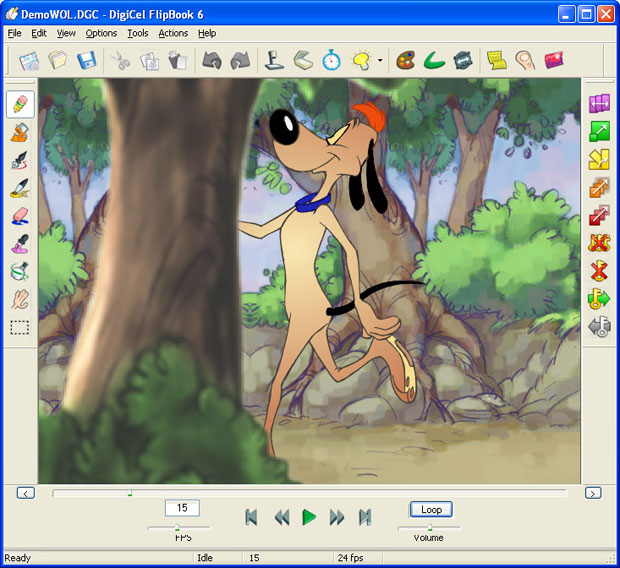 DigiCel FlipBook Features
Easy to scan in storyboards and rearrange the order of frames on the fly.
Also allows users to draw on the computer with a mouse or tablet.
Can add soundtrack to storyboard and slow down or speed up timing of frames.
Options to pan, zoom, or include one of several transition effects.
XSheet layers allow you to only scan the background image once and overlay animations on top.
Lip sync XSheet makes syncing syllables incredibly easy and saves large amounts of time.
Despeckle feature allows you to get rid of paper blemishes, lint, or erase other trouble spots.
Painting process includes palettes so you can adjust one color in 100s of frames instantly.
Cursor preview mode shows what pixels will be affected before you click to save you undo time.
Persist option lets selections remain active for next scanned layers to save even more time.
Drag & Fill allows for 100s of small areas to be filled with a paint color with just one quick click.
Stop Leak feature helps fine tune sketches to make painting process easier without rescanning.
For objects that won't be animated much, Paint-By-Numbers auto colors it in the future for you.
Multi-level painting options and ability to use paint tools from other programs like Photoshop.
AutoMatte, rim light, shadows, & other highlight features available; up to 10 per frame.
Default keyboard hotkeys are similar to Photoshop's popular and industry known shortcuts.
Extensive compositing options with various import, export, and render file types.
Bonus option of using software for stop motion animation as well!
DigiCel FlipBook Download
The full version of FlipBook 6 is available for both Windows and Mac users. It's downloaded as a trial version with the option for users to purchase a code to unlock the full version with all the features. The major drawback trial mode users will face is that all project frames will be watermarked so that their animations can't be used professionally.
The most recent version of FlipBook added extra gradient color options, painting with textures or patterns, improved lip sync and eye blink features, better camera manipulation controls, and more tablet drawing settings. As for sound feature updates, you can now have two soundtracks in FlipBook Studio and up to three soundtracks in FlipBook Pro. Support for MP3 and AIFF sound files is also present now, so that users don't have to use only WAV files. Lastly, volume controls were added to make it easier to sync video to audio, with a master volume control that lets you target specific sound effects on different layers to your liking.
If you want to download the trial version, you should have at least 256 MB of RAM, 1024x768 resolution, and a Pentium computer, although a 2 GHz CPU with 2 GB RAM and a 1280x1024 resolution is recommended.
Customers and Support
Don't take my word for FlipBook's effectiveness and success; look through this long list of testimonials from industry veterans who praise the product. Almost every Disney movie you know can be found in their combined list of credits! Likewise, Disney, Warner Bros., and Universal Studios are some of the many animation studios included on the list of famous companies that use FlipBook. Colleges across the nation realize how widespread this simple program is within the industry, which is why over 30 schools choose to include it in their curriculum.
Aside from two free video tutorials on their Web site, DigiCel also has a free technical support phone line that operates from 9 AM to 5 PM, Monday through Friday. However, arguably the best feature of all is the price! Prices start as low as $78 for some of the versions, and all versions can come with a 50% discount if you meet their educational pricing criteria.
Animation Schools to Consider: