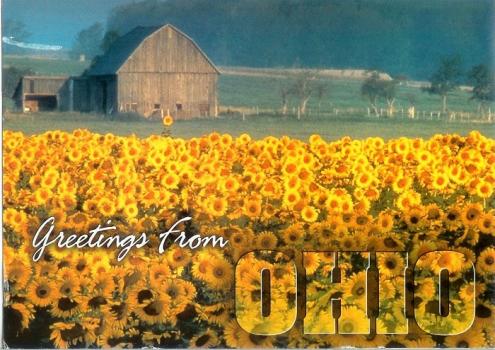 Ohio is home to around 59,000 professionals working in Arts, Design, Entertainment, Sports, and Media  (ADESM) occupations. Digital artists are members of this group. Like other digital artists across the U.S., Ohio-based artists work in the film industry, animation, graphic design, publishing, advertising, commercial art, and many others. While many of Ohio's digital artists live and work in major cities such as Columbus and Cleveland, smaller towns such as Lorain and Youngstown also have a unique scene. For example, The Butler Institute of American Art in Youngstown has an entire center dedicated to electronic art and new media, and Lorain County is home to the Lorain Art Museum and Allen Memorial Art Museum, which often feature digital art exhibitions.
In addition to plenty of places to create and discover art, Ohio is home to a variety of schools that offer programs for aspiring artists and designers. Just a few include Cleveland Institute of Art, Columbus College of Art & Design, and the Art Academy of Cincinnati. Continue reading to find out which Ohio schools offer digital art programs and where to find them. 
Ohio Digital Art Schools
With 215 Title IV Degree-Granting institutions, Ohio is home to the sixth largest number of colleges in the U.S. More than 700,000 students are enrolled, with more than 3,000 enrolled in the nation's top art schools alone. The schools below (a combination of traditional universities, art schools, and community colleges), are the most popular options for aspiring digital artists.    
Athens
Ohio University – Degrees Offered: BA Art; BFA Studio Art; MA Art; MFA Studio Art; Honors Tutorial Studio Art
Bowling Green
Bowling Green State University - Degrees Offered: BFA  Art with a Digital Arts or Graphic Design Concentration, MFA Digital Arts
Cincinnati
University of Cincinnati – Degrees Offered: BFA Art; MFA Art
Cleveland
Cleveland Institute of Art - Degrees Offered: BFA Communication Design, BFA Technology and Integrated Media Environment (T. I. M. E.) – Digital Arts
Columbus
Columbus College of Art and Design – Degrees Offered: BFA Fine Arts, MFA Art
Columbus State Community College – Degrees Offered: AA Digital Design and Graphics; Digital Design Certificate
More Digital Art related programs to consider:  
Employment and Salary Trends for Ohio Digital Artists
As mentioned, Ohio is home to 59,000 professionals working in ADESM occupations. They earn an average annual salary of $44,550 up slightly from $44,060 in 2012, when the state was home to 53,830 ADESM professionals. It is important to note that many artists and designers are self-employed, so it is safe to assume that the population of ADESM professionals in the state is much higher. These individuals typically earn more as well—especially in larger states and major cities.
In fact, according to the Bureau of Labor Statistics (BLS), the "Independent Artists, Writers, and Performers" 'industry' has the highest concentration of employment in ADESM occupations, and it is one of the highest paying industries for ADESM professionals. Overall, independent artists average $70,620 per year.
Independent artists working in animation average $75,150 per year and those working as art directors average $91,100 per year. Independent fine artists average $43,390 per year, and independent craft artists average $36,590 per year. Nationwide, the median annual wage for ADESM occupations was $43,100 in May 2014, which was higher than the median annual wage of $35,540 for all occupations.
Employment of art and design occupations is projected to grow two percent from 2014 to 2024, which is slower than the average for all occupations, adding about 16,700 new jobs. Projected growth, says the BLS, will be due to increased demand for animation and visual effects in video games, movies, television, and on Smartphones. As companies continue to increase their digital presence, more art and design workers will be needed to help create visually appealing and effective layouts of websites and other media platforms.
The top five highest paying states for ADESM professionals are:
District of Columbia ($89,950)
New York ($74,100)
California ($70,440)
Massachusetts ($58,200)
Maryland ($57,330)
The industries with the highest levels of employment for ADESM professionals are:
Motion Picture and Video Industries
Radio and Television Broadcasting
Newspaper, Periodical, Book, and Directory Publishers
Advertising, Public Relations, and Related Services
Elementary and Secondary Schools
The top five states with the highest employment levels for ADESM professionals are California, New York, Texas, Florida and Illinois. However, you don't have to move to find a lucrative position in digital arts. To enjoy a greater number of opportunities, start your job search in major cities such as Columbus, Cleveland, Cincinnati, Toledo, Akron, and Dayton.
Awesome Animation Fact: In animation, all dialogue is recorded before any scenes are animated, so that the voice characterization can be broken down into the single frame language of animation. -Quizlet