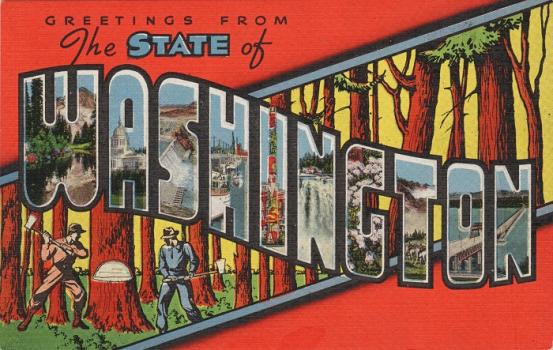 While the art and culture scene is a major attraction in hip cities like Seattle, Washington's smaller towns and villages also have a lot to offer locals and visitors alike. Travel to Bellingham—the last major city before the Washington coastline meets the Canadian border, and you will find a variety of art venues and organizations such as The Arts Commission, The Downtown Art Walk, and the Whatcom Museum. Head to Redmond where the Redmond Arts Commission provides theatrical productions in the park, concerts at City Hall, and more than 100 public art displays by local and regional artists.
If you are interested in a less hectic pace, but you still want plenty of things to do and see, you can certainly find it in Washington State. However, many artists, especially digital artists, prefer to go where the scene and the city are always bustling. This means, Seattle, Spokane, Tacoma, Vancouver, and Bellevue are favorites for aspiring artists. If you choose Seattle, expect a lively digital art scene with regular exhibitions at top museums such as Seattle Art Museum and Frye Art Museum. In Spokane, dozens of digital art studios buzz around the clock and in Tacoma, the Tacoma Art Museum is a huge supporter of the digital arts.
Besides a lively scene, digital artists have access to a variety of opportunities on an academic and a professional level. Digital artists can find work at animation studios, film studios, museums, galleries, creative agencies, digital design firms, gaming studios, publishing companies and more. When it comes to training, aspiring digital artists will find several top-tier schools that offer programs ranging from a BFA in Digital Art and Animation to a PhD in Digital Arts and Experimental Media. 
Washington Digital Art Schools
Washington is home to 85 Title IV degree-granting schools. More than 318,000 students are enrolled, with more than 2,700 enrolled in the state's top art and design schools alone. Just a few of the state's top schools for art and design are Cornish College of the Arts and Seattle Pacific University. Some of the top schools that offer quality programs for aspiring digital artists are:
Redmond
DigiPen Institute of Technology - Degrees Offered: BFA Digital Art and Animation, MFA Digital Arts
Seattle
Seattle University - Degrees Offered: BA Digital Design
University of Washington - Degrees Offered: BFA, PhD, and a Minor in Digital Arts and Experimental Media (DXARTS)
More Washington Digital Art related programs to consider:  
Employment and Salary Trends for Washington Digital Artists
As of March 25, 2015, Washington was home to 43,500 professionals working in Arts, Design, Entertainment, Sports, and Media (ADESM) occupations. They averaged $52,930 per year down slightly from $53,290 in 2013, when the state was home to 42,240 ADESM professionals. It is important to note than individual salaries will vary by location, industry, job title, and more. For example, with an average salary of $102,590 per year, Washington-based art directors earn one of the highest salaries in the industry. Graphic designers in the state average $55,030 per year. On the other hand, if the graphic designer works for the federal government or in aerospace, salaries jump to $77,420 and $71,340 per year, respectively.
Below are just a few popular careers/industries for digital artists:
Animation & Multimedia Art: Washington had a population of 2,530 animators & multimedia artists in 2013. Today, the population is 1,970. In 2013, Washington-based animators & multimedia artists averaged $68,480 per year. Today, they average $75,740 per year.  
Art Direction: Washington had a population of 710 art directors in 2013. Today, the state is home to 680. Washington art directors averaged $98,860 in 2013. Today they average $102,590.
Fine Art (Painters, Sculptors, and Illustrators): Washington is home to 380 salaried fine artists and designers, down from 590 in 2013. They average $71,200, up from $69,830 in 2013. 
Graphic Design: Washington had a population of 4,280 graphic designers in 2013. Today, the state is home to 4,250. Salaries have increased from $52,870 in 2013 to $55,030 today.
Awesome Animation Fact: The Huckleberry Hound Show is one of the very first Hanna-Barbera cartoons, beginning in 1958, and lasting 69 episodes. The show was probably the series that truly made Hanna-Barbera a household name, and is often credited with legitimizing the concept of animation produced specifically for television. In 1961, the show won an Emmy, making it the first animated television series to earn this coveted award. -Listverse