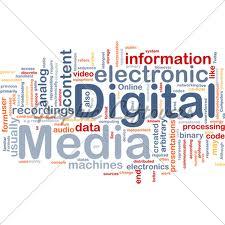 What Coursework is Included in a Typical Digital Media Program? ACR Takes a Look.
Types of Courses for Digital Media Programs
Advanced Digital Illustration
Designing for Meaning
Digital Photography
Icon and Identity
Introduction to Digital Media
Motion Graphics
Principles of Game Design
Typography, Grid, and Hierarchy
UX/UI Design
Web Design
What is Digital Media?
Digital media refers to audio, video, and photo content that has been encoded (digitally compressed). After digital media is encoded, it can be easily manipulated, distributed, and rendered (played) by computers, and is easily transmitted over computer networks. Digital media allows people to watch videos, play music, present photo slide shows, and share media on their computers and online.
Digital media products can be found in eCommerce, games, animation, social media, websites and mobile applications, augmented and virtual reality, data visualization, and interactive storytelling. Digital media can include the following industries:
eCommerce
Education
Entertainment
Environment
Government
Health
Marketing and advertising
Non-Profit
Publishing
Sports
Technology
Television
What are the Types of Courses for Digital Media Programs?
Digital media degree programs emphasize the study of processes and management of web development, digital media, gaming, animation, simulation, image capture, and multimedia production. Programs are designed to prepare technical or technical management-oriented professionals for employment in creative, educational, advertising, and other commercial environments.
Many digital media programs offer a range of specializations such as gaming and animation, modeling and simulation, web development, and photo, video and music. With or without a specialization, digital media students will spend most of their time studying computer-based art forms such as digital animation, 3D computer graphics, graphic design, web design, and digital film or video production.
Because there are many applications of digital media, coursework will differ depending on the college you choose and your interest. However, a good example of a well-rounded digital media program is the 128 credit hour Digital Media BFA at Maryville University. The program consists of a digital media core, art/design history core, and an interdisciplinary core. Sample digital media core courses include:
Advanced Digital Illustration
Design Theory, Research, and Process
Designing for Meaning
Digital Photography
Drawing for Design
Foundation Design
Icon and Identity
Introduction to Digital Media
Motion Graphics
Principles of Game Design
Typography, Grid, and Hierarchy
UX/UI Design
Web Design
Art/design core courses include Graphic Design History, World Art and Ideas, and Myth, Meaning and Symbol Art. The interdisciplinary core consists of courses with unique titles such as Psychology of Design: Why People Tweet, Play Games, and Have Favorite Colors, and Contemporary Communication and others such as Introduction to New and Social Media and Marketing and Digital Media. Like many well-rounded programs, the Digital Media BFA at Maryville includes a senior capstone, portfolio development course, and an internship opportunity.
Many digital media students choose to continue their studies by enrolling in a graduate degree program. Some continue on to the coveted PhD program. Georgia Institute of Technology (Georgia Tech), Northwestern University, and University of California Santa Cruz (UC Santa Cruz) offer some of the top programs. 
These programs typically require advanced coursework in areas such as 3D modeling, animation, gaming and digital media history, interactivity, theory and methods, issues in media studies, and legal issues in intellectual property. The PhD in Digital Media typically leads to high-level careers in education, research, and development. 
What Can I Do With a Degree in Digital Media?
Digital media, web development, gaming, animation, simulation, and related services combined account for more than $400 billion of the U.S. economy. More than 100,000 available jobs related to these areas are listed on job websites such as Monster and Indeed. In addition, the Bureau of Labor Statistics (BLS) says that as a major group, the Arts, Design, Entertainment, Sports, and Media sectors will add 300,000 positions by 2026.
What all this means is, there are so many career options for digital media artists that it would be tough to list them all here. Just a few popular options include digital animator, graphic designer, game developer, game artist, web designer, web developer, digital artist, and digital video editor. Digital media artists with an advanced degree are qualified for positions such as instructor or professor, research and development specialist, studio manager, art director, or producer, and many others.