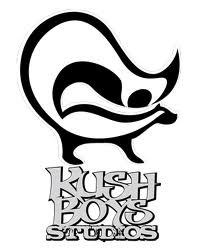 If Kush Boys Studio were a location, it would be at the corner of fly and fresh (to death). Well perhaps this writer has OD'd on too many episodes of Fresh Prince—but the Kush boys are the real deal. Kush Boys studios caters to the "new age pop-culture" by producing innovative work designed to catch the attention of their generation.
The Kush Boys are led by the Master Kush (dub for their original animated series) himself, Drue Young. Drue believes that, "to appeal to such as vast range of preferences, we have created and produced stylish content—and a clever brand—that stands apart from the commercialized mass-media content constantly put out by big corporations." 
Drue is not only the CEO at Kush Boys Studios, he is also a Partner at Kush Couture Apparel, a high-definition fashion brand. And as if Drue and his associates weren't multitasking enough already, the Kush Boys also support the new green world order—apparently in both the eco-friendly and Cheech-and-Chong "green" meanings of the word.
In a rare free moment when he wasn't designing Kush swagger gear, or creating original animations, he offered up some fresh advice for our aspiring-animator readers:
What is your firm's focus within animation and what led your firm to have such a focus?
We have produced our first animation webisode series called Master Kush. We at Kush Boys Studios have always love animation and we're excited about launching our project. The first webisode can be viewed on our website www.kushboys.com.
Fill in the blank: The future of animation is ___________.
a combination of all mixed media in animation technology. I think 3D and all new technologies will be a great addition to animation, but traditional 2D will still hold a place in many people's preference. I think with all the new medias, it'll only give animation creators more platforms to showcase and distribution their content.
What are the best and worst aspects about working in the animation field?
Best aspect in animation is like creating any "cool" content, when people openly accept and enjoy your work, it's the most gratifying feeling for the producers.
Worst part might be the intense amount of labor it takes to create just a short animated clip. It takes a great and hard working team to produce animation from start to finish--not to mention the extreme high cost of the production.
Among your firm's achievements, which one(s) are you the most proud of?
We're very new in this field, Master Kush is our first animated project but we definitely caught the animation bug and are looking to produce more projects.
What skills/qualities does your firm seek out when hiring new employees?
We're a pretty laid-back company but we have an intense drive-force--so the people we like to have working with us must be self-motivated, highly-passionate about the genre and just a good old fashion hard worker--given all the prerequisite skills are in place.
What particular schools, if any, does your firm recruit new hires from? If none, where do you recruit new hires?
We're based in Los Angeles and there are plenty of local illustrators, storyboard artist, colorist, etc around this town. We always like to check out students from Art Center in Pasadena, Otis and even a few community colleges such as Pasadena and Santa Monica have good art programs.
What advice would you give to aspiring animators?
Build a strong portfolio or create as close as you can--a final presentation. FInd companies that can use YOUR specific skills and convince why they need to have you on board.
What were your most challenging projects, and why?
The first project is always the most important and challenging one because if this doesn't work out, you may not get a second project! This is the project everyone will judge you and your company on, so if you love what you do like we do, we definitely don't plan on stopping after our first project.
What kind of education did it take to get you where you are today?
I'm not a great education success story. Lets just say I took a bunch of art, illustration & life drawing classes and passes most of them.
What animation software packages does your firm prefer to use? Which one would you recommend to beginners?
We work very closely to Hong Ying Universe, a major animation studio based in Shanghai. They do traditional animation as well as 3D and flash. We mostly do our pre-production in LA. I would still say have your skills set in Photoshop, Illustrator & Flash.
Could you share with us your best story about working in the animation industry.
Coming from the entertainment and music industry, we have build close relationships with many artist and actors. And when it comes to recording voice-overs with a known actor or artist for the first time, it's really cool to see how they can get real silly and bring the drawings to life.
Do you think that there is an increasing or decreasing demand for animators overall? Why?
I think there will always be a high demand for animation because as kids, we all have cartoons we grew up with and as adults we hold certain animations close at heart. When an animation gets old, it can still reach a whole new generation of audience without losing much of their first generation of audiences, such as Transformers.