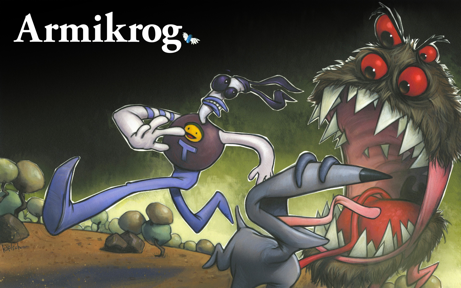 Have you heard that Ed Schofield, Mike Dietz, and Doug TenNapel – some of the brilliant and talented artists who made Earthworm Jim and The Neverhood – have teamed up once again to work on a point-and-click adventure game with a clay animation stop-motion art style? Even if this project didn't have the legendary Pencil Test Studios names attached to it we'd still be keeping our eyes on it, but knowing it's in good hands means you should check out their $900,000 Kickstarter funding campaign.
Still not excited? What if I told you they just announced they're willing to port the game to the Wii U if they can meet their bonus $50,000 stretch goal? And that their game will be DRM-free through GOG for Windows, Mac, and Linux gamers? And that you can help get their game accepted on Steam Greenlight? Keep reading and join us in this passion-filled interview with two incredibly influential artists who are bringing Armikrog to life. 
What was the hardest part of making Earthwork Jim and The Neverhood back in the previous era of gaming?
Ed Schofield – We had so much fun creating those games, that it never really seemed hard. Don't get me wrong—it was a lot of WORK as we were small teams of 10 or 12 people typically working long hours and weekends. But the level of enjoyment superseded the amount of difficulties we faced.
Mike Dietz – They really were so much fun to make. I guess the hardest part back then was dealing with the hardware limitations. We were trying to cram as much animation as we could into the games, but the machines could only handle so much. Fortunately we had the support of great programmers who gave us the tools to squeeze as much out of the hardware as possible. That's the fun and challenging thing about creating art and animation for video games – in addition to being an artist it really helps if you can get your head around the technical side of things too.
What's the hardest part of making Armikrog in the current generation of the game industry?
Ed Schofield – I think with all of the strides that independent game development has made over the last few years, along with advent of technology like the Unity engine etc., it's actually easier now than it was when we made The Neverhood. Of course, now with Kickstarter and crowdsourcing, it's much easier to go directly to the fans for funding as opposed to dealing with publishers.
Mike Dietz – So far the hardest part has been running a Kickstarter campaign! Compared to coordinating marketing and PR, animation is easy!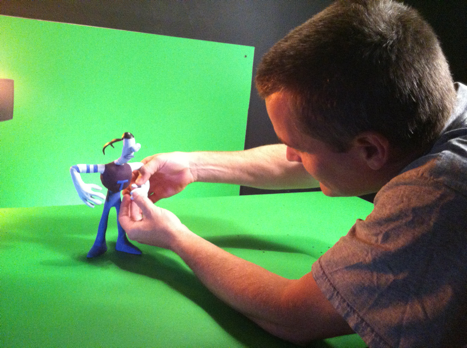 Among your studio's many achievements, which one(s) are you most proud of?
Ed Schofield – I'm sure that Armikrog will be what we're most proud of once its finished. But in terms of completed projects: we had the great fortune of animating Toy Story's Buzz and Woody for a couple of Disney commercials a few years back. What made it so special was that Pixar doesn't outsource their animation, but they were in the final weeks of production on Toy Story 3 and needed to get the commercial done quickly so they selected our studio to do the project. We got to work closely with some of the top dogs there. The whole experience was a lot of fun.
Mike Dietz – We've worked on some fantastic projects, but I think I'm most proud of all the friends we've made along the way. We've met so many talented people over the years that have made the projects so satisfying to work on.
Fill in the blank: The future of animation is ______?
Ed Schofield – what the artists will make of it (we're trying to do our small part!).
Mike Dietz – Limitless! There are more opportunities for independent artists and animators to create than ever before. Take advantage of those opportunities to express yourself. Only good things will ever come from doing that.
When you first realized that you wanted to do another Claymation project, what was that first day like? How many hours did you spend talking about the idea together and what sort of topics came up that were pivotal in sculpting the path of the game's overall design and story?
Ed Schofield – Once the decision was made, there was a lot of smiling. Honestly, just the idea of jumping back into the production of a stop-motion game made us so happy, we couldn't believe we hadn't thought of it sooner! We had a quick call with Doug, then he immediately began emailing us concept sketches and gameplay ideas . . . about 70 drawings in the first couple of days!
Mike Dietz  – We were so inspired and energized. Within a couple of days we were already sculpting puppets and building sets.
By the way, just as a side note – while what we do is in fact clay animation, it isn't technically "Claymation". That term is actually trademarked by the famous Will Vinton. Will has always treated us well and been a good friend, so I don't want to tread on his territory!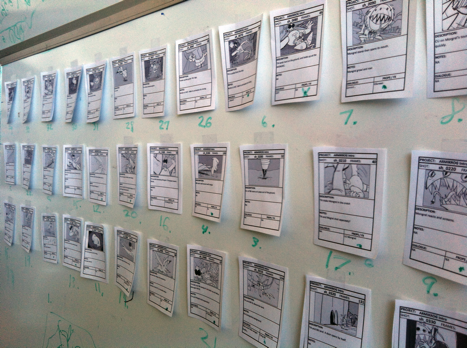 Is this your first time working with the Unity engine? Were there any limitations in Unity for the story or puzzle moments that you wanted to create for players to experience?
Mike Dietz  – We've worked on a couple projects now using the Unity engine and it's worked really well. So far we haven't felt restricted by it in any way, and as an artist I've found it to be very user friendly. There's also a large community of developers using it, so there are a lot of good resources available.
Are you making the art and photos for the game in a linear fashion, where you tackle each scene and level in a chronological order, or are you jumping around and piecing it together later? Tell us more about your design process!
Ed Schofield  – We're still in the earlier stages of design, so not all of the details have been worked out yet. Doug starts by working out the overall story arc, and then there's a lot of back and forth to integrate that story and gameplay together. There are key puzzles to solve that are crucial to the story, and help push the story along. But there are also puzzles that aren't specific to the story and are used to move the player though the world as they build on their previous successes.  
Mike Dietz  – We're actually using the same technique we used on previous games, where we draw pencil tests of all the game elements and code those into the engine first to get everything up and running. Once the game works in pencil test form, then we use that as the blueprint for shooting the stop motion. Pencil drawings are fast, inexpensive and easy to change, while stop motion is expensive and time consuming. We don't want to proceed to shooting the stop motion until we know it's going to be right for the gameplay.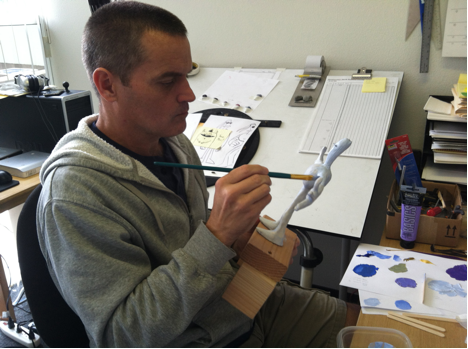 A few days ago you stated you were confident the funding goal would be reached, and I agree that today's generation of players likely won't be foolish enough to let this Kickstarter opportunity slip through their button-mashing fingers, but what are your plans if this Kickstarter doesn't reach the goal? What will happen to Armikrog? Do you just focus on getting it greenlighted on Steam, or would you plan another round of funding?
Ed Schofield  – At this point there is no "plan-B" for Armikrog. The Kickstarter campaign really is an all-or-nothing venture. If we don't reach our funding goal, the studio has other projects on the table that we would move onto, but Armikrog is what we're most passionate about. So, of course we are doing everything we can to get the game funded!
Mike Dietz  – Failure is not an option!
Although unlikely, what if another fan-favorite small company like Double Fine Productions – who's also seen huge support many years ago, as well as recently through Kickstarter – approached you about teaming up to do a game together after Armikrog? What would your response be to an offer like that?
Ed Schofield  – It would really have to depend on the project, and whether or not it all made sense. Companies like Double-Fine and other small developers are creating some truly amazing games, and the driving force behind that is their independence—they are free to make the games they are most passionate about. While some projects might benefit from teaming up, others might suffer. That being said, we'd always be willing to consider new approaches to development!
Mike Dietz  – Good people working together = Great games.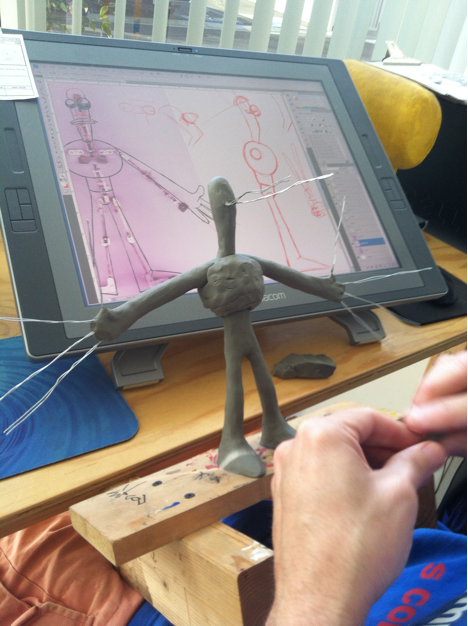 Lastly, what advice would you give to aspiring animators?
Ed Schofield  – The advice I would give would be to follow your passion. Whatever medium you prefer to work in (CG, Hand-drawn, Stop-motion, etc.), pursue those (yes, there may be more than one!) that you love and don't listen to the critics. Whether it's on the big-screen, in a videogame, or on the internet, there will always be a place for you to express yourself as an artist.  
Mike Dietz  – Draw. Draw like crazy. When you're done drawing, draw some more. I've never been in a situation in my career where the ability to draw wasn't an advantage. We're visual communicators, and drawing is the most basic way of communicating visually. Drawing is a learnable skill, so don't hide behind the "oh, I can't draw" excuse. I don't buy it. People who draw well do so because they've put in the work. Even through the process of learning to draw, you will learn so much about gesture, composition, appeal, design, balance, etc.
Thanks so much for taking the time to have this interview with us, and thank you for the amazing new Armikrog game that you're bringing to the game industry. I can still remember one summer afternoon in my early years when I was playing an intense game of baseball with the other neighborhood kids in our culdesac circle-street, and the game was all tied up in the last inning just as one of the other kids came out of his house and told us his parents said we could play more Earthworm Jim now that he finished his chores for the day, and we rushed off the street and never finished the game because our priorities were focused on a game that would stick with us for decades. I want to thank you all personally for making interactive art that created memories like that, and I can't wait for Armikrog to affect today's new and old gamers in similar ways. Be sure to keep Animated Career Review updated on all of your studio's announcements in the future! Good luck!
Check out more interviews at Animation Career Review's Interview Series.