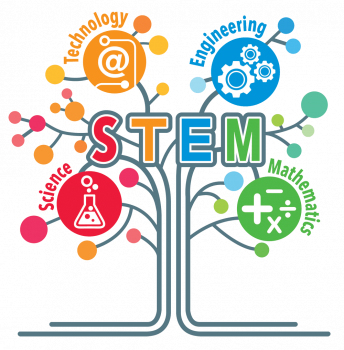 What is esports doing for STEM enrollments?
Did you know that colleges and universities now offer nearly $15 million per year in scholarships for competitive gamers? According to EdTech, esports, like traditional athletic programs, can open doors for all students through financial aid. "By combining this support with the inherent link between video games and STEM subjects, such as coding," reports EdTech, "esports investments are becoming a catalyst for new levels of diversity in STEM fields."
STEM, which stands for Science, Technology, Engineering, and Math, is a curriculum based on the idea of educating students in these specific disciplines. It takes an interdisciplinary and applied approach to learning. STEM is so vital in today's ever-changing and increasingly complex world that the U.S. Department of Education obligated $279 million in STEM discretionary grant funds in Fiscal Year 2018.
The Department says, "it's more important than ever that our nation's youth are prepared to bring knowledge and skills to solve problems, make sense of information, and know how to gather and evaluate evidence to make decisions. These are the kinds of skills that students develop in STEM."
"If we want a nation where our future leaders, neighbors, and workers have the ability to understand and solve some of the complex challenges of today and tomorrow, and to meet the demands of the dynamic and evolving workforce, building students' skills, content knowledge, and fluency in STEM fields is essential. We must also make sure that, no matter where children live, they have access to quality learning environments. A child's zip code should not determine their STEM fluency."
The skills gamers acquire align with STEM initiatives. "In fact," reports EgencyGlobal, "several schools with organized esports programs are also known for their STEM initiatives." MIT, the No. 1 STEM-centric school in the U.S., "also has one of the leading academic voices on esports on staff—Professor of Comparative Media Studies, T. L. Taylor." The school has also "sponsored an esports panel at the Sloan Sports Analytics Conference for nearly a decade," says Egency.
UC Irvine, home of one of the nation's top esports programs, announced a STEM-focused university preparation program back in 2014, and the school has hundreds of STEM programs at the undergraduate and graduate levels, along with minors, certificates, and more.
Just a few other STEM-centric schools with esports programs include Carnegie Mellon University, Drexel University, Georgia Institute of Technology, Johns Hopkins University, and Rensselaer Polytechnic Institute.
While overall enrollment at colleges and universities declined by around 1% from 2016-2017, STEM majors were on the rise, increasing by 2.2%. Majors related to computer and information sciences grew by nearly 25,000 enrollments, and growth in biological and biomedical majors was nearly 14,500 enrollments.
Some of today's top esports games include League of Legends, Overwatch, and Counter-Strike: Global Offensive. While team members can come from any major, the majority, it seems, come from STEM majors. According to Michael Sherman, Director of Collegiate Esports for Riot Games Michael Sherman, "although we don't think there is any one type of student that makes up top League of Legends talent, 62% of our participants are from STEM majors."
Sources
Bogardus-Cortez, Meghan." STEM Enrollment is on the Rise." EdTech. CDW LLC., 11 Jan. 2018. Web. 20 Jul. 2019.
Coudriet, Carter. "Top 25 STEM Colleges 2018." Forbes. Forbes Media LLC, 21 Aug. 2018. Web. 20 Jul. 2019.
"Hom, Elaine J. What is STEM Education?" LiveScience. Future via Purch, 11 Feb. 2014. Web. 20 Jul. 2019.
"How Esports Enhances a STEM Education." EgencyGlobal. EgencyGlobal, 03 Apr. 2019. Web. 20 Jul. 2019.
Koczera, Pete. "Esports Can Increase STEM Equity in Higher Education." EdTech. CDW LLC., 27 Jun. 2019. Web. 20 Jul. 2019.
"Science, Technology, Engineering, and Math." U.S. Department of Education. U.S. Department of Education, 2019.  Web. 20 Jul. 2019.
"STEM Summer Research and Grad Program." UCI Earth System Science. University of California Irvine, School of Physical Sciences, 2019. Web. 20 Jul. 2019.