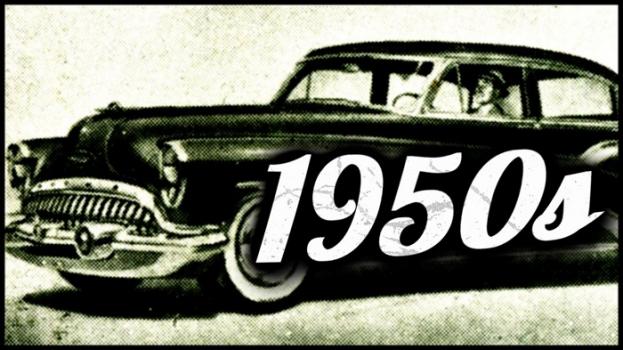 Whether you call them vintage, classic or old-timey, the animated series of the 1950s were wildly entertaining and way ahead of their time. Although some people may think cartoons are just for kids, the carefully constructed plots and clever characters actually attracted audiences of all ages. You see, while the vibrant visuals and wacky antics appealed to kids, the dialogue was often packed with references and humor only adults could understand. This made watching cartoons with the kids a treat! Needless to say, the trend has continued through today, with networks such as the Cartoon Network, attracting a large adult audience—to the tune of well over a third. 
Nevertheless, animated series were as popular yesterday as they are today. And thanks to YouTube and other websites, the boomers that loved them can enjoy their favorite cartoons anytime, anywhere. But like all things vintage, classic, or old-timey, younger generations often appreciate them too—and sometimes more than today's. 
Let's take a look at some of the most popular animated series of the 1950s.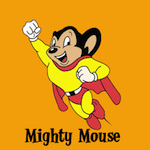 Mighty Mouse 
Created by storyteller I. Klein, Mighty Mouse first appeared in 1942 as Super Mouse in the theatrical animated short The Mouse of Tomorrow. The original name of the character was Super Mouse, but it when Terrytoons studio head Paul Terry learned that another character with the same name was being published in comic books, he changed the name to Mighty Mouse. Voiced by Roy Halee, and later by Tom Morrison, the muscle-bound, anthropomorphic, mouse swooped in singing "Here I come to save the day!" whenever a fellow mouse was in trouble with a sketchy cat or up-to-no-good cat gang. 
If you're wondering why Mighty Mouse made the list, although the cartoon made its debut in 1942, just ask CBS. According to Mightymousecollectibles.com, Paul Terry sold Terrytoons to CBS television in 1955. "The network began running The Mighty Mouse Playhouse in late 1955 and it remained on the air for nearly twelve years (and featured The Mighty Heroes during the final season). Mighty Mouse cartoons became a staple of children's TV programming for a period of over thirty years, from the 1950s through the 1980s." Check out Mighty Mouse in action here.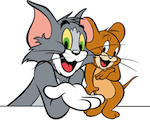 Tom and Jerry 
Created by William Hanna and Joseph Barbera (Hanna-Barbera), Tom and Jerry began as a series of animated shorts. Between 1940 and 1948, the duo produced 114 slapstick comedy productions for Metro-Goldwyn-Mayer. According to multiple sources, Hanna-Barbera and their crazy cat and mouse characters won seven Academy Awards for Animated Short Film. Tom and Jerry shared the number one spot for most awards in the category with Walt Disney's Silly Symphonies. Tom and Jerry went on to appear in 13 additional shorts for Rembrandt Films from 1961 to 1962, and became the highest-grossing animated short film series of that time, dethroning Looney Tunes. 
According to Wikipedia, "Chuck Jones then produced another 34 shorts with Sib-Tower 12 Productions between 1963 and 1967. Three more shorts were produced, The Mansion Cat in 2001, The Karate Guard in 2005, and A Fundraising Adventure in 2014, making a total of 164 shorts. Various shorts have been released for home media since the 1990s." Although they might look a little different today, Tom and Jerry are still alive and kicking (literally), and the show can be seen on various networks around the world. Take a look at Tom and Jerry then and now.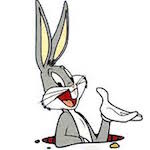 Bugs Bunny 
Bugs Bunny first appeared on July 27, 1940 in the Tex Avery cartoon A Wild Hare, which was created by Leon Schlesinger Productions (later Warner Bros. Cartoons). By 1954, the anthropomorphic, talking bunny with the Flatbush accent was considered more popular than Mickey Mouse. Mel Blanc voiced the character that went on to appear in a number of short films, feature films, TV series, video games, compilations, albums, comic books, commercials, and amusement park rides. 
The rabbit, who loved to play tricks on just about anyone or anything—whether he instigated it or not, is said to have appeared in more films than any other cartoon character, he has his own star on the Hollywood Walk of Fame, and he is the ninth most-portrayed film personality in the world. His famous catch phrase, "Eh... What's up, doc?" was rarely spoken without chomping on, what else? A bright, orange carrot. See Bugs in action in 1950 and today.  And yes, he's still up to his old tricks.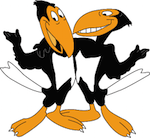 The Heckle and Jeckle Show 
Heckle and Jeckle made their debut in 1946 as the Talking Magpies. While identical in appearance, the two inseparable black birds couldn't be more different. One spoke with a New York accent, while the other spoke with a British accent. While other animated teams were busy trying to outsmart each other, Heckle and Jeckle spent their time trying to outsmart everyone else—together. These antagonistic, yet witty characters were extremely popular during the 1950s and most of the 1960s. The show, another Paul Terry (Terrytoons) creation, ended in 1971. Take a look at the Talking Magpies and Heckle and Jeckle in action in 1959.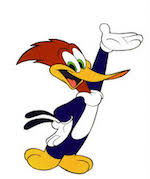 The Woody Woodpecker Show 
Although The Woody Woodpecker Show didn't debut until the late 1950s, the show's popularity rose quickly. Created by Walter Lantz and voiced by Mel Blanc, Ben Hardaway, Kent Rogers, Grace Stafford, and much later by Billy West, Woody Woodpecker actually had a head start thanks to the 1940 animated short Knock Knock. Audiences wanted to see more of the anthropomorphic acorn woodpecker and his screwball antics. As a result, the new show started with a bang and its popularity lasted through the rest of the 50s and decades beyond. Whether reruns, special shows, or new episodes are/were being produced, that crazy Woodpecker is still popular today. In fact, a live action/CG Woody Woodpecker movie is slated for 2017. See Woody Woodpecker in the 1950s and decades beyond, plus an episode from The New Woody Woodpecker Show. 
Sources 
Arnett, Jeffrey Jensen. Encyclopedia of Children, Adolescents, and the Media. Thousand Oaks: Sage Publications, 2007. Print. 
Cawley, John, and Jim Korkis. "Encyclopedia of Cartoon Superstars. N.p., n.d. Web. 27 Sept. 2016. 
"Heckle and Jeckle Theatrical Series -20th Century Fox." BCDB.com. The Big Cartoon Database, n.d. Web. 27 Sept. 2016. 
"Mighty Mouse." Wikipedia. Wikimedia Foundation, 2016. Web. 27 Sept. 2016. 
Phillips, Sonny. "Mighty Mouse." Mighty Mouse Collectibles. Sonny Phillips of Triballight.com, n.d. Web. 27 Sept. 2016. 
Rothman, Lily. "Watch the First-Ever 'What's Up, Doc?' Moment." Time. Time, Inc., 27 July 2015. Web. 27 Sept. 2016. 
"Tom and Jerry." Wikipedia. Wikimedia Foundation, 2016. Web. 27 Sept. 2016. 
YouTube. A Subsidiary of Google, n.d. Web. 27 Sept. 2016.