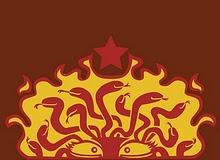 Flaming Medusa Studios is the cleverly-named brain child of Darcy Vorhees, Flaming Medusa's Chief Visionary Officer and CEO. The rather eccentric name of this Ohio design studio was carefully chosen, Flaming to indicate passion, Medusa to embody something legendary, and Studio signaling that its a hub of creativity.
Flaming Medusa Studios is one of Ohio's premier production companies, with a specialized focus on bringing high-quality animation to the Midwest. Their specialized skillset has been recognized by some of the biggest animation companies studios on the planet, and they have a client list that includes Disney, Nickelodeon, 4Kids Productions and MTV. Flaming Medusa has contributed to several big-budget productions, including the Teenage Mutant Ninja Turtles and the Lizzie McGuire Movie.
Darcy recently sat down with us to answer some of our reader's burning questions about working in the animation industry, and she shared with us her optimistic outlook for the industry:
What is your firm's focus within animation and what led your firm to have such a focus?
Flaming Medusa Studios inc. offers animation production services from storyboard to credits, and has been focusing on fulfilling the informational and educational animation needs of various sized businesses. This focus on business came about partly due to the location in Cincinnati, but also because of a desire on my part to work on a variety of projects. We also work on entertainment properties and provide support for larger entertainment projects though.
Fill in the blank: The future of animation is _________.
Independent (meaning, not relying solely on a few mega corporations to develop new work and invest in it)
What are the best and worst aspects about working in the animation field?
The best is being able to create art and life, and on top of that, getting paid for it. The worst is that it takes more than just being a talented artist to succeed.
Among your firm's achievements, which one(s) are you the most proud of?
I am most proud of our policy toward our employees- we have plans to be one of the best employers in the animation biz and have the attitude that happy employees equals happy clients.
What skills/qualities does your firm seek out when hiring new employees?
Being pro-active is always good, and professional. Someone who wants to learn a variety of things and who doesn't have their heart set on only producing one style of animation. Someone who can draw from life yet also be observant and flexible enough to duplicate other styles.  Someone who knows color. The rest depends upon the type of position that is being filled, but these are the basics for any creative position.
What particular schools, if any, does your firm recruit new hires from? If none, where do you recruit new hires?
I am always keeping my eyes out for artists that come from animation programs in Cincinnati, and the Columbus College of Art and Design is a very well respected school that is also nearby.  Really, though, the portfolio is all that is a requirement. I prefer to receive emails from people who are interested in the company with a portfolio website in the body of the email. I also look for connections at conventions, artist-centric events, and during other arts-networking opportunities.
What advice would you give to aspiring animators?
It is a very competitive field, so be sure that you are dedicated and obsessed enough to become REALLY good and that you're tenacious to begin with, or else you may be wasting your time. Getting your foot in the door itself is a long process, and you will probably be living like a college student for longer than your college buddies who went to school for accounting or marketing- this is something you do only if you can't imagine being happy doing anything else.
What were your most challenging projects, and why?
Being a business owner, my most challenging projects are getting the projects. Explaining the budget to clients who don't understand animation or who think that computers do it all can be challenging. Also, dealing with sticker-shocked clients who don't understand the amount of time and effort that animation entails.
What kind of education did it take to get you where you are today?
I took art classes since I was in grade school, got a bachelor's degree from Pratt, studying film with a concentration in animation.  After (and during) college I learned how a studio works by working as a studio assistant in a small studio, and how freelancing works by freelancing. I learned how to produce projects by jumping into it with Animator's Ink in New York City. After deciding to start my own company, I took some business classes offered by Bad Girl Ventures, a not-for-profit in Cincinnati that focuses on educating female business owners and facilitating start up capital for their businesses.  I also have learned from every job I have ever had.  I am still learning to this day, and have more to learn after that.
What animation software packages does your firm prefer to use? Which one would you recommend to beginners?
We use Photoshop, Illustrator, and Flash most often. I recommend that beginners learn all of them.
Could you share with us your best story about working in the animation industry?
My best moments in the industry were meeting people that I admired, like Eric Goldberg, Tom Sito, and Gerald Scarfe (who did the animation for Pink Floyd's "The Wall" and concept art for Disney's "Hercules") and feeling like I was going to puke from nerves; but then realizing that these guys are just normal, open guys that were happy to chat. We're lucky that the superstars in our industry are accessible for the most part.
Do you think that there is an increasing or decreasing demand for animators overall? Why?
Overall, I think the demand is increasing, but the type of projects that call for animators are evolving. Almost every bit of visual entertainment has animation in it now, and with more and better technology coming out we will continue to have more and more ways to use the magic that animators provide.