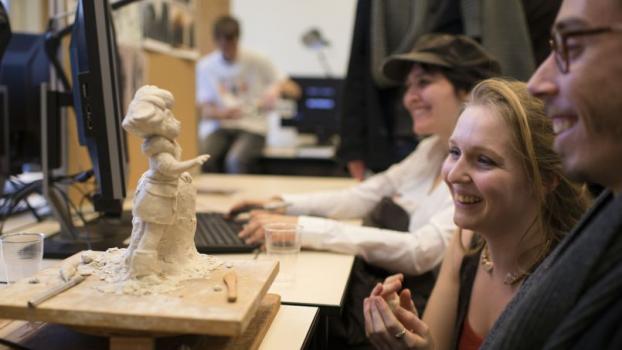 What are the Best Schools for Animation in France? ACR Takes a Look.
Top French Animation Schools

| Name | Locations | Founded |
| --- | --- | --- |
| Gobelins School of the Image | Paris | 1975 |
| MoPA - The School of CG Animation | Arles, Valenciennes | 1988 |
| LISAA School of Design | Paris, Nantes, Rennes, Strasbourg, Bordeaux, Toulouse | 1986 |
| ESMA | Montpellier, Toulouse, Nantes, Lyons | 1993 |
| ISART DIGITAL | Paris | 1999 |
| CREAPOLE | Paris | 1981 |
| SAE Institute Paris | Paris | 1982 |
| Paris College of Art | Paris | 1981 |
| ArtFX | Montpellier | 2004 |
What is the French Animation Scene All About?
After nine French directors tossed their hats into the animated feature race for 2017, Variety declared that France had "firmed up its reputation as home to the world's second biggest animation industry behind the U.S." In the mix were Mark Osborne's The Little Prince, Franck Ekinci and Christian Desmares' April and the Extraordinary World, Claude Barras' My Life as a Zucchini, Remi Chaye's Long Way North, Michael Dudok de Wit's The Red Turtle, Alexandre Heboyan and Benoît Philippon's Mune, Guardian of the Moon, and Alain Gagnol and Jean-Loup Felicioli's Phantom Boy. Two more animation entries, The Secret Life of Pets and Sing from Illumination MacGuff, were entirely created in France. Though it did not win, Barras' debut feature, My Life as a Zucchini, made it onto the ballots, and received an overwhelming response from audiences worldwide. The film went on to win best animated feature film at festivals and award shows around the world.
This is all great, but it must be noted that France had a stellar reputation long before the 2017 Oscars, producing some of the earliest animated films on record. According to Prezi, the French are known for inventing many of the foundational technologies of early animation. Emile Cohl (Emile Courtet, 1857–1938), a French caricaturist, cartoonist, and writer, who began animating in 1908, is credited with creating the first fully animated film, employing 700 drawings on sheets of paper, each photographed separately. And the list goes on.
What are Some of the Best Schools for Animation in France?
With a rich history of animation, it's not surprising that France is home to some of the world's best animation schools. One school is even known as the "Harvard of Animation," becoming so popular among U.S. studios—from Disney to Illumination and DreamWorks Animation—as a source of fresh talent, that in 2016, it launched an English-language Master of Arts in Character Animation and Animated Filmmaking.
Another top French animation school produces some 80 films a year, and even lesser known schools have major accomplishments to their credit. One school on our list of France animation school options is credited with a student film that was screened during the 2014 Oscars. The school's alumni are also famous for landing positions at renowned studios in Paris and abroad. 
Let's take a closer look these and several other top animation school options in France. Here you go.
Gobelins School of the Image, Paris, Noisy-le-Grand, France
Located in the heart of Paris, just next to the Latin Quarter, Gobelins is known as the "Harvard of Animation." And like Harvard, the program is competitive, accepting just 25 students out of nearly 1,000 applications each year. Famous for its variety of animation programs and a one-year Video Game Specialized Master's degree, the Cinéma Department of Animation offers a four-year, full-time degree for Animated Filmmaking; a one-year, full-time 3D Character Animation degree, and a two-year, full-time Master of Arts in Character Animation and Animated Filmmaking.
Established in 1975, the Department, which also offers a one-year, full-time Motion Design degree, has an international summer school animation program that is taught 100% in English. Learn more about Gobelins animation programs here.
MoPA - The School of CG Animation, Arles, Valenciennes, France
When Supinfocom (now MoPA) opened in 1988, it became one of the first schools to teach computer graphics. Back then, the school was producing just 30 minutes of animated film per year. The school became Supinfocom Arles in 2000, and in 2015, it became MoPA. Today, MoPA produces around 80 films annually, along with graduates that go on to work at major studios around the world.
MoPA offers a five-year degree program in 3D Animation that enrolls just 10 to 20 students per option to allow for more effective student follow-up. According to the school, "students have access to the same equipment and software used in professional studios. Over 200 computers are loaded with 3DS Max, Nuke, Substance Painter, Houdini and more. A render farm contributes to the computer power necessary to produce" MoPA films.
Students can expect juries once a month throughout the final year of study in front of a group of five teachers, three days per week of technical follow-up, public speaking prep, and projection of the diploma film before a jury of professionals. Learn more about MoPA here.
LISAA School of Design, Paris, Nantes, Rennes, Strasbourg, Bordeaux, Toulouse, France
Founded in 1986, LISAA School of Design (L'Institut Superieur Des Arts Appliques) is a leader in applied arts education. Recognized in the "professional milieu" and by the French Ministry of Culture and Communication, LISAA serves 2,200 students, making it one of the biggest French design schools. Options for animators include three-year Bachelor of 2-D Animation, Bachelor of 2-D/3-D Animation, and Bachelor of Visual Effects programs, as well as a two-year Master of Supervisor & Director of Animation & Special Effects.
Students will tackle the creation of storyboards, layout, sets, characters and the production of 2-D/3-D animation. Sample courses include Methodology Creativity, Observational Drawing, Computer Graphics, Character Animation, Storyboard, Color, and Decor – Background, 3-D Animation, 3-D Production, Compositing, Story Layout, Image Analysis, Visual Design, Morphology, and Sound. Programs are taught in French or English. Learn more about LISAA here.
ESMA, Montpellier, Toulouse, Nantes, Lyons, France
With a focus on creating a well-equipped environment where students can "freely develop their artistic and technical skills," ESMA is one of France's top animation schools offering a unique Preparatory Year that allows students experiment in the applied arts for a year before deciding if they would like to continue into the 3D Animation and Special Effects Cinema program. The preparatory program is designed for students who have not had a chance to take artistic training in high school.
The 3D program is designed for creative people wishing to enter the world of animation or special effects, master the new technologies of 3D creation or improve their artistic and technical knowledge. In addition to the 3D Animation and Special Effects program, ESMA offers a Master of Motion Graphics Design and a Master of Design and Digital Strategy. Learn more about ESMA here.
ISART DIGITAL, Paris, France
ISART DIGITAL specializes in Video Games, 3D Animation and VFX. Based in Paris and Montreal, the school began offering the first programs in Game Design and Animation in 2001. According to ISART, the school is "renowned for its high-quality pedagogical approach and cooperative education alternating classroom and work experience, with an emphasis on professional skills development. Program options for animators are offered through the school's 3D Animation/FX Department and include advanced degrees in 3D Film Animation, 3D Art, 3D Film FX, and Game Art.
ISART DIGITAL programs are accredited by the French Government and recognized by the Canadian Ministry of Education. The school has a partnership with the Tokyo University of Technology and "close" relationships with industry professionals, which enables them to place students in internships throughout their studies. Thanks to the TUT partnership and ISART's reputation in the entertainment industry, students have the opportunity to study and work in Canada, France, or Japan. Learn more about ISART DIGITAL here. 
CREAPOLE, Paris, France
CREAPOLE is a top art and design school that offers degrees covering everything from art, game, and fashion design to visual communications and multimedia, transportation design, and animation. The Cinema, Animation and Video Game Department offers a Certificate and a Bachelor's degree in Cinema, Animation and Video Games. Sample courses include Film Analysis, Character Design, 2D/3D Animation, Storyboarding, 3D Modeling, Sound, and Lighting.
The Department lists third and fourth year case studies such as "Animation of stage sets for the Daft Punk concert," "Creation of sets of the film of GUILLERMO del TORO – Megacity," and "New trailer for the feature film "Robin Wood" Ridley Scott." Graduates of the Certificate program will be prepared to seek positions such as 2D Animator, 3D Modeler, Game Designer, Character Designer and Matte Painter, to name a few.
Graduates of the five-year degree program have gone on to become Lead Artist 3D, Character Animator, Artistic Director, Compositing Manager, Special Effects Project Manager, Project Manager Game Designer, and Designer/Director. Learn more about CREAPOLE here.
SAE Institute Paris, Paris, France
SAE Institute has 54 campuses in 26 countries, making it the world's largest, industry-focused creative media educator. The institute offers programs in the areas of animation, audio, film, games development, music business, and the web. Opened in 1993, SAE Institute Paris (SAE Paris) is a Partner Institution of Middlesex University, and it welcomes up to 600 students each year, making it one of the largest SAE campuses in Europe. Animation program offerings include BA/BS degrees in Visual Effects Animation, Game Art Animation, and Digital Film Production. Certificates in Motion & Graphic Design and Digital Video are also available. Learn more about SAE Paris here.
Honorable Mentions
Paris College of Art, Paris, France
Paris College of Art has launched a new BFA in 3D Animation. The school says that the intensive three-year program mimics the pace of the animation industry, where the production of animation requires sustained effort over a concentrated period of time. The school also offers an MFA in Animation that takes two years to complete. The program emphasizes digital technology skill sets required to express creative ideas. The program explores digital animation as a form of visual expression and it is designed as a practiced-based and process-oriented program to prepare students to work as independent artists or for a commercial studio. The program offers a unique blend of studio practice, and theoretical and art historical training in the European and French contexts.
Paris College of Art was established in 1981. Serving around 300 students, this international college of art and design has U.S degree-granting authority and accreditation from the National Association of Schools of Art and Design (NASAD). Learn more about Paris College of Art here. 
ArtFX, Montpellier, France
ArtFX offers bachelor's degrees in 2D Animation & Stop Motion and 3D Animation. A master's degree in Visual Effects is also available. The school has been welcoming foreign students from all over the world for years. Many subjects are taught entirely in English beginning in the first year. Starting in the 2nd year, students can enroll in the International Class, where 100% of the subjects are taught in English. Learn more about ArtFX here. 
ArtFX was created in 2004 by professionals from the cinema, animation, video game and visual effects industries. Serving nearly 600 students, the school boasts a 98% employment placement rate just after graduation.  
Sources
Beckerman, Howard. Animation: The Whole Story. New York: Skyhorse, 2012. Print.
"Four of the Ten Best Animation Schools in the World Are French." Consulate General of France in Hong Kong & Macau. Consulate General of France in Hong Kong & Macau, n.d. Web. 02 Feb. 2018.
"Global Animation Industry 2017: Strategies Trends & Opportunities Report - The Most Authoritative Global Animation Industry Analysis - Research and Markets." PR Newswire. Research and Markets, 16 Jan. 2017. Web. 25 Feb. 2017.
Keslassy, Elsa. "Oscar's French Animation Connection Draws on Deep Talent Pool." Variety. Variety Media, LLC, a Subsidiary of Penske Business Media, LLC., 02 Dec. 2016. Web. 01 Feb. 2018.
Matthews, Renita. "French Animation Cinema." Prezi.com. Prezi Inc., 01 Mar. 2016. Web. 01 Feb. 2018.
"Oscar Winners 2017." Oscar.go.com. ABC, 27 Feb. 2017. Web. 01 Feb. 2018.
Schirber, Michael. "French Animation Schools Push Film Envelope." NBCNews.com. NBCNews.com, 02 Sept. 2011. Web. 02 Feb. 2018.