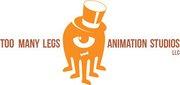 After graduating from Southern Utah University Ian Johnston decided to stay on his home turf instead of abandoning his state for the more well-known glitzy animation areas like New York or L.A. And it is there that he helped create Too Many Legs Animation Studios.
Too Many Legs keeps their feet planted firmly on the ground and their heads in the stars. Their down-to-earth mentality believes that there is high-quality animation all over the country even in non-traditional areas, which is why their slogan is "LA quality animation at Utah prices."
Ian's client list includes the likes of Warner Bros., the Cartoon Network, MTV, Universal, DC, Utah Power, Mazda and Verizon.
Ian recently took time out of his busy animation-directing schedule to offer pearls of wisdom to our readers, including the don't-eat-yellow-snow-quality piece of advice, "balance is important to not get burned out. You can't animate if you're dead."
What is your firm's focus within animation and what led your firm to have such a focus on this one?
Our focus with Too Many Legs is to provide animation to the community through visual effects, character animation, episodic series, and corporate videos. We plan to fund our own animated projects.
Fill in the blank: The future of animation is _________.
The future of animation is amalgamation – combining different animation disciplines to form innovative new creations.
What are the best and worst aspects about working in the animation?
The best aspect of working in animation is of course the fact you are working in animation! Animation traverses many forms and is useable in every medium, even audio. Sometimes the money dictates how creative you get to be. Balancing budget and creatively is a fine art.
Among your firm's achievements, which one(s) are you the most proud of?
We were fortunate enough to work with Blissium and Neways.  These two companies garnished us with animations of Batman commercials and a corporate video that allowed us to conceptually create a unique look and they trusted us with the final outcome.
What skills/qualities does your firm seek out when hiring new employees?
We look for unique and easy to work with individuals who have skills and talents in traditional, 2.5d, and 3d animation. We look for people that have a creative edge too. We want people that exceed our current capabilities and help us grow.
What particular schools, if any, does your firm recruit new hires from? If none, where do you recruit new hires?
We don't recruit from any specific schools. People are welcome to see our website to see if their skills match ours. Find us at www.tmlanimation.com
What advice would you give to aspiring animators?
Take acting classes. Animating the character movements should be a priority to convey meaning. An innate ability to understand actions is necessary in animation.
What were your most challenging projects, and why?
We created the visual effects for a short film called Tale of Redemption. Every effect shot required a unique treatment and approach to achieve a myriad of effects requested by the director. No two shots, out of the 170, had the same treatment.
What kind of education did it take to get you where you are today?
An all-around college education along with hours and hours of animating, drawing, and studying are important. Having a focus, passion, willingness to learn, willingness to be taught, open communication, and constant curiosity is vital for success along with having plenty of chocolate zingers on hand.
What animation software packages does your firm prefer to use? Which one would you recommend to beginners?
We primarily use After Effects, Maya, Photoshop, Illustrator, Mocha, and Avid. If you're serious there is no sense using anything less than what's industry standard because the cheaper programs aren't used other than to dabble in or have for personal use.
Could you share with us your best story about working in the animation industry?
Hrmmm. . . best story. . . I better not disappoint. During a stint of deadlines that were originally overlapped, I was directing a team of 6 and had a team of 3 for another project. The project was a Batman commercial and 2 Healthy Marriages spots. The continually changing expectations clients make with animation shifted when our clients needed to get lawyer's approvals. Rather than having staggered deadlines, due to these shifts all 3 animation project deadlines ended up right on top of each other.
After working 3 weeks day and night, all clients were happy until the initial approved estimate for one of the projects was dropped several thousand dollars. Quick decisions had to be made to keep any type of working pipeline in place as all teams, including myself, were cranking for days on end with no rest. The final night before delivery, we began rendering the frames to composite and send out early the next morning. I ended up getting a kidney stone and was in the hospital but our team was able to make the final delivery that night and the client was happy. I realized the importance of managing time effectively to still be able to stay healthy and not abuse myself for the sake of the work. Balance is important to not get burned out. You can't animate if you're dead.
Do you think that there is an increasing or decreasing demand for animators overall? Why?
An increase. As techniques become cheaper to reproduce and technology becomes more affordable, there will always be a precedent for animators. Animation is anything that moves on screen that isn't living. Moving art will always mesmerize an audience. It's synonymous with most media these days. Animation doesn't always mean cartoony characters that bounce around. It spans from visual effects, to hand drawn frames. Animation has a more universal definition by today's standards. You can find most jobs typically benefit by including animation in one aspect or another. It is our job to help educate the masses about the new definition of animation.