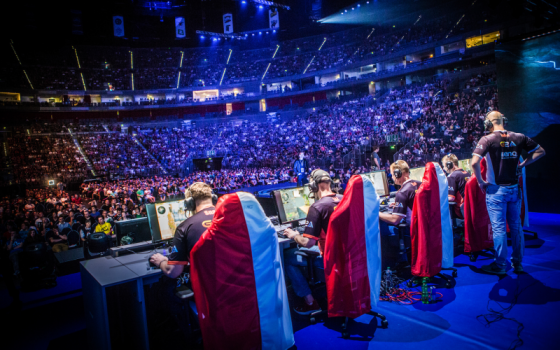 Now that people are using the words "massive," "huge," and "explosive" to describe eSports, it's time to get to know an organization that's been driving the development of this competitive sport at the collegiate level. Formed on July 28, 2016 at the first ever Collegiate eSports Summit held in Kansas City, Missouri, the National Association of Collegiate eSports (NACE) is the only association of college and university sponsored eSports programs that promotes the education and development of students through intercollegiate eSports.
Headquartered in Kansas City, this non-profit organization also advocates for varsity programs that include scholarships for its participants and a strong institutional commitment to the sport.
When it formed, NACE says only seven colleges and universities had varsity eSports programs. Today, nearly 100 schools across the U.S. and Canada have begun offering official eSports programs and this figure is expected to reach 120 by the end of 2018. As of January 2018, more than 90% of all varsity eSports programs in the U.S. are members of NACE, with a rapidly increasing number of schools exploring eSports.
NACE Statement and Highlights
NACE states that, "Together, our members are developing the structure and tools needed to advance collegiate eSports in the varsity space." The organization is "collaborating to lay the groundwork" in areas such as:
Competition & Scholarships
Eligibility
Path to Graduation
NACE Highlights:
$9 million in eSports scholarships and aid
1,500+ student-athletes
80+ member schools (45% NAIA*,40% NCAA*, 10% NJCAA*, 5% CIS* & Independent)
Annual national convention
Private discord server (voice-over software) for athletic directors, coaches, and more
NACE Provides:
Business intelligence
Competition between varsity programs
Guidance to institutions wishing to start varsity programming on their campuses (average eSports program start-up is $32,000)
Job recruitment for coaches, directors, assistants and more
Lobbying arm with media and publishers
Professional development
Standardized rules and compliance
Student-athlete recruitment (average 1st year recruitment for programs is 15 students)
NACE Student-Athletes
Are part of an emerging industry
Earn athletic and academic aid
Play the games they love
Receive direct coach-to-student mentorship
Most Popular Games at NACE Member Institutions
Counter Strike
Hearthstone
League of Legends
Overwatch
Paladins, Champions of the Realm
Rocket League
Smite, Battleground of the Gods
NACE National Partners
BeRecruited
Gamer Sensei
High School Esports League
NJCAA
NAIA
Respawn
Twitch
The list of NACE partnerships is constantly growing, so check the official NACE website regularly for news and updates.
*NCAA: National Collegiate Athletic Association (NCAA)
*NAIA: National Association of Intercollegiate Athletics (NAIA)
*NJCAA: National Junior College Athletic Association (NJCAA)
*CIS: Canadian Interuniversity Sport
Sources
"About Us: National Association of Collegiate eSports." Linkedin.com. Linkedin.com, 2018. 29 Aug. 2018.
Moody, Josh. "Colleges Are Betting Big On The Multimillion-Dollar Esports Market." Forbes, Forbes Media LLC., 12 May 2018. Web. 23 Aug. 2018.
Morrison, Sean. "List of varsity esports programs spans North America." ESPN.com, ESPN Internet Ventures, a division of ESPN Inc., 15 Mar. 2018. Web. 23 Aug. 2018.
Nacesports.org. National Association of Collegiate eSports (NACE), 2018. Web. 29 Aug. 2018.