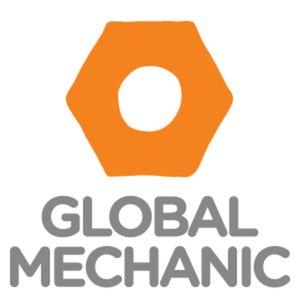 Matthew Charde earned his place in the animation field with richly diverse experience, before creating his own company alongside long-time friend and partner Bruce Alcock.
Matthew has become known for his breadth of experience and the toolkit that comes with it, that he earned working in a wide variety of media channels and positions. Before starting up Global Mechanic Media he was previously Executive Producer at Olive Jar Studios, and SVP, Director, and Executive Producer at Red Sky, Almighty, and Pod Design respectively. He has successfully led teams on a variety of projects that span across advertising, ecommerce, online gaming and apps.
Out of this experience Global Mechanic Media was born—a boutique trans-media production company that has worked with the likes of Coca-Cola, The Cartoon Network, Bank of America, Amex, MTV, Nokia, CSTV, and Nickelodeon. Founded in 2000, the company has made a mark for itself working in all aspects of media across varying mediums.
Matthew recently donated some of his time to discuss with AnimationCareerReview the varying issues affecting aspiring animators today.
What is your firm's focus within animation and what led your firm to have such a focus?
We produce commercials, independent films and TV series'. Commercials allow us to work in and explore ALL mediums. TV allows us to think long-term. Independent film gives us a true creative outlet.
Fill in the blank: The future of animation is _________.
ever changing and wildly exciting.
What are the best and worst aspects about working in animation?
The best part is that animation is a real business where creativity is embraced. The worst part is that not all buyers of animation care about that.
Among your firm's achievements, which one(s) are you the most proud of?
Running a successful animation company or more than 20 years.
What skills/qualities does your firm seek out when hiring new employees?
Creatives who are not afraid to explore and use technology.
What particular schools, if any, does your firm recruit new hires from? If none, where do you recruit new hires?
All places.
What advice would you give to aspiring animators?
Animate.
What were your most challenging projects, and why?
Low budget commercials...
What kind of education did it take to get you where you are today?
Experience, drive and talent got the successful people at our firm to where they are today. The best educational institutions allowed the students to develop their style...
Which animation technology would you recommend to beginners?
Flash and AE.
Do you think that there is an increasing or decreasing demand for animators overall? Why?
I do think there is a demand for animators who can both animate and design.