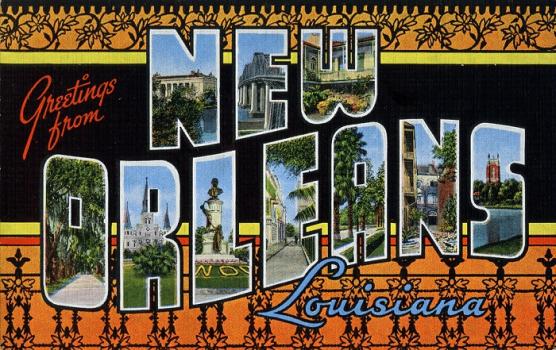 With roughly 344,000 local residents and as many as fifty thousand commercial businesses, New Orleans, Louisiana is a choice home town for countless visual artists pursuing careers in graphic design.  Companies throughout the city of New Orleans employ thousands of graphic designers for a virtually endless array of creative commercial tasks.
New Orleans Schools and Training Programs for Graphic Design
Quite a few excellent colleges in New Orleans, Louisiana offer degree programs in graphic design.  Popular New Orleans design schools include Delgado Community College, University of New Orleans, Loyola University and Tulane University.  Some graphic artists living in New Orleans earn their degrees online.  The most prolific schools offering online degree programs in graphic design are The Art Institutes, ITT Tech, University of Phoenix and DeVry.
Graphic designers in New Orleans, Louisiana popularly major in Communications Design or Fine Arts.  Typical course work at a New Orleans design college might include computer science, website design, digital art, traditional media, photography, animation, technical drawing, typography, printmaking and other relevant topics.
Working as a Graphic Designer in New Orleans, Louisiana
Communications designers in New Orleans, Louisiana remain in continuous demand.  Local design jobs include company brand logos, product descriptions, promotional art, educational materials, book covers, web pages, product packaging, street signs, billboards, home interiors, textile prints and assembly instructions, to name only a fraction. 
Some New Orleans designers work for leading local advertising firms like H-Agency, Spar Incorporated, Alford Advertising and Hess Marketing.  Other local designers create film credits and promotional media for top New Orleans movie producers.  These include Dancel Communications, Nightworks, Plentriffic Productions, Storyville and many more.
Other businesses in New Orleans that hire graphic designers include art galleries, photo studios, museums, news syndicates, patent offices, software developers, colleges, book publishers, retailers, equipment manufacturers, real estate agents and many others. 
United States companies employ more than a quarter million graphic artists.  Starting salaries are a matter of education, related experience, expertise and networking (formerly known as "who-you-know").  Employers review the design portfolios of qualified applicants when making hiring decisions.  A design portfolio is a bound collection of images representing the designer's best work.  About half of all communications design professionals in the United States earn somewhere between $30,000 and $60,000 a year.  However, this figure does not account for the unreported incomes of many thousand self employed design professionals.
Skills of a Graphic Designer
Most graphic design work involves page layout, which is determining the relative size, color, location, orientation and other attributes of images on a page, as well as the background against which those images appear.  Professional graphic designers understand juxtaposition of form, how moods are affected by color, the emotional impact of symbols and the importance of the location of the viewer, among other visual subtleties. 
Graphic design is a precise, highly technical art form used for communicating very specific messages, most frequently for commercial purposes.  Stylistically speaking, graphic design might be described as the opposite of Jackson Pollock, that famed fine artist of yesteryear who seems to have hurled paint buckets at the walls while blindfolded, handcuffed and drunk.