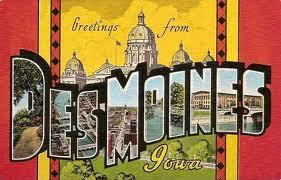 Professional programmers and interactive designers in the city of Des Moines, Iowa are lately seeking lucrative carreers in the field of mobile app design.  Millions of users download millions of apps to send emails, learn foreign languages, peruse reviews, get sports results, soak in the view from a live web cam and many million more useful purposes.  Businesses in Des Moines are bursting with employment opportunities for professional app developers.
Des Moines Schools and Training Programs for App Developers
Aspiring app developers in Des Moines, Iowa often attend local schools of computer programming and communication design.  Accredited Iowa colleges with degree options for app developers include Drake University, Grand View University and Vatterott College. 
On the other hand, some mobile app developers seek online training for the acquisition of technical skills and degrees.  Well-established internet schools featuring studies in media and programming include Ashworth College, Baker College, DeVry University, Keller Graduate School of Management and Rasmussen College, to name a few. 
Working as a Mobile App Developer in Des Moines, Iowa
Iowa app developers occasionally maintain semi-permanent positions at local computer programming companies like Data Builder, Herold Computer Service, Interactive Resources, Application Design Services and Bigbrains Incorporated, for example.  Some developers build apps for prepackaged software corporations such as Iowa Computer Gurus, Geo Learning, Waldorf Computer Systems, Nevada Computer Center or Highwire Publishing.  Other Iowa corporations seeking app developers might include info tech firms, product manufacturers, businesses consultants, movie producers and researchers, among others. 
Reports from the Bureau of Labor Statistics indicate that the average yearly income for app developers who work 40-hour weeks in the city of Des Moines, Iowa is about $79,530, with a reported mean hourly rate of around $38.25.  Des Moines local businesses employ roughly 1,960 professional full time app developers. 
Freelance app developers who work independently are strongly encouraged to form a coherent pre-production business plan, as some financial risk is involved.  Development costs can run anywhere from $5,000 to more than $200,000.  Important keys to success are innovation, good timing, sophisticated app design and clever promotional techniques. 
Skills of Mobile App Developers
Professional app developers are involved in virtually every aspect of mobile application production.  App developers create and implement computer programs, dabble in digital design, build solid web pages and oversee server development.  They also have a hand in research, creative writing, marketing and distribution.  App developers are primarily innovative high tech professionals with advanced project management skills.