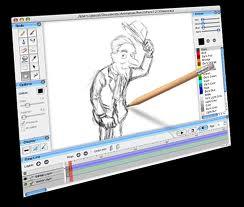 ilightmagic is staffed by a team with more than 20 years of experience.  And the highly-skilled team is egged-on by their fearless leader—Stefan Miller.
Stefan and ilightmagic's goals are simple, to create affordable images of quality—with reliable service.  "We are peoples with passion" boasts the ilightmagic team.
Stefan and the rest of the ilightmagic team have contributed to full-length animation features, video documentaries, 3D graphics and 2D stop-mo effects. The ilightmagic focus runs the gauntlet from Flash animation work, web design graphics and classical animation to video production, editing, and commercial photography.
Stefan recently took time from his busy team-leading schedule to offer up some advice from his years of experience in the industry:
What is your firm's focus within animation and what led your firm to have such a focus?
I am focused in 2D Animation for advertising movie, that's because I have a very small business in animation and I can't take bigger projects.
Fill in the blank: The future of animation is ___________.
unpredictable for smallfirms, I think it will be a monopoly of those big companies.
What are the best and worst aspects about working in the animation field?
The best aspect is when you are working on a project that fit your skills and concepts, this is rarely occurring. The worst thing is that nowadays the demand for 3D animation without any valuable content is to high.
Among your firm's achievements, which one(s) are you the most proud of?
I have a very productive contract with an advertising agency and I think that is my best achievement.
What skills/qualities does your firm seek out when hiring new employees?
Free hand drawing.
What particular schools, if any, does your firm recruit new hires from? If none, where do you recruit new hires?
There are a lot of real talents you could find online.
What advice would you give to aspiring animators?
Be aware of eyestrain and pronator teres syndrome.
What were your most challenging projects, and why?
Making of my own movie. It takes too much time.
What kind of education did it take to get you where you are today?
I am not a reference point for anyone. However it takes a lot of education, drawing, as much visual arts education as possible, anatomy, drawing, art history, paint history, drawing, animation theory etc. Then you can start to think about 3D. Did I say drawing?
What animation software packages does your firm prefer to use? Which one would you recommend to beginners?
Pencil.
Could you share with us your best story about working in the animation industry.
The best story is when I got a very good contract with a three frames animation.
Do you think that there is an increasing or decreasing demand for animators overall? Why?
The demand for animators will decrease because the need for 3D animation is increasing and the software creators are stealing a lot from animators job at the expense of art. I really wish to be wrong here.