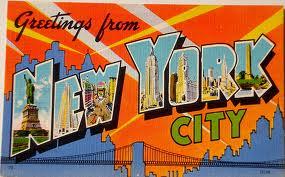 New York City is one of the best places in America for most careers, including multimedia design.  Multimedia design, especially editing, is among the hottest topics in today's creative, high tech work force.  New York City supports many thousand commercial businesses and private entities that employ professional audio-visual editing technicians.  After all, most multimedia productions need editing.
New York City Schools and Training Programs for Multimedia Editing
Dozens of New York City colleges, Universities and independent training groups offer classes, workshops and degree courses in audio-visual technique.  Aspiring New York City multimedia editors study visual arts and communication design, among other important topics.  Successful New York City multimedia colleges include Marymount Manhattan College, Fashion Institute of Technology, Pace University, School of Visual Arts, The New School and several dozen more.
Numerous New York City artists are lately acquiring technical skills and earning professional degrees online.  Popular accredited virtual film schools include the Academy of Art University, Post University, DeVry, Full Sail University, Stratford Career Institute, University of Phoenix, The Art Institutes and ITT Tech.  Quite a few online schools also feature local campuses.  The Art Institute conveniently serves New York City residents.  DeVry has three New York City locations, two in Manhattan and one in Queens.
Working as a Multimedia Editor in New York City
New York City companies hire local multimedia editors for animated cartoons, TV shows, graphic design work, feature films, videos, websites and other broadcast productions.  Local audio-visual editors are sometimes hired by New York City TV stations like CBS, Educational-Broadcasting-Corporation, Hearst-Argyle-Television, Univision-Communications, WNET and many hundreds more.  New York City sound editors often work for local radio stations like Emmis-Broadcasting, Sirius-Xm-Radio, WBAI-Pacific-Radio, Westwood-One and WGHT, among others.
The estimated average annual income for a multimedia editor employed full time in New York City is roughly $80,000, with a reported mean hourly wage of around $40.00. 
Skills of a Professional Multimedia Editor
Professional multimedia editors are trained in the performance of many creative, production-related tasks.  Their skills include proficiency with digital editing software applications as well as web design, concept development, script writing, original musical scores and numerous audio and visual enhancements for movies, TV, DVDs radio and internet.  Other technical skills include photography, videography, web page construction, programming languages and interactive media design.  Personal attributes imperative to professional audio-visual editing work include comprehension, collaboration, self-motivation and the ability to follow directions.  Multimedia editors are perhaps best known for their unyielding attention to detail.