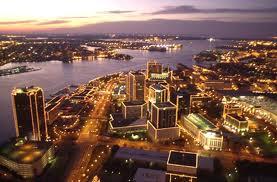 The city of Norfolk, Virginia maintains more than 20,000 local business, including many dozen media producers and hundreds of telecommunications companies.  Understandably, talented musicians and mixed-media artists living in Norfolk frequently land local jobs as multimedia editors.
Norfolk Schools and Training Programs for Multimedia Editing
Numerous Universities, colleges and independent design studios provide classes and degree programs in audio-visual arts.  Aspiring audio-visual editors residing in Norfolk, Virginia often attend local colleges like Norfolk State University or Tidewater Community College. 
On the other hand, just as many Norfolk-based artists attain technical skills and professional degrees online.  Popular accredited internet-based schools of multimedia design include The Art Institutes, Full Sail University, Stratford Career Institute, DeVry, Strayer University, ITT Tech and University of Phoenix.  For your additional educational convenience, many online colleges also provide local campuses and resource facilities.  ITT Tech is located in Norfolk.
Working as a Multimedia Editor in Norfolk, Virginia
All kinds of companies in Norfolk, Virginia, from corporations to private videographers, enlist the services of professional multimedia designers.  Audio-visual editors help create animated cartoons, feature films, promotional ads, web pages and other multimedia productions.  Local audio-visual editors are sometimes hired by Norfolk TV stations like Hampton-Roads-Educational-Telecommunications (WHRO), Channel-13 (WVEC), News-Bureau and WTVZ, for example.  Norfolk sound editors often work for local radio stations like Artistic-Gospel-Sound, Willis-Broadcasting, WNIS, WTAR and WZNR, among others.
Professional audio-visual editors employed at full time jobs in the city of Norfolk, Virginia report an average yearly income of about $45,530, with a mean hourly wage of around $21.90.  These figures, calculated by the Bureau of Labor Statistics, do not reflect the incomes of part time editors or local freelance professionals.
Skills of a Professional Multimedia Editor
Experienced multimedia editors are technically familiar with every phase of the production and post-production process.  They are versatile, highly organized creative artists whose exceptional interpersonal skills include clear communication, fast comprehension, smooth collaboration, calmness under pressure and positively painstaking attention to detail.  Audio-visual editing professionals also possess a long list of technical and mechanical skills.  These include photography, lighting technique, script writing and set design, as well as in-depth knowledge of various editing software applications.  Popular editing design programs include Adobe Illustrator, Adobe After Effects, Adobe Final Cut Pro, Flash, Dreamweaver and Cinema-4D, to list a mere few.  Among the more advanced multimedia editing skills are programming and interactive media design.