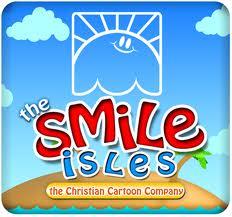 Smile Isles is an intersection of faith, culture and passion. This combination is scarce, and only a rare few can say their work combines both their passion and their faith. Jesse McPeek is one of those few. A wild entrepreneur and devout Christian, Jesse started Smile Isles with a goal in mind--to create cartoons, books, and illustrations that "bring Glory to God and teach others about Him."
This Houston-based studio, and brainchild of McPeek believes in producing quality entertainment that breathes God's every breath into family-driven entertainment. And they will use animations, cartoons, books and the kitchen sink—until they get the job done.
Jesse recently stole a few moments from his earthly-animating schedule to impart some wise words on AnimationCareerReview's aspiring animators:
What is your firm's focus within animation and what led your firm to have such a focus?

Our focus within animation is a little different than most animation studios today. I am a Christian, and wanted a way to merge my animation talent with my heart to teach others about God and Jesus. After graduating from the Art Institute of Houston, I sought employment at numerous animation studios across the USA. In my search I realized that there were very few studios creating truly Christian material, so I thought to myself...why not me? So in 2001 I created The Smile Isles, a fully functional Christian Animation Studio. 4 films later, we're still here, creating Christian cartoons that all ages can enjoy. Our focus is to teach and attract people to God and His teachings.
Fill in the blank: The future of animation is _________.
The future of animation is....in the stories that will be created.
Visual effects can only take you so far, the story is what will keep the industry growing and improving.
What are the best and worst aspects about working in the animation field?
The best aspect of working in the animation field is the ability to create worlds, characters, and ideas that take the audience to new places. The worst aspect is...there's not enough time in the day to do all you want!
Among your firm's achievements, which one(s) are you the most proud of?
Among our achievements, the one I am most proud of is when I hear a parent tell me that their child watches our videos over and over and over again!
What skills/qualities does your firm seek out when hiring new employees?
In new employees the traits that I would look for would be hard-working, honesty, imaginative, ability to think outside the box, humble, and a heart to teach others about God. Talent and abilities can be taught, but a heart has to come prepared.
What particular schools, if any, does your firm recruit new hires from? If none, where do you recruit new hires?
Schooling isn't particularly important to me. I'd just as soon hire a person who has worked and studied in their room as I would a 4 year graduate. Work ethic and passion is more important than a degree in my opinion.
What advice would you give to aspiring animators?
If I had to give advice to aspiring animators I'd say the following: Work, work, work. Work hard to complete your projects, and see your ideas through to the end. Many animators I've met had INCREDIBLE talent, but no work ethic. They'd have great ideas, but would never see them through. Treat animation like working out at the gym, the more you do it the better you'll get. Don't wait for a feeling of inspiration or an emotion to begin your work. Do it, work hard, and get it done.
What were your most challenging projects, and why?
Every project offers new and exciting challenges. The fun part is learning from those challenges and applying it to your next project, which will of course bring about more challenges.
What kind of education did it take to get you where you are today?
I learned a lot from trial and error when I was young. I dabbled in 3D Max before most people had ever even heard of the program. I took several art and animation classes in my High School, and then went on to the Art Institute of Houston, where I graduated with an Associates Degree. Most of my learning, however, came from peers and work experiences.

What animation software packages does your firm prefer to use? Which one would you recommend to beginners?
If you have one of those rare Money Trees growing in your backyard, I'd recommend 3DS Max. It is a great piece of software that does pretty much everything you could ever want. I've never used Maya, but I hear it's great. Our company, however, does not have a lot of money, so we use a wonderful program called Hash: Animation Master. It's a robust animation package priced nicely at 299.99. I'd totally recommend it to both beginners and aspiring entrepreneurs.
Could you share with us your best story about working in the animation industry.
We don't have a professional sound recording booth in our studio, we borrow others for now. So when I was recording voices for our first video, I got a big tupperware box and put it over my head, and put a mic under there with me to drown out the background noise. We took several photos of that makeshift sound booth and chuckled later on.
Do you think that there is an increasing or decreasing demand for animators overall? Why?
More and more animated films are coming out each year than ever before. Pixar, Disney and Dreamworks (among many other wonderful studios) have created a genre that appeals to both kids and adults. Their humor and writing has the ability to attract all ages. I don't see this trend or market shrinking any time soon, so I believe there is more of a market for animators than ever before. Video games, mobile devices, commercials, and television shows also are reliant upon talented animators. The growing digital climate of the world needs animation.