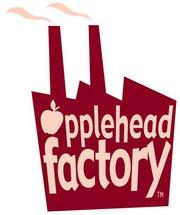 Applehead Factory Design Studio has an interesting name, and a strong vision. Their vision is one of "Creativity. Passion. Execution.", this motto has helped to turn Applehead Factory into one of Pennsylvania's premier design studios.
Applehead is notorious for their delightfully perverse Twisted Teddy Bears series, featuring Teddy Scares, a short film featuring the twisted visions from the warped minds at Applehead. When they are feeling ever-so-slightly-less depraved you can find Applehead's staff working on various productions, including 3D Animation, Rendering, Concept Art, Illustration, Storyboarding, Script Writing, Website Design, Toy Design, Product Production, Sourcing, Packaging, Press Kits and Promotional Design work. Applehead's client list includes the likes of Old Navy, Dreamworks, 20th Century Fox, Six Flags, Busch Gardens, and more.
Joe DiDomenico, Head Honcho over at Applehead, recently took time from his busy teddty-twisting schedule to offer some pearls of wisdom to AnimationCareerReview.com's readers:
What is your firm's focus within animation and what led your firm to have such a focus?
Applehead Factory has always had a focus on bringing characters to life, even before we got into animation. So it was no surprise when we entered into the animation market, that our strengths carried over to character animation. Though our animation work has covered everything from product and industrial visualization to toy commercials, we have found that we are more recognized for our character work..... and we couldn't be more happy about it!
Fill in the blank: The future of animation is _________.
The future of animation is... LIMITLESS! Over the years, technology has advanced animation farther then most could have imagined. Each year we have new tools and techniques that allow us to create things quicker and easier then the year before. There is also a larger resource pool to pull artists from which I believe has helped grow the industry. Animation is used in all areas of our lives now and the only real limitation is one's imagination.
What are the best and worst aspects about working in the animation field?
Probably the best aspect of working in the animation field is being able to bring things to life. The artists at Applehead Factory take pride in knowing that a little piece of themselves can be found in each  project we work on.
One of the worst aspects of being an animator these days is that people assume computers do all the work. Although the computers and the software we use aid in the creation of the animation we produce, they are still simply tools in our tool kit. The tools are only as good as the craftsman behind them. 
Among your firm's achievements, which one(s) are you the most proud of?
The artists at Applehead Factory have worked on some amazing projects including work for Pixar, Dreamworks, Nasa and many others. I'd have to say that the achievements we are most proud of is our own internal properties like Teddy Scares and Tofu the Vegan Zombie. Many artists dream about developing their own properties and we have developed our own that have grown quite a following.
What skills/qualities does your firm seek out when hiring new employees?
We look for problem solvers. Anyone can learn the software, but few have the ability to think on their feet. At the end of the day, we are paid to come up with creative solutions. A good problem solver beats the rest hands down.
What particular schools, if any, does your firm recruit new hires from? If none, where do you recruit new hires?
Most of the artists we have worked with over the years have come from either the University of the Arts in Philadelphia or the Digital Animation and Visual Effects school in Orlando. That said, it's more about the artists portfolio and even more important, their personality. We try and work with artists that will work well with the existing team.
What advice would you give to aspiring animators?
You have to love animation or it's not the right path for you. Although you can make a good living as an animator, the industry is constantly changing and you really have to invest a great deal of time to the craft.
I see a lot of artists that get into animation thinking it will be an "easy" job. The best animators I know love their jobs, but have worked extremely hard to get were they are.
What were your most challenging projects, and why?
 Every project we take-on at Applehead Factory  has it's own set of challenges. This keeps our artists on their toes and keeps things interesting. That said, projects that don't have a clearly defined road map or set direction are always the most challenging. Projects with unrealistic deadlines are even more challenging and can be quite taxing on our artists.
What kind of education did it take to get you where you are today?
Most of the artists at Applehead have a a traditional art background. Learning the fundamentals of design, anatomy and illustration, although not a requirement for animation, will definitely show in your work. 
What animation software packages does your firm prefer to use? Which one would you recommend to beginners?
We primarily use LightWave 3D for our 3D animation and Flash and After Effects for our 2D animation. All three of these tools are great for beginners that are interested in getting into animation.
Could you share with us your best story about working in the animation industry.
One of the best experiences of working in the animation industry is sitting in a theater and watching your name scroll up in the credits or going to a store and seeing something you worked on  siting on a shelf. But best of all is knowing you're getting paid to do what you really love to do... create!
Do you think that there is an increasing or decreasing demand for animators overall? Why?
Without a doubt, there is an increase in the demand for animators. Animation continues to grow in all areas, not just the entertainment industry. You can't turn on the tv without seeing something an animator has had a hand in making. It's a great time to be involved in the animation industry.
Good animators are always in high demand!