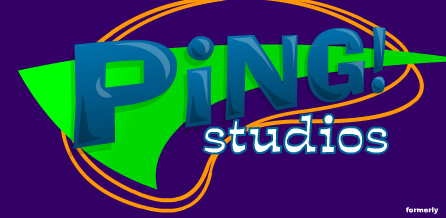 The animation industry is full of creative visionaries, but very few of them can translate their creativity and vision to the business world. Marty Topping, of PING! Studios is one of the few—making him a perfect subject for our Interview Series.
Back in 1999 Marty co-founded San Antonio-based Volition Interactive, then in 2001
he recognized the need for a web-based animation studio in Colorado where he opened another branch. When Volition closed its doors in 2004 Marty created PING!Studios, a web-based animation solo venture. Marty's ability to marry the business- and creatives- sides of the animation industry, learning from his mistakes and ability to find an industry niche has led to a long and successful career—and a strong portfolio.
Marty happily volunteered to take part in our series, sharing both his failures and
successes with our readers in the form of solid anecdotal advice:
For any of our readers not familiar with you could you explain your studio's
vision and what separates you from the (vast) competition? PING! Studios is a small one-man shop started in Lakewood, Colorado. My vision in starting an animation business was quite simple: to get paid to create animation! Or in other words, to make a living doing what I love most. My biggest clients are in the fields of aviation and politics, two of my other passions. I think what probably sets me apart from the typical animation studio is that my projects are more focused around education and training as opposed to entertainment. Animation is a very valuable tool for presenting complex topics.
As a creative professional how have you handled the business-side to running an
animation studio?
I had already operated a couple businesses before starting one with a focus on
animation. After making just about every mistake in the book, I had developed a pretty good sense for running a business. I do it all myself, from bookkeeping to taxes. It takes me away from doing the work, but it's a necessary evil.
How did you initially get your foot into the door of the animation industry?
I served as an officer in the US Air Force for five years. I worked for Air Education and Training Command's Training Support Squadron, developing classroom materials for new Air Force pilots. Animation was a necessity in effectively showing the movements of aircraft in 3D space.
What kind of education did it take to get you where you are today?
My education in animation started when I was five years old, camped out on the couch, watching the color test pattern on TV and waiting for Saturday morning cartoons to start. The pause button on my family's first VCR was also an invaluable animation learning aide. Probably my entire "educational" background in animation has been self-taught.
Who does the hiring for your company?
I don't "hire," per se, but I have worked with subcontractors in the past (one of my
lessons learned in my prior businesses). I also keep a folder of résumés in my email, just in case I decide to take things in a different direction in the future.
Has the trend of overseas animation outsourcing affected your firm, if yes, how
have you dealt with it or compensated for it?
No. Some of my clients have tried it and then came back to me after their project
crashed and burned.
If you were going to hire a new employee/intern what qualities would you look
for in a person and portfolio and where would you look?
Although I am not looking currently, I do peruse the résumés and sample work sent to
me. I hold on to most, but if the potential employee writes an email in all lower case
without punctuation and calls me "dude" with a few "LOLs" thrown in there, I will politely drag that email to the trash. My clients require significant attention to detail, and I provide them with that. There is a place in the industry for 100% right-brained people, I suppose, but not in my business.
Do you hire freelancers? If yes, what would make you throw work their way?
See above.
What animation software packages does your firm prefer to use? Which one
would you recommend to beginners?
I love Flash. There have been a number of software packages I've toyed with since I
was in high school, but Flash made "indie" animation available to the entire planet. My clients are able to deploy my work on the web to classrooms worldwide. I can pursue a creative whim and throw it online for friends immediately. Unless they're sporting an iPad or iPhone… Then they have to wait until they get home. (Sorry, couldn't resist.)
I also do all of my 3D animation work in 3D Studio Max. Mostly just because that's what I taught myself.
What advice would you give to aspiring animators looking to break into the
industry?
When I taught animation part time at the local community college, 90% of my students were taking my class with the ultimate goal of being game designers. Over the course of the semester, I tried to show them a variety of other real-world applications of animation, such as: training, marketing, technical illustration, and web applications. My advice would be not to limit yourself to one specific segment of the industry. If you keep all your options open, you might even develop your own niche that could turn out to be quite lucrative. After all, I'm passing this advice on from my second office--the beach in Costa Rica!
Check out more interviews at The Animation Career Review Interview Series.