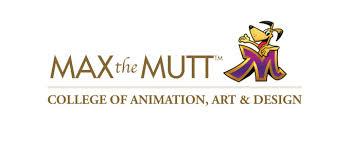 Degrees Offered: Concept Art for Animation & Video Games, a 4 year Diploma Program Art & Design, Classical & Computer Animation & Production, a 4 year Diploma Program
Tuition Information :
$13,600 International per academic year for International students
$10,500 for year one, $11,850 for each additional year for Canadians and permanent residents of Canada.
We offer assistance in finding housing. Students group together to rent apartments, with monthly rent between $400 and $600 per month.
Contact Information:
Max the Mutt College of Animation, Art & Design
952 Queen Street West, suite 300
Toronto, Ontario, Canada
M6J 1G8
416- 703-6877, toll free in
North America 1-877-486-MUTT
email: [email protected]
www.maxthemutt.com
Program Description:
Max the Mutt College of Animation, Art & Design, Classical & Computer Animation & Production: MTM offers a rigorous curriculum developed to meet the increasing level of proficiency required by the video game and animation industries.In addition to a series of classical and digital animation courses, curriculum includes in-depth drawing classes, cartooning, acting for animation, character design, background painting/design, and a sequence of film language, storytelling and storyboarding courses.
Concept Art for Animation & Video Games: An in-depth curriculum based on suggestions and portfolio requirements from major video game producers and animation companies. The program is a mix of traditional fine art, illustration, film language and storyboarding, cartooning, as well as concept specific courses in environment design, character design, prop design, and all necessary software from Photoshop to Maya.
Max the Mutt has an articulation agreement with Daemen College, Amherst New York. All Diploma holders who have an academic HS diploma and a 70% average, a 70% avergae at MTM and a reference from the Program Head, can complete a BFA degree with one additional year of study at Daemen.
Financial Aid:
Max the Mutt offers one full tuition scholarship, renewable for three years, for a Canadian or permanent resident, and one for a :New Canadian," a permanent resident in Canada for less than 5 years.
Scholarship assistance is open to international students at the end of year one. For more detailed information, please visit our website, www.maxthemutt.com.
Year 4 of each program has one scholarship that covers all tuition except the first $2500.
Max the Mutt's tuition , in keeping with our mandate to do our best to offer high quality affordable education, is the equivalent of giving a financial aid package to every student.

Number of Full-Time Faculty Members: As a Career College, most faculty are working professionals.

Number of Part-Time or Adjunct Faculty Members or Instructors: 36
Number of Students Enrolled in Program(s): MTM offers small class size (15), and accepts 30 year one students maximum for each program.
Admissions Rate:
There is no way to calculate this: our admissions team contacts everyone who inquires, and through conversation, tours and information sessions we are able to redirect a number of possible applicants for whom we would not be a good fit. MTM is demanding, although suppotive, environment that requires passion, grit, professionalism.
We offer an amazingly good first year program that teaches basic traditional fine art skills, and are therefore able to accept motivated individuals who show promise through portfolio, essay, character reference and personal interview. MTM is small enough so that we know every student. It is a demanding course of study and students are graded on professionalism as well as course content.
We do not accept anyone unless we have the conviction that they are motivated, and that if they work hard, and we work hard, they will be successful. We have a Preferred Application option, giving priority to applicants for whom we are first choice.
Additional Info:
Max the Mutt was founded by animators, artists and educators. This is a Career College and our goal is to see our graduates employed int industries they are preparing for. Portfolio development is part of curriculum, and includes everything from preparing a website, to mock interviews, and a final interview with an industry professional. We host an "Industry Evening" attended by recruiters from many companies.