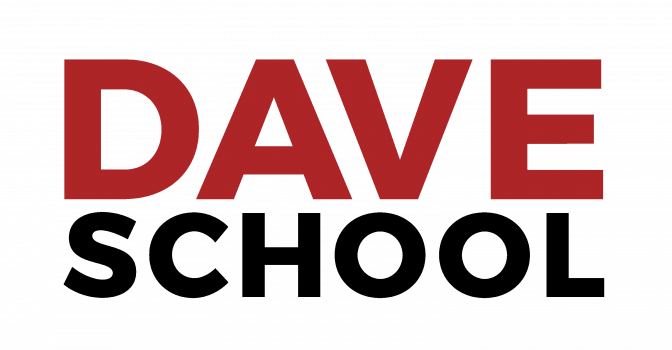 Situated on the Universal Studio's back-lot in Orlando, FL, the prestigious DAVE School is a renowned leader in animation, visual effects and 3D stereoscopy education. With access to state-of-the-art equipment and veteran industry instructors, it's little wonder that the program boasts a venerable list of alumni whose work prominently features in many award-winning games, films and more.
A 65 foot green screen isn't exactly a normal classroom backdrop but DAVE School hasn't built its reputation by doing things the old way. On the campus lot, students brush shoulders and chat with professionals before their daily schedule even begins- creating a well-rounded education that's hard to find elsewhere. DAVE School Admissions Representative Michelle Corbin took time to speak with us about the unique offerings of the school, its close ties with industry movers and shakers and what aspiring students can expect.
ACR: Is there a typical student at The DAVE School with regard to their age or prior experience?
TDS: We have a wide range of ages on campus.  The average student is 22 – 28 years of age, but we have some students directly out of high school and a growing population of students 30+.  Our program is designed to allow for entry level with little to no experience but quickly ramps up to challenge those who have already received degrees from other intuitions.  Our class time is 5 hours per day, 5 days per week with project work estimated from 5 – 7 hours per day.  Our students find it difficult to hold a full time position but several committed students have been able to handle both. 
ACR: What is the admission's competitiveness to The Dave School and what traits do you seek most when evaluating candidates?
TDS: Our class sizes are very small. We only accept up to 40 students per quarter, so that increases the competitiveness for seats in the classroom.  We pride ourselves in ensuring we find the correct candidates coming into the program and have an excellent retention rate to prove this. While we do request samples of creativity, we evaluate each person individually with an interview.  We are looking for those students with a passion for the industry, which utilize their creative side and are good problem solvers.
ACR: In today's highly competitive atmosphere, is it necessary to hold a degree if you do not have considerable experience already?
TDS: While a degree is necessary for most industries, our 12 month training is specific to the skill sets to work in post-production for Film, Television and the Gaming industry and also provides more intensified "hands on" training to achieve a very high skill level in a shorter period of time.  Our students spend 3 months at a time on one core element and 3 months working on a collaborated project which simulates the studio environment.  This provides them with knowledge of work flow process, working as a team, meeting tight deadlines, and achieving the director's vision.  
ACR: The school's program includes computer animation, visual effects, 3D production and digital modeling. Do students choose a particular track to pursue or does a DAVE School education include all of them?
TDS: At this time, the 12 month course encompasses all of those elements putting our graduates on a path to be well rounded and more valuable to studios.  We pride ourselves on working with the industry to find out what the hiring studios are looking for so our graduates have the necessary software knowledge and skills demonstrated on their demos reels prior to graduation.
ACR: DAVE School is housed in an impressive 35,000 square foot studio lot (situated on the back-lot of Universal Studios, Orlando) and features a wealth of state of the art equipment for training in film, television and game production. Speak about the advantages of being housed within Universal Studios for students.
TDS: I believe the most impressive element is that we are a real working studio ourselves. Not only are we in continual use of the facilities, Universal as well as other studios are able to shoot from our soundstage.  The students have opportunities to view or in some cases get involved with the production on set.  We also can utilize the sets within Universal theme parks for shooting our student projects.  From a student's perspective, it might be that he/she receives an annual pass to the theme parks and spend time riding roller coasters in between classes. 
ACR: There are many state-of-the-art features of the school that students regularly interact with, including the Studio Lab and a very large green screen stage. How important are these areas to the education of each pupil and what are some student favorites?
TDS: Our students don't just interact with our equipment and facilities; they have full access to utilize everything on property.  We encourage them to work on side projects using the schools resources.  This year alone our students have shot several music videos and the Florida Motion Picture and Television Association's 45 Hour Film project.  We also have had fashion photo shoots, and 6 of our students are working on a full length feature film that will be released in 2012.  The massive green screen tends to be used the most, in conjunction with our voice over booth and make up room.
ACR: You boast a distinguished list of faculty and alumni, many of whom have made significant contributions to their fields. What are some projects (film, games, otherwise) that DAVE faculty and alumni have worked on?
TDS: This could be an extremely long list, but here are some highlights:
Film- Tansformers: Dark of the Moon, Avatar, Green Lantern, Captain America, Thor, Conan the Barbarian, Mega Mind, Avatar: The Last Airbender, Kung Fu Panda, A Christmas Carol, Monsters vs Aliens, Gulliver's Travels, The Expendables, The Mechanic  
Television- 24, Fringe, Lost, CSI, Chuck, The Office, South Land, Terra Nova, Falling Skies, Hawaii 5-O, Army Wives, Battle Star Galactica, Capric, 
Gaming- Tiger Woods golf game, Uncharted 2, Condemned 2, F.E.A.R. 2, Killzone 2
ACR: Aside from Universal Studios, the school fosters close ties with studios around the country. Talk about the impact these relationships have on the school and how it directly impacts students.
TDS: We have established relationships with multiple studios and actively pursue opening doors for our students.  We bring the studios to our school to allow for face to face interviews which help ensure our graduates' placement.   One studio in LA, Stereo D, has hired over 65 graduates within the last year. 
ACR: How successful are DAVE School students in finding work upon graduation and what kind of support does the school offer for finding work post-degree?
TDS: Our placement is at 85% within the industry, of which we are very proud.  Our career services department continues to work with our graduates even after their initial placement when they are interested in moving up in their careers.  The graduates only need to remain in contact with the school and inform of us their needs.  We allow them back into our network with studios and assist making contacts.  They are informed, however, that our current graduates take precedence, but we are very willing to assist. 
ACR: Michelle, thank you for taking the time to offer your insight and tell us more about The DAVE School.
TDS: Thank you!