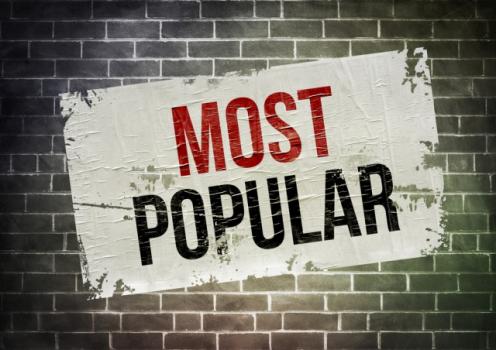 The 1960s was a breakout decade for animated series, with some already making a name for themselves in the late 1950s. Take The Huckleberry Hound Show, for example. This syndicated animated series, and the second from William Hanna and Joseph Barbera (Hanna-Barbera), made its debut in 1958, but it wasn't until after 1960 that the industry recognized the show by awarding it one of its highest honors. The Huckleberry Hound Show became the first cartoon to receive an Emmy Award for Outstanding Achievement in the Field of Children's Programming in 1961. And then there's Yogi Bear. This lovable character, who happened to make his first appearance on The Huckleberry Hound Show, landed his own series, which debuted in 1961. The Yogi Bear Show graced the small screen for another 25+ years and it went on to become one of the most popular cartoon characters ever produced by Hanna-Barbera. You can still catch episodes of both shows on YouTube! 
Let's take a look at other popular animated series of the 1960s. 

The Jetsons (1962-1963) 
In an article published by Smithsonian.com, contributor Matt Novak writes: "although it was on the air for only one season, The Jetsons remains our most popular point of reference when discussing the future." After all, the space family did have a robot maid named Rosie and it featured some of the world's first vending machines and flat screen TVs. The shows 24 episodes left such an impact, that an animated movie was released in 1990 and went on to earn more than $20 million at the box office. Yet another hit Hanna-Barbera production, The Jetsons is still used as a reference today as a way to "talk about the fantastic technological advancements we're seeing today." Watch a clip of The Jetsons here. 

The Bullwinkle Show (1961-1964) 
The Bullwinkle Show began in 1959 as a black and white animated series called Rocky and His Friends. Created by Jay Ward and Bill Scott, the mindless moose (Bullwinkle) and the feisty flying squirrel (Rocky) became an instant hit among adults and children. By 1961, Rocky and His Friends was renamed The Bullwinkle Show and it ran (in color) until 1964. But that wasn't the end of the duo. Around 35 years after the show ended, Universal released a live action/animated film titled The Adventures of Rocky & Bullwinkle starring Robert DeNiro, Rene Russo, Jason Alexander, John Goodman, Keenan Thompson, Randy Quaid, David Alan Grier, Carl Reiner, and Janeane Garofalo among others. Watch Rocky and Bullwinkle in action here. 

The Flintstones (1960-1966) 
Produced by Hanna-Barbera, The Flintstones is considered the earliest prime-time animated show. According to Guinness World Records, the show, which aired on the ABC Television network, "was a contemporary take on suburban life in the Stone Age." Famous voices include Mel Blanc (Barney Rubble) and Alan Reed (Fred Flintstone). The success of The Flintstones led to two live-action movies—The Flintstones (1994), starring Halle Berry, Elizabeth Taylor, John Goodman, Elizabeth Perkins, Rosie O'Donnell, Kyle MacLachlan, and John Goodman, to name a few, and The Flintstones in Viva Rock Vegas (2000) starring Stephen Baldwin, Joan Collins, and Kristen Johnson. The Flintstones can be still seen on the Canadian animation station Teletoon. Watch a clip from The Flintstones here. 

The Mr. Magoo Show (1960-1961) 
Although Quincy Magoo (Mr. Magoo) was created by pioneering cartoon studio UPA (United Productions of America) in 1949, the character's show did not debut on television until 1960.  Magoo, a near-sighted man who refused to admit that he couldn't see well, found himself in amusing situations at every turn. These very entertaining stories attracted children and adults alike. Mr. Magoo won several Oscars before hitting the small screen and in 2002, TV Guide ranked Mr. Magoo number 29 on its "50 Greatest Cartoon Characters of All Time" list.
Watch a clip of The Mr. Magoo Show here. 

The Deputy Dawg Show (1959-1972) 
Deputy Dawg was the first made-for-television cartoon character from TerryToons Studios. The main character was a deputy sheriff who spent most of his time chasing varmints, keeping the odd locals in line and trying to win over the sheriff. Throughout the shows' run, Deputy Dawg moved from Florida to Mississippi to Tennessee, but the main backdrop was still the same—a Jailhouse. Watch a clip from The Deputy Dawg Show here. 
Sources 
Abraham, Adam. When Magoo Flew: The Rise and Fall of Animation Studio UPA. Middletown, CT: Wesleyan UP, 2012. Print. 
Dyess-Nugent, Phil. "Low-rated and Barely Animated, Rocky & Bullwinkle Became a TV Touchstone." The A.V. Club. Onion Inc., 08 July 2013. Web. 12 Oct. 2016. 
"First Prime-time Animation Show." Guinness World Records 2017 Edition. Guinness World Records, 2016. Web. 12 Oct. 2016. 
"Hanna-Barbera Sculpture Unveiled Animation Legends Honored in Hall of Fame Plaza." EMMYS. Academy Of Television Arts & Sciences, 1995-2014. Web. 12 Oct. 2016. 
Keeping, Susan. "Top Ten TV Cartoon Characters from the 1950s and 1960s." ReelRundown. ReelRundown, 06 July 2016. Web. 12 Oct. 2016. 
IMDb.com. IMDb.com, Inc., An Amazon Company, n.d. Web. 12 Oct. 2016. 
Novak, Matt. "50 Years of the Jetsons: Why The Show Still Matters." Smithsonian Magazine. Smithsonian, 19 Sept. 2012. Web. 12 Oct. 2016. 
The Big Cartoon Database. BCDB, 1997-2016. Web. 12 Oct. 2016. 
"TV.com." TV.com. CBS Interactive Inc., 2016. Web. 12 Oct. 2016. 
Wikipedia. Wikimedia Foundation, n.d. Web. 12 Oct. 2016. 
YouTube. Google, n.d. Web. 12 Oct. 2016.