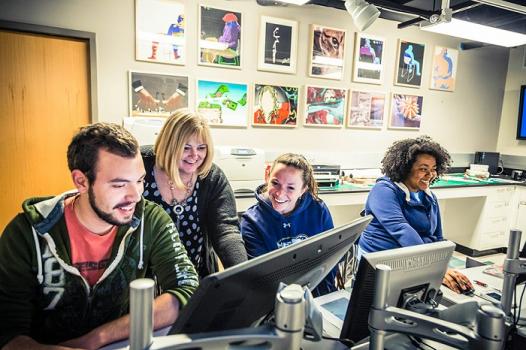 What Does Multimedia Arts & Design Mean?
Multimedia arts & design as a discipline is the creation of images and content using the latest design techniques and technology. Multimedia art includes animation, audio, interactivity, still images, text, and video. Multimedia arts & design artists may combine traditional forms of art such as painting or sculpture with any of the mediums mentioned above. Although the discipline if flourishing, it is still fairly new. Fortunately, if you're interested in a career in multimedia arts & design, many colleges and most art and design schools offer it as a major or concentration. 
Coursework for Multimedia Arts & Design Programs
A typical multimedia art & design program curriculum consists of a combination of general education courses, core courses, electives, and labs. English, College Algebra, Sociology, and Literature are just a few general education courses that may be required. Cores and electives may include Intro to Macintosh Computers, Drawing, Digital Photography, Digital Illustration, Typography/Layout, Digital Imaging, Design Concepts, Animation, Storytelling, Web Authoring, Sound, Logo Design, Interactive Design, Motion Graphics, 3-D Principles, Web Commerce, and Emerging Technologies in Media Arts.
During the final year of study, multimedia arts & design majors will complete a senior project such as a portfolio, demo-reel, or other work. In addition, students will have the opportunity to participate in the school's internship program. Some internships come with a salary, while others offer school credit. Either way, an internship is an excellent opportunity to gain hands-on experience and make valuable contacts in the industry.
What Can I do with a Degree in Multimedia Arts & Design?
Multimedia arts & design graduates work in the entertainment industry, advertising, graphic design, web design, design, publishing, at museum, and in education. Sample job titles include animator, motion graphics artist, art director, advertising account manager, multimedia design engineer, flash designer, multimedia production artist, multimedia developer, illustrator, 3-D Artist, web artist, multimedia coordinator, technical artist, multimedia developer, and game artist.
Schools to Consider: 
Selected Campus Locations:
Animation Career Review Rankings:
Top 50 Nationally for Animation (#27) - 2019
Top 50 Nationally for Game Design (#24) - 2019
Top 10 in Florida for Graphic Design (#4) - 2019
Selected Campus Locations:
Selected Programs:
Animation Career Review Rankings:
Top 50 Nationally for Animation (#21) - 2019
Top 50 Nationally for Game Design (#28) - 2019
Top 40 Nationally for Illustration (#40) - 2019
Selected Campus Locations: