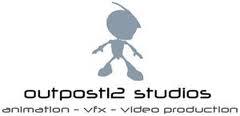 Many aspiring animators dream of finishing school and finding a Google-esque job at a boutique studio with high-tech equipment and a flip-flop-wearing boss. Michael Domgard however created the atmosphere that he dreamed of.
Michael's 7,100 square-foot studio Outpost12 is exactly what every entertainment industry professional dreams of, a full green screen, professional audio booth, finishing suites, and enough technology to keep even the biggest geeks happy.
If Outpost12's kick-ass studio wasn't enough to keep Michael entertained (and we're sure it is), he also gets to work with his good friend Chad Gleason, who he started the studio with in 2005.
Michael, one of the two brilliant masterminds (and bank-rollers) of Outpost12 sat down with us to talk about what inspires him about the animation industry and how aspiring animators can gain traction:
What is your firm's focus within animation and what led your firm to have such a focus on this one?
We do all kinds of animation and can create a variety of styles, but I guess if I had to pick a primary focus for our CG department, I would say we specialize in character animation. More than anything, we love to tell stories with engaging characters. Not only that, good character animation is very difficult to do well, and we love to challenge ourselves. Once you've seamlessly integrated a complex character into a live shot using image based lighting and match-moving, that product visualization your working on next is a cakewalk.
Fill in the blank: The future of animation is _________.
Hmm, hard to say. In terms of where we will see it, animation is everywhere. In film, tv, web, etc. But that's already happening. As far as a trend for the future goes... one positive trend I see in animation is that the cost barrier is dropping all the time. It used to be enormously expensive to get a computer capable of doing it. Seriously, it could cost as much as a new house! Nowadays, you can go to a local electronics store and get a rig capable of creating animation. But hardware and software is not what makes good animation. It's the talent and skill of the user. That has never changed throughout the years will always be the most important factor for any studio if they wish to compete. So, to paraphrase, I would say that the future of animation will always belong to artists with the most skill.
What are the best and worst aspects about working in animation?
The best aspect is that we can do what we love and get paid for it. The worst aspect is that it's sometimes hard to communicate to clients just how time consuming and difficult what we do can be. People are bombarded with so much CG imagery in television and movies that it's easy to believe that this stuff is simple and can be done in no time at all. That couldn't be further from the truth. Depending on the shots, it can take weeks for a team of artists working around the clock just to produce a 30 second spot. Thankfully, when your efforts result in a happy client, it makes it all worth it.
Among your firm's achievements, which one(s) are you the most proud of?
Hard to say. We're proud of everything we do, for different reasons. If I had to pick, I would have to say I have a strong fondness for "Zook", a 3 minute animated short film we produced for a theater chain in Florida. Our team was still very young at the time, and the scope of the project, combined with a tight deadline, made it so we had to get it right the first time. It was a lot of hard work and long nights, but we pulled it off in time for the deadline. Not only did it result in a thrilled client, but it won us one of our first Addy awards.
What skills/qualities does your firm seek out when hiring new employees?
We look for talent, first and foremost. While your education is taken into consideration, what matters most is how awesome your portfolio is. Second on the list is experience. A seasoned veteran who's used to tight deadlines and performance under pressure is always a highly sought after trait.
What particular schools, if any, does your firm recruit new hires from? If none, where do you recruit new hires?
While we don't favor any school in particular, we have often found a wealth of talent from the Johnny Carson School of Theatre and Film at UNL, and from Full Sail University in Florida.
What advice would you give to aspiring animators?
Work hard, study hard and never give up! It takes a lot of time, patience and practice to get good at this stuff. You will produce a lot of crap before you make your first masterpiece.
What were your most challenging projects, and why?
Simulating nature has the tendency to be difficult to get right. Clouds, water, smoke, large forest scenes, etc. The random and incredibly intricate aspects of nature take a lot of time and research to make look convincing.
What kind of education did it take to get you where you are today?
Our artists come from many different educational backgrounds. Some are self-taught. Some went to animation and film school. One of our artists has an engineering degree. The one consistency among all of them is that they all spent a lot of time (in or out of school) studying more traditional forms of art. Painting, photography, etc. It makes you more well rounded and a better artist in general. This knowledge can translate directly to CG art, as many of the same rules for lighting, color and composition apply.
What animation software packages does your firm prefer to use? Which one would you recommend to beginners?
We use Maya, After Effects, Photoshop and Final Cut as our core tools. While Maya is the closest thing to a standard the filmFX industry has, just about any major app will help you learn the fundamentals of computer animation. They all do roughly the same things, the only major difference between apps is how they organize their tools. Use whatever 3d app you enjoy using the most and are the most comfortable with. Most of your knowledge will translate over to the other apps.
Could you share with us your best story about working in the animation industry.
One of our favorite moments was watching a nationally broadcast Hollywood Reporter episode where an interview they taped of us was placed in with interviews of Pixar and Dreamworks Animation. That was a good day.
Do you think that there is an increasing or decreasing demand for animators overall? Why?
The demand continues to increase due to an increasing demand for higher quality output done faster. The work is more complex than ever, while the deadlines are tighter than ever. And that trend is only going to continue.
Check out more interviews at The Animation Career Review Interview Series.