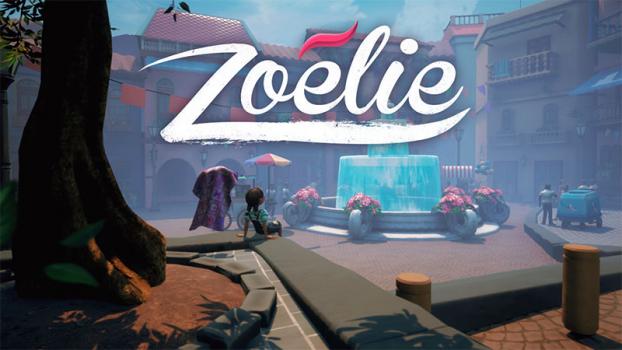 Savannah College of Art and Design (SCAD) recently held its annual SCAD GamingFest, a two-day, all-virtual (this year) gathering of professionals, industry giants and next-gen talent examining the art of gaming. In an effort to provide prospective gaming and animation students with some behind the scenes insight into life as a SCAD student, we asked three members of the SCAD Game Design Project Zoélie - SuAnne Fu, Chair of Interactive Design and Game Development at SCAD, Vincent Aliquo (B.F.A, Interactive Design and Game Development, 2020), Lead Programmer; and Dixon Dubow (B.F.A. Interactive Design and Game Development 2020), Environment Artist - to discuss the making of Zoélie as part of SCAD GamingFest 2021. What follows is an informative and compelling insider view of the opportunities available to SCAD students. Thank you to SuAnne Fu, Vincent Aliquo, Dixon Dubow and the PR team at SCAD for participating.  
SuAnne Fu, Chair of Interactive Design and Game Development at Savannah College of Art and Design (SCAD)
ACR: What were your goals as Chair of the gaming department with the Zoélie project?
SuAnne Fu: Our Interactive Design and Game Development department always sets collaborative classes as part of the senior and graduate experience. In 2020, we wanted to open it up to other degree programs and create a full studio environment. This allowed select talent from an array of top ranked programs to collaborate and create a game with innovative storytelling, industry-standard visuals, and exploratory mechanics. I was fortunate enough to sit in the class and witness various milestone stages such as concept selection, level builds, and some of the earlier technical tests. We gave students a creative outlet and power to explore ideas that needed support for larger developments.
ACR: How many students participated in Zoélie?
SuAnne Fu: Zoélie had 38 student talents on the project from various departments at SCAD including interactive design and game development, animation, sequential art, visual effects, and sound design. The students worked on this project for 19 weeks transitioning around week 10 to remote work environments due to the pandemic and being scattered across the country.
ACR: How many faculty members were involved? How about alums or external professionals? To what degree were they involved?
SuAnne Fu: Two faculty were involved in this project, Prof. Cyril Guichard and Prof. Jack Mamais, both of whom had extensive careers in the game industry and various digital entertainment fields including game and VR development.
The class reflected a professional production environment where students learned agile methodology of development and took on specialized roles that related to their own aspirations in their future creative careers. We did not use any alumni or external professionals on this project with the exception of the voice actor for Zoélie. All developmental content was created by the students in-house from concept to execution.
ACR: What types of students participated? That is, was participation open to, say, just game design majors, or just seniors, or was there a diverse representation of majors and experience levels?
SuAnne Fu: As mentioned above, this collaboration was opened to several majors in the SCAD School of Digital Media. Most students were seniors with a couple of high achieving juniors. As mentioned earlier, the majors were interactive design and game development, animation, visual effects, sound design and sequential art. Our students often specialize in specific skills including technical artists, environment artists, level and systems designers, character designers, game user experience designers, game audio design, just to name a few.
ACR: What qualifications, if any, were there for student participation?
SuAnne Fu: As part of the core curriculum, all seniors must take a collaborative class in order to graduate. However, we treated Zoélie as a special project and approached it like creating a small studio where we recruited top student talents. Students sent in their portfolios and short interviews were conducted by the faculty to make sure the project had a right balance of diverse specialization. Additional outreach was extended to gaps of need that may not have been met in the first round of interviews.
ACR: To what degree is participation in a project such as this common for SCAD students? That is, can most SCAD students expect to have such an opportunity or is it more of a unique opportunity available to the particularly ambitious and/or talented students?
SuAnne Fu: I have to laugh a little at this question because I just met with a sophomore student whom I had to advise to stop jumping her core skill classes to apply to these opportunities. I assured her that we have projects like this all the time. First of all, all seniors in our program in interactive design and game development are all required to enroll in our collaboratives, which we offer in multiple sections each quarter.
SuAnne Fu: Secondly, we have so many special projects running per year by the program or SCADpro, our professional innovation studio that connects students to real-world design challenges from high profile companies. This year alone, even during the pandemic, we had at least two internal department projects with more than a dozen SCADpro projects. Since Zoélie's launch announcement at SCAD GamingFest 2021, I already had a few students inquire about participating in a collaborative project like this. Zoélie was another opportunity to provide innovative ways to explore and create in an academic program that prides ourselves on production excellence. For example, look at the idea of using Sueno for Zoe's knitted quilt, as a means of locomotion and stealth mechanic. This small example is a fantastic accomplishment of the game, aside from the stunning visuals.
ACR: Will you explain SCAD Games Studio in more detail and the launch that happened at GamingFest?
SuAnne Fu: SCAD Games Studio has been something we've been thinking about for a long time which is the SCAD umbrella to publish our student games on Steam for free. The students on Zoélie actually sparked the conversation. The initiative is to provide an outlet for our students to publish their work should they not want to form their own studios or put it up themselves. Many of our student games are fully playable and we are very excited to allow the general public to play these games and experience the brilliant work our students continue to create. It's interesting that when we attended Game Developers Conference this summer with Zoélie, several indie publishers approached the student team and thought they were an indie studio. SCAD Games Studio is an initiative to support our students and alumni moving forward. It will be optional participation and we hope that they can benefit from the attention as they continue with their careers.
ACR: How does a "real-world" project like Zoélie complement the classroom experience?
SuAnne Fu: Our program prides itself on our production excellence that simulates real studio development methodologies, software, and pipelines. We want to make sure the students are learning specific skill sets for each year level. As an academic institution, we really do note how our learners build and grow at each benchmark. At SCAD, I feel we excel in the academic arena with a dynamic curriculum that exceeds other university curriculum while also making sure every graduate is not only prepared to meet industry needs but help evolve industry when they enter.
ACR: What is the feedback you get from students about this?
SuAnne Fu: The current students are very excited about this. There's a natural healthy community in our interactive design and game program where the students are extremely supportive of each other but also very competitive with the projects.
ACR: Anything else you would like to add about Zoélie and the success of this year's GamingFest overall?
SuAnne Fu: I know I've said this a few times already in our live GamingFest session but Zoélie is a testament to our SCAD students grit on problem solving and perseverance. The project concepts were great to start with but when the pandemic hit and the university converted to a full virtual platform, it jolted the team to search for new ways of collaborating. The entire world at that point didn't have solutions on how to continue with regular development and our students had to figure out how to pivot in a matter of two weeks. I am extremely proud of the Zoélie team not only for the beautiful game they created but also how they were able to triumph through facing adversity during a trying time in the world. They took their project above and beyond to set new standards in visual achievement as well as technical innovations in student game projects.
Vincent Aliquo (B.F.A, Interactive Design and Game Development, 2020), Lead Programmer on Zoélie
ACR: What were your creative goals with the work you did on the Zoélie project?
Vincent Aliquo: As an engineer, you need to think outside of the box to develop creative solutions. How do we get birds, for example, to flock realistically and respond to the environment around them? The logic we build into our work as programmers are technical and highly creative tasks. My team knew that the work on Zoélie would be extensive and required the most creative solutions of our college career. Optimization weaved itself into many of our decisions. The quilt camo I built, which acted as an invisibility cloak for Zoélie, had to be as performant as possible and was an utmost concern among our team when thinking of approaches. I must applaud Kuan Xue, our character animator, for his complex implementation of our animator's work, Tiffanni Blevins. Zoélie's quilt, Sueño is an animated cloth simulation and, even as a separate entity, had to blend seamlessly with Zoélie's sometimes erratic behavior.
ACR: How many students participated in Zoélie? Did you enjoy the collaborative experience?
Vincent Aliquo: Our team consisted of 42 core members, though we collaborated with many others outside of our departments, such as sound, illustration, and animation. The atmosphere of a team working together is exhilarating, especially when deadlines loomed ominously over us. I work best under pressure, and indeed, we were given it by our professors. The agile methodology certainly helped keep this massive team organized, even when we moved online due to the pandemic.
ACR: Did students participate in multiple projects in the making of Zoélie or focus on just one element of the game design?
Vincent Aliquo: Our team split into different groups: integration, support, core, and research, each with their essential responsibilities. Integration built 3d models, set dressed scenes, and created textures; support was narrative, game design, and level blocking; core was everything technical to make the game work; research headed the general look and feel of the experience. This structure gave us some insight into how actual studios work but kept the group focused.
ACR: From start to finish, how long did Zoélie take to complete?
Vincent Aliquo: Zoélie took 5 whole months under the university, from conception to presenting our 30-minute play through at the end of May. With GDC and the Rookies around the corner, a small group and I split off for another month to build a more refined version, which is the version you will be able to download from SCAD Games Studio on Steam.
ACR: Can you please speak to your thoughts on the final product? Are you excited with the game?
Vincent Aliquo: It is refreshing to work on and develop a charming, feel-good game with a unique theme. Of course, I wish that we could have done a lot more with the game, but I am very proud of what my amazing team could accomplish given the time constraints we were under to deliver the most complex game a SCAD class has ever produced.
ACR: What was it like to present at this year's GamingFest with your fellow student/alumni collaborators?
Vincent Aliquo: I learned a lot developing Zoélie, and I was more than thrilled to talk about my experience with my peers. It feels nice that people appear to like what they saw, which, in itself, is highly rewarding.
ACR: Are you working on any current gaming or design projects that you can share with our readers?
Vincent Aliquo: Yes! I am currently working with a group of 6 incredibly talented developers—all SCAD alum and current students—on a game called Shotseror. Shotseror is an action game based on old-school Hong Kong action movies. We are delivering a demo before June of this year and are incredibly excited to show off this labor of love. You can learn more on our site, www.heartdrop.games
Dixon Dubow (B.F.A. Interactive Design and Game Development 2020), Environment Artist on Zoélie
ACR: What were your creative goals with the work you did on the Zoélie project?
Dixon Dubow: For the team, one of our biggest creative goals (and challenges) was to utilize the full power of our medium whenever possible. Harnessing the unique interactivity found within games to further explore Zoélie's core theme of childhood imagination was something each member of our team strived to accomplish.
My personal creative goal was to ensure that every asset I worked on felt like it belonged in Zoélie's world. Even on something as small as a soda can, making sure that the logos, the colors, and the materials were consistent with our game's setting and aesthetic was my personal mission.
ACR: How many students participated in Zoélie? Did you enjoy the collaborative experience?
Dixon Dubow: Our core team for Zoélie consisted of roughly 40 students across several different majors. In addition to this core membership, we were lucky enough to have several extremely talented students join as temporary "contract" team members during the late stages of the project.
The necessity of collaboration is my favorite part of working in game development, and this project was no different. In particular, I really enjoyed working with the extraordinary members of our sound design team. Our sound crew braved the blistering heat of the early Georgia summer to record many of the audio effects heard in the beach level of the game; they're truly the most dedicated people I've had the pleasure of working with!
ACR: Did students participate in multiple projects in the making of Zoélie or focus on just one element of the game design?
Dixon Dubow: For many of us, Zoélie was our final project before entering the professional world, so we organized the development team to reflect that of a traditional AAA game studio. Dividing the group into sub-teams that focused on specific facets of the design process (ie, art, programming, etc) was something we felt was necessary to maintain a steady rate of progress on the game. This became especially true when development of Zoélie moved remotely during the Spring 2020 quarantine.
ACR: Can you please speak to your thoughts on the final product? Are you excited with the game?
Dixon Dubow: Zoélie represented so much for our team. Not only does it serve as a culmination of our student experience, but it also represents the tenacity of our whole group. When the project began in January of 2020, nobody expected that we'd end development scattered throughout several countries and in the midst of a worldwide pandemic. That we were able to quickly regroup, reorganize, and successfully complete Zoélie despite this immense global shift is something the entire team is very proud of.
With any creative endeavor, there's a very fine balance that must be struck. You have to have pride in your project and the confidence that it will succeed, but also the humility to accept critique and the understanding that your work is never entitled to success. We are proud of Zoélie, but none of our team members wish to rest on their laurels: we'll always continue striving to improve our craft.
ACR: What was it like to present at this year's GamingFest with your fellow student/alumni collaborators?
Dixon Dubow: Insanely surreal, a little bit scary, but ridiculously cool. All of us on the panel were honored to represent the team and show the audience a behind-the-scenes peek at Zoélie's development. Being told that hundreds of people have tuned in to hear you speak is a bit nerve-wracking, howeverI think our passion for sharing the team's journey definitely trumped any stage fright my peers and I had!