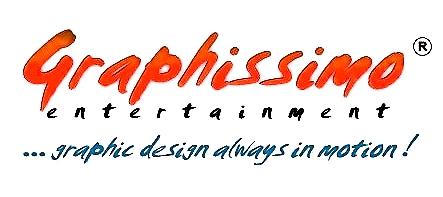 Graphissimo, a quickly growing production house in New York, is the brainchild of  Simona Lyriti's 30 years of experience. Simona started in the graphic design business by using self-adhesive stickers for mockups and hand-drawing animations on paper—and both her and the business have come a long way baby! According to the creator of Graphissimo this personal experience is par for the course as "the personal computer has forever changed the world and the internet is becoming the choice of information, entertainment, work and communication for the entire planet."
Today Simona directs the animation segments and short features created by Graphissimo, but long-gone are the days when Simona hand drew animations. Simona and Graphissimo are now creating their high-quality animations with high-tech software like Flash and Quantel. This transformation of design, animation and society inspired  Graphissimo's website quote, "[Graphissimo] seeks to blend old-world craftsmenship with new-world technologies and our content will be used to teach, guide, and work with a new generation of artists."
Graphissimo's most recent claim to fame was for 18 minutes of animation for the award-winning documentary film BEHIND FORGOTTEN EYES.
Simona recently sat down with us to offer advice from her three decades of experience in the business:
What is your firm's focus within animation and what led your firm to have such a focus:
We have a large range of projects. Some are our productions and they are video clips, musicals or scenes from a movie that we produce, others are "work for hire", technical or segments for documentaries, opening titles, etc. We can do anything that needs to be animated. As long as can it be drawn, we can do it animation.

Fill in the blank: The future of animation is the INTERNET.

What are the best and worst aspects about working in the animation field?
The best for us is that we are independent and we work when and how much we want. The worst is that there is no constant flow of quality work and then we use the time to make our own productions, but that requires funds that are not always available.

Among your firm's achievements, which one(s) are you the most proud of?
The one that I haven't done yet. The next project is always the best. From my work the best time was the start of digital animation when nobody knew how to even use the computers and we all experimented and did extraordinary things with an image or a graphic, because was nobody who knew more and people were amazed with what the computer was doing. Today everybody has some idea and an opinion but the results are not unique anymore.

What skills/qualities does your firm seek out when hiring new employees?
Imagination, talent and integrity. 

What particular schools, if any, does your firm recruit new hires from? If none, where do you recruit new hires?
I do not look after the schools, I look at the work and I know immediately what the person can do. A few hand drawings are enough for me to understand the level of schooling anyone has. But the school is necessary knowledge wise, self learned or not, the base is the education anyway. I do not care about expensive diplomas at all, I care about the quality of the work and the character of the candidate, which by the way is all out on paper, in his work.

What advice would you give to aspiring animators?
Do not give up and work alone. The tools are not expensive anymore and a movie can be made with very little today. If you really want it, just do it and do not listen to anyone. Be yourself and be passioned about it. No art can be created without passion and even sacrifice. We are successful at what we like to do and there is nothing better than doing what you like to do and being paid for that. 

What were your most challenging projects, and why?
The most challenging are the technical ones, the "work for hire". There, we must follow instructions and while it look simple, it is not.

What kind of education did it take to get you where you are today?
I started to draw and paint at 5. All my life I drew or paint in some way. I was not asked what school I followed when I was hired, only a few times in all my career. I had a lot of work to show and they just hired me based on what they saw. I do the same. I have a major in Studio art (BFA), but I still do not need to tell anyone, since I am the boss. :))

What animation software packages does your firm prefer to use? Which one would you recommend to beginners?
Anyone that is required for a project. Flash is the most used. I personally can edit and create graphics on Quantel computers (Broadcast graphics editors)

Could you share with us your best story about working in the animation industry. 
The funniest one is that I met my husband on awn.com. He wanted a set designer for a cartoon that he was producing then and I answered to his ad. We worked 2 years together before we met. I came to New York from Athens-Greece, for a short visit and I ended up living and working here.
Do you think that there is an increasing or decreasing demand for animators overall? Why?
The demand will increase a lot, it is still very low comparing with the potential of the market. While the computer use for business will grow all over the world, the need for animation will grow too. Companies will need to explain their products and they will need more animation. The game industry is growing. The film industry is now based on post production and the telecommunications just started to make apps for small devices. So, everybody wants us in some way, more or less. 
It is just the beginning of the digital animation, only 20 years since we started.