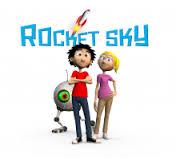 Sowing the seeds of a new online animation school is not exactly an easy or quick endeavor. It takes commitment, time and guts. It also takes patience while you build a curriculum, attract students, and graduate them. None of that deterred veteran animator Garth Drake who took the leap to teach character animation the way he knew worked best.
Founding online 3D animation school Rocket Sky just last year, Drake brings two decades of experience to his online students. He cut his teeth at Electronic Arts and Mainframe Entertainment (now Rainmaker) before going on to fulfill a variety of senior positions in animation studios. He also spent years teaching animation in his native Canada, where he noticed voids that he was desperate to fix.
Coupling his professional expertise with the personalized mentoring he's honed over the years (he's a personal trainer and hockey coach), Drake envisioned an online program suitable for anyone… except button pushers. At an enviably low pricetag (currently $5400 US total) and the ability to work full or part time, we were eager to learn more about the new school. We hope you enjoy our latest Q&A with Garth Drake, Founder of Rocket Sky 3D Animation School!
ACR: Garth, tell us a little about your background and why you decided to start Rocket Sky…
Garth Drake:  I started Rocket Sky last year in response to what I've seen firsthand in the industry. I've been an animator for 20 years (still working for DHX Media); I've also been teaching animation for a number of years. In that time, I've seen pretty low success rates for graduating students across the boards. They spend a lot of time and money in school but just don't make the transition to the studio afterwards. A big part of the problem is the emphasis on software in animation education. Students spend so much time mastering a particular software but they lack what they really need to thrive.
At Rocket Sky, we're teaching classical principles that can be applied to 3D. Software is just a tool of the animator- if you can learn one, you can learn another. All software have the same attributes- setting keys, posing characters, and using constraints. The menus and UI is a little different between them, but ultimately they are all the same. Believe me, I've used ten programs and I'm not a tech guy! So instead of teaching software, which animators learn on the job- we teach art and the fundamental skills and practices needed.
ACR:  What are the fundamental concepts and skills your students dive into at Rocket Sky?
GD:  From day one, we teach our students everything they need to know. There are no prerequisite skills necessary of our students. They learn art and drawing for animation- they need to learn the human body, balance, weight and gesture. If you compare a classically animated film to a 3D animation, you'll see they are exactly the same in terms of performance. So we approach our program from that way. We have four stages of learning beginning with Foundations 1 and 2 before moving on to Intro to Character Animation and finishing with Advanced Character Animation where they produce the character animation that will ultimately appear on their demo reels.
ACR:  Do you encourage your students to sketch with pencil and paper when not online?
GD:  Yes, absolutely. It's the first stage… you have to draw your poses. If Frank Thomas and all the great Disney animators did that and produced the timeless work they did, why wouldn't we do it now? (Animation) is a process. You need to thumbnail your ideas, act them out and search for references. Then you draw it and only after all of that do you apply it in 3D. That's why I've had success with my students. Going to industry is a shocking experience for a lot of new animators, but for my students its a seamless transition.
ACR:  Besides yourself, who else is or will be teaching courses at Rocket Sky?
GD:  There's a wealth of professional talent that I'm excited to draw from and a few can be found on our site right now. I teach the fundamentals because I think it's where students need the most mentoring. I bring in feature film mentors including Chris Buckley (Transformers and The Smurfs) and Kelsey Wagner (Sony Pictures) in the advanced stages of the program to teach the nuances.
ACR:  Despite being online, it's important to you that you offer students a personalized approach. How do you achieve that online?
GD:  This is big for me. Though it's online, we offer a lot of 1-on-1. And currently because we're new, I have fewer than a dozen students so I can offer a lot of mentorship. Students watch my recorded tutorials which I've found to be more effective than lecturing in a live setting. If I'm lecturing in a live setting, you might not be listening or taking good notes, but by recording my lessons I can really hone in on the details and students can watch it multiple times. I say all the time that repetition is the mother of skill. They can go back to previous lessons and use them as reference material, too. Being online enables them to go at a pace that works for them, and to revisit content as necessary.  
ACR:  How important is the ability to work remotely on the future careers of your students?
GD:  Being accountable and responsible is everything.... this industry is all about YOU and what you do with the work you earn and are given. Ultimately, Rocket Sky is a test for students. If you can stick with it and get through the foundation stage of this school which can get tedious, you can make it as an animator.
ACR:  Graduates of your program have lifelong access to Rocket Sky mentors and alumni. Talk a bit about that, Garth...
GD:  I think this is pretty unique to us- I can't think of any other programs that offer graduates the ability to log in anytime they want and get access to the learning materials even years later. I've always hated saying goodbye to my students, so to give them access to our school and network is a no-brainer. Why wouldn't we want them coming back to learn and share what they've learned in the industry from wherever they may be in the world? They can help the next group of students which is phenomenal and add to our growing community.