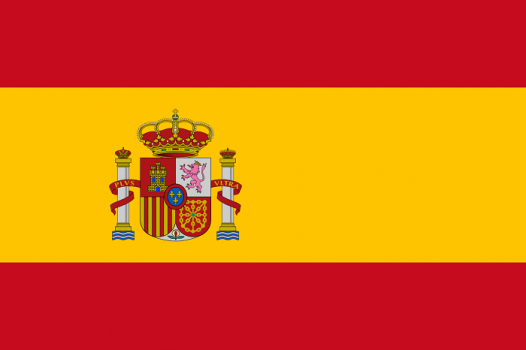 Over the centuries, Spain has been the home of numerous famous artists from architects and painters to playwrights and sculptors. Pablo Picasso, Santiago Calatrava, Salvador Dali, Carlos Atanes, Francisco Goya, José Álvarez Cubero, and Diego Velazquez are just a few. As technology continues to change the way art is made, today's Spanish artists adapted almost effortlessly by incorporating everything from digital film and electronic music into their works, to computer-generated graphics and animation. 
Examples of contemporary art can be found on the streets of cities from Madrid to Zaragoza, at famous art museums such as Museu d'Art Contemporani de Barcelona (MACBA), Contemporary Art Center of Malaga (CAC Malaga), and Institut Valencià d'Art Modern (IVAM), and on the screen in the form of live-action film, experimental works, and of course, animation. 
Just a few Spanish animators you may have heard of include Enrique Gato Borregán, known for the computer-animated film Capture the Flag (2015) and the 3D computer animated adventure comedy Tad, the Lost Explorer (2012), and Ignacio Ferreras, known for his work on Rugrats (1997-1999), the animated drama Wrinkles (2011), and the animated short How to Cope with Death. Others include CGI animators Juan José Campanella and Javier Fesser, known for Underdogs (2013), and Mortadelo and Filemon: Mission Implausible (2014), respectively, and stop-motion animators Juanjo Ramírez (Going Nuts, 2017) and Fernando Cortizo (O apóstolo, 2012). 
Besides being home to many well-known animators, Spain houses a number of animation studios that produce films independently or in collaboration with studios from the U.S. to the UK. Just a few include: 
Keytoon (Valencia)
Juggernaut (Barcelona)Ilion (Madrid)
Blue Dream Studio (Paterna)
Lightbox (Madrid)
Zinkia (Madrid)
Device Creative Studio (Barcelona)
laCathedral (Madrid)
Greyman Studios (Granada)
Juggernaut Animation Studios (Barcelona)
The Frank Barton Company (Madrid)
Imira Entertainment (Barcelona, Madrid)
Fake Studio (Barcelona, Madrid)
Urano Films (Barcelona)
Mago Productions (Barcelona) 
Not surprisingly, the art and animation scene in Spain has created a demand for top education and training programs for aspiring artists of all kinds. Some of the country's top art schools include Barcelona Academy of Art, Institute of the Arts – Barcelona, CIEE (Seville), ESDi School of Design (Sabadell), and Marbella Design Academy (Monda). Art and design programs are also plentiful at traditional colleges and universities such as University of Barcelona, Polytechnic University of Catalonia, UOC (Universitat Oberta de Catalunya) – Barcelona, and University of Valencia, to name a few. 
Below are some of Spain's best animation school options. Browse our list to learn about the different types of programs offered, and where they are located. Note that the master's degree a common option at many top universities. 

ECIB, Escola de Cinema de Barcelona, Barcelona, Spain 
ECIB, Escola de Cinema de Barcelona (Barcelona Film School) is the only school in Catalonia to provide training in all three branches of animation. The school offers a number of animation programs leading to a Diploma or Master's degree. Options include a Diploma in Animation with Specialization in 2D, 3D and Stop-Motion, and Master's degrees in Animation and 2D Realization, Animation and Stop-Motion Realization, and CG Animation. The school also offers "initiation" courses in 2D Animation, Stop-Motion Animation, and 3D Animation. Initiation courses are 124 hours in duration, the Diploma program takes three to four years to complete, depending on specialization, and the Master's degree programs are 14 months. 
Students in the ECIB animation program will work in class creating their own drawings, Students work in class creating their own drawings, illustrations, sculptural models, and animations. They will participate in group projects and produce short films. Graduates of the ECIB animation programs have gone on to work on films such as Brave and Monster's University for Pixar, on X-Men and The Jungle Book for Moving Pictures Company (MPC), and on Catch the Flag and  The Adventures of Tadeo Jones for Lightbox Studios, to name a few.  

Polytechnic University of Catalonia, Barcelona, Spain 
Polytechnic University of Catalonia, known as Barcelona Tech or UPC, is the largest engineering university in Catalonia, Spain. The School of Professional & Executive Development here offers more than 200 degree programs and specializations in the fields of Architecture, Urbanism and Building Construction, Civil and Industrial Engineering, Business Management and Administration, Sustainability and the Environment, and Information and Communication Technologies. Options for animators include a Master's in Animation, Digital Art, and Videogames. 
The program covers videogame programming and design, 3D animation design, modelling, graphics, and the use of programming tools and IT software solutions. Graduates of the program will be prepared to seek positions in sectors such as 3D animation, game programming, project management, art direction, graphic design, and more.

FX Animation Barcelona 3D & Film School, Barcelona, Spain 
FX Animation Barcelona 3D & Film School is one of Europe's top schools specializing in all areas of Cinema and 3D (visual effects, animation and design of 2D/3D characters, video games, postproduction, 3D for architecture, interior design, graphic design and photography). The school, which utilizes the latest software, methods and technologies, consists of a nearly 27,000 square feet building with 10 training rooms, three multifunctional sets and a large study room for students. 
Program options for animators include a Professional Master in Character Animation, a Master of 3D Specialization for Character Animation and a 3D Master for Character Animation. The school also offers intensive courses such as Introduction to Character Animation, After Effects, and 3D for VFX. Summer school options include Introduction to Character Animation, 3D, Video Games, or Postproduction. 
FX Animation Barcelona 3D & Film School is endorsed by some of the most important software companies in the world including LightWave 3D Group, Autodesk, Next Limit, Sidefx, Solid Angle, Pixologic, and The Foundry. 

Universitat De Vic, Universitat Central de Catalunya, Barcelona, Spain 
Universitat De Vic Universitat, Central de Catalunya (UVic) offers a Master in Stop-Motion Animation that consists of 60 credit hours of study. Per the school, the program covers "the fundamentals of animation, combining the foregoing with the learning of the many techniques of stop motion: plasticine, cut-out, pixelation, sand, paint-on-glass, animation with light, etc., and placing special emphasis on animation with articulated stick figures." Students will complete the program in three modules beginning with directing and producing animation, then specialization in stop-motion, and ending with a final project. 
Students will learn through workshops and masterclasses taught by working animators, directors, screenwriters, musicians, producers, and others. Graduates will leave the program with a completed short film. 

ESCAC, Escola de Cinema & Audiovisuals de Catalunya, Barcelona, Spain 
ESCAC, Escola de Cinema & Audiovisuals de Catalunya (the School of Cinema and Audiovisuals of Catalonia) is a film and audiovisual school that is attached to the University of Barcelona (*UB). The school offers a Master of Animation and Visual Effects (VFX). The program highlights three Specializations including Animation and Composition, VFX, and Modeling. Two major highlights of the program are the Media Library, which is a collection of around 9,000 films and a large volume of theoretical and technical papers, around 2,500 in total, and ESCAC Films—a production company of ESCAC. The company allows students to make direct contact with professionals in the film industry. 
Just a few well-known ESCAC graduates include award-winning directors Roser Aguilar, known for Lo mejor de mí (2007), Brava (2017) and Cuando te encontré (1999) and J.A. Bayona, known for The Impossible (2012), The Orphanage (2007) and A Monster Calls (2016), and Hammudi Al-Rahmoun Font, known for his work on Otel·lo (2012), A Monster Calls (2016) and Casting (2003). 
*Note: UB offers a Bachelor's in Audio Visual Communication that highlights animation, interactive design, multimedia production and publishing, as well as direction design, video edition, scriptwriting, sound technique, image technique, and production, post-production. 

L'ldem Barcelona, Barcelona, Spain 
L'ldem Barcelona offers undergraduate and graduate degrees in 2D/3D Animation. The undergraduate program, which takes four years to complete, includes coursework in animation, 2D/3D animation, layout, texturing, lighting, and rendering, 3D modeling, character setup, posing, background and props, special effects, sound, and compositing. Students in the program will master programs such as Toon Boom, Maya, Photoshop, After Effects, Nuke, Storyboard Pro, Final Cut, Premiere, Zbrush, and Unity. The program takes four years to complete. 
The International Master in Animation 2D/3D is a one-year program that consists of 60 credit hours of study. It covers six areas and a final project that allows students to create a short film as a group, through all stages of production. The six areas include: 
The production processes of animation cinema
Drawing in motion
Techniques and principles of animation
Infography
Animation 2D – Toon Boom
3D Animation – Maya Autodesk 
Students will work in studios that simulate those in the industry and the program highlights regular conferences and meetings with internationally recognized experts in the industry and the art of animation and film. Graduates can expect to land a job rather quickly. Per L'ldem, "100% of our students from the latest L'Idem promotion have gotten a job." 

U-Tad, Madrid, Spain 
U-Tad is "a leading University Centre for training the future leaders of the digital world." The school offers Animation, Visual Design, Video Games, Engineering, and International Business Management programs. Animation options include a Bachelor's in Animation, a Master's in 3D Character Animation, a Professional Master's in 3D Lighting and VFX, non-degree programs in Character Design, Rigging and Character FX, and Vocational Training in 3D Animation, Games and Interactive Environments.  
Program highlights include courses taught by active professionals in the industry, internships at renowned companies such as Ilion Animation Studios, Next Limit Technologies, Imira Entertainment and Zinkia, and a your own professional reel upon completion of the program. The Animation options at U-Tad prepare students for a wide variety of careers such as animation director, animation technical director, animation producer, executive producer, visual effects supervisor, digital effects supervisor, storyboard team leader, line producer, sound effects designer, compositing artists, and many others. 

LaSalle Campus Barcelona, Barcelona, Spain 
LaSalle Campus Barcelona consists of four academic departments including Engineering, Business and Technology, Architecture, and Humanities and Teaching Innovation. The Business and Technology Department is home of the Animation and VFX Program. Degree offerings include a Bachelor's in Animation. Per the school, "the degree in animation at La Salle Campus Barcelona is the first official undergraduate degree program in Catalonia." 
Students in the program will be trained in all stages of production from pre-production (ideas, creativity, screenplay, design, narrative and storyboard) to Industry (distribution, finance, intellectual property, project management, entrepreneurship and leadership. Students will master 3D modelling, texture & shading, rigging, animation, illumination, render and FX, composition, assembly and color correction, 3D VFX, and motion graphics. 
In addition, students will have the opportunity to develop projects with students from other degree programs in multidisciplinary groups, work in "singular laboratories such as Medialab and Mediadome, Paintworkers, Sculpture and High-performance Computing Laboratories," and create their own digital portfolio to show to potential employers. The LaSalle Animation Degree takes four years to complete. 

UPF Barcelona School of Management, Barcelona Spain 
UPF Barcelona School of Management is Pompeu Fabra University's management school. It offers master programs, postgraduate courses and specialization courses in Management and Business Administration, Law, Politics and Public Management, Creativity and Technology, Economics, Health Management and Sciences, Communication and Journalism, Marketing and Branding, Accounting, Finance and Human Resources. The school plans to launch a Master in Animation Program in October 2017 that is designed for "graduates, preferably with training in audio-visual or communication systems, fine arts, design or computer projects, etc. who wish to develop and perfect their digital animation skills." 
The 90 credit-hour program allows students to will work on their own animation projects in all phases including script, design or art, character modelling and texturing, animation, rigging, rendering, lighting and post-production. Throughout the program, students "will learn to professionally master programs such as Maya, Mudbox and Photoshop, Pro Toolsa or After Effects," and they will "study technical aspects of animation such as modelling shapes or generating images, among others." 
The Master in Animation includes a curricular internship that takes place at local and international companies, and will focus mainly on the "production of animation, multimedia creation and audiovisual research." Graduates of the program have interned at organizations such as Juggernaut Animation Studio, Screen21, Urano Films, Mago Productions, Triacom Audiovisual, and Goroka. 

IED Istituto Europeo de Design, Madrid 
IED Istituto Europeo de Design is an art and design school that offers programs in the areas of Visual Communications, Design, Fashion, and Management. Degrees are offered at the graduate and undergraduate levels, and certificates or diplomas are available as well. The school has campuses in three different countries—Italy, Spain, and Brazil. The Madrid campus has one program for animators—a Bachelor's in 3D Animation, Games and Interactive Environments. 
The program, which takes two just years to complete (full-time), consists of 120 credits of study that covers2D and 3D animation, post-production processes and advanced editing effects. Students will have the skills needed create multimedia works and generate virtual spaces, and they will master the latest tools needed to develop applications and games on any platform. 

Bau Design College of Barcelona, Barcelona, Spain 
Bau Design College of Barcelona educates more than 1,000 students annually in the different fields of graphic design, audio-visual, interior design, and fashion. Programs lead to a Bachelor's, Master's or Certificate. Options for animators include a Master in Stop Motion Animation or Motion Graphics Design. A Certificate of Specialization is available in both areas. Related programs include a Master and Diploma of Specialization in Creative Illustration or Digital Illustration and New Media. 

SAE Institute, Barcelona, Spain 
SAE Institute has 54 campuses in 26 countries, making it the world's largest, industry-focused creative media educator. The institute offers programs in the areas of animation, audio, film, games development, music business, and the web. The Barcelona location offers Bachelor's degrees and Diplomas in Visual Effects and Animation and Art and Animation for Videogames.  The degree programs take two years to complete and the Diploma programs may be completed in 12 months. 

Universitat Autonoma de Barcelona, Barcelona, Spain 
Universitat Autonoma de Barcelona (UAB) offers a Bachelor's Degree in Art and Design that includes three disciplines under one title: Applied Arts, Visual Arts and Design. The degree is offered at the Escola Massana, Barcelona's municipal Art and Design center, and it prepares students for a career in interactive animation (video games, applications, and interactive books), illustration design, editorial design, and other related areas. The program consists of 240 credit hours of study and it takes four years to complete. 
Sources 
Program information has been obtained directly from each school's official website.